Expat Advice: Culture Shock in Santa Cruz de la Sierra, Bolivia

Share Your Experiences with Culture Shock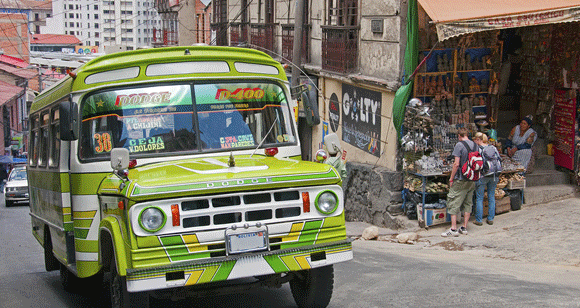 A Typical Bus in Bolivia
One expat in Bolivia talks about moving to Santa Cruz de la Sierra, immersing himself in the local culture, learning to go with the slower pace of life and the different lifestyles of the rich and poor. It was uplifting to see that the happiest people seemed to be the ones with less money.
What is the name of the city or town that you are reporting on?
Santa Cruz de la Sierra
Did you receive any cross-cultural training for your move abroad? If yes, was it before or after the move?
No, but as a Graduate Teacher of Spanish, French, and English as a Foreign Language , I first lived abroad (Spain) in 1976, and am currently reident in Spain again after returning from Bolivia in 2010. I have been teaching for some 33 years now, half that time in Spain, so for me adjusting wasn't a problem.
Moving to Bolivia soon?
If they speak another language in your new country, do you speak the language? If yes, did you learn the language before you moved or while abroad? If no, are you planning to learn the language?
Yes, Spanish, which I had studied at University and have been teaching for over 30 years.
Were you worried or concerned about culture shock before you moved abroad?
Not at all! For me I get "reverse culture shock" on the few occasions I have returned to live temporarily back in the UK!
How significant was the culture shock you experienced when you moved abroad?
Insignificant, having been residing in Spain for more than 20 years, my move to Bolivia was much easier than for most. Some uneasiness about South America but I had spent 4 months in Colombia earlier in the same year I went out to Bolivia (2009) so I had a good idea of what to expect and was much more confident.
Expats often talk about going through the "stages of culture shock." Examples include the honeymoon phase, the irritation-to-anger stage, the rejection of the culture stage, and the cultural adjustment phase. Do you feel like you went through these or any other stages as you settled into the new culture?
Having been divorced from my British ex-wife for more than 20 years, and used to being alone, I didn't experience any of these stages. Of course it helps that I am totally immersed in the Spanish way of life, food, customs, and speak the language fluently!
What, if any, were some of the changes you noticed in yourself that might have been caused by culture shock? These might include things such as anger, depression, anxiety, increased eating or drinking, frustration, homesickness, etc.
Only the usual frustration about the slow pace of everything, perhaps even more so than in Spain, but it is something I have learned to accept after spending so much of my life now in Spanish-speaking countries.
What are some things you appreciate most about the new culture?
Discovering a whole new world, it was like travelling back in time to see the local transport, lack of infrastructure with regard to roads, rail networks,etc. Seeing the enormous difference between the lifestyles of the rich and the poor was a real eye-opener, but not in a negative way, it was uplifting to see the happiest people seemed to be the ones with less money, always with a smile on their faces and very welcoming.
What are the most challenging aspects of the new culture?
Corruption on a large scale, feeling powerless to fight against it when things weren't going my way. Coping with the bureaucracy.
Did you "commit" any embarrassing or humorous cultural blunders? If you did and you'd like to share them, please do tell!
Not really, due to my knowledge of the language and my research before travelling.
Do you have any advice or thoughts about culture shock you would like to share?
Learn the language!! Immerse yourself into the lifestyle of the locals. Keep a low profile, especially at the beginning of your stay, and if you don't speak the language. Keep on your guard, as a "Gringo" you are going to stand out like a sore thumb, so some people will inevitably try and take advantage of that, either by attempting to trick you out of your money, or other items, to robbery or worse. Respect the country you are moving to, do as much research as possible prior to travelling, contact other ex-pats on forums such as this one! Be prepared for the "culture shock" to hit you at some stage and seek help through other ex.pats as and when necessary. Above all, enjoy the wonderful experience of a lifetime but be realistic in terms of what to expect!
More Expat Advice about Culture Shock in Bolivia

Write a Comment about this Expat Report