Repatriating to India: Boston Ave to Devarabeesanahalli
By Anamika Majumder
Summary: Anamika Majumder was a newlywed Indian expat living in Boston who attended graduate school, entered the business world and raised two young children. She and her husband ultimately decided to repatriate to India to raise their children in their home country. She describes their return to Bangalore and how she decided to start a Bangalore based non profit charitable trust called One Billion Literates Foundation.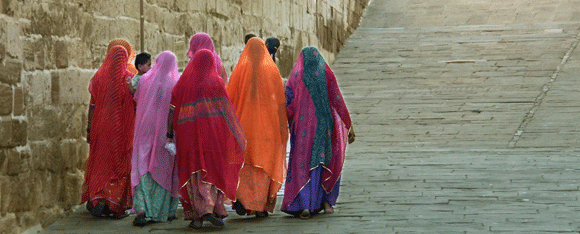 As I sat in a movie theater at Coolidge Corner in Brookline, Massachusetts watching a scene in Mira Nair's Namesake where Ashima has jhal-muri with rice crispies, I was immediately taken back to June 1998 when I had just moved to our studio apartment on Boston Avenue near the Tufts University in Medford, Massachusetts as a newlywed. We had got married a few days ago in India, and I now had to acquaint myself with a new currency, time zones, daylight savings, buying vegetables in pounds from huge super-markets, talk about distances in miles and board a bus from the other side of a street. In fact, the last bit was so confusing that I remember missing the bus once, as I wasn't waiting on the correct side. But having moved from a place where things progressed at a snail's pace in Government offices, for instance, it had taken several trips to the passport office in Kolkata to get a new passport with my married name, I was pleasantly surprised to see the excellent customer service at banks, post offices and the Social Security office.
As the days of my very first year in the United States passed, the vibrant and breathtaking Fall colors got permanently etched on my mind. I was excited like a school girl when I saw my first snow, but at the same time didn't like it that much when the winter dragged on and on. Spring not only brought beautiful flowers all around but also good news that I had been accepted by a few Graduate Degree programs in and around Boston and accepted the offer from the University of Massachusetts, Boston. That summer, we were awed by the tall buildings of Manhattan and went to Jackson Heights, Queens for a chat and to buy fish and goat meat. Going for groceries more than 200 miles away from home was something I'd never experienced before and the difference between living in a developed and a developing nation had started to become clear to me.
The next three years of my life passed very quickly as I worked on getting a degree that was so intense that in spite of spending very long hours on a campus with breathtaking views of the Atlantic, we barely had the time to look outside the window. I shall always cherish memories of the first Sunday of June 2002 when I graduated from the University of Massachusetts with a Master's in Computer Science. After a couple of contractual stints, I found a full time position as a Software Engineer at a subsidiary of Thomson Reuters. This job was a wonderful learning experience, as it not only taught me the nuances of Java, but also to improve my people skills and to manage stress. Even though I and my husband were quite tied up during these years, handling the responsibilities of two full time jobs while taking care of two very young children with only tips over phone from our families in India, we made it a point not to miss an opportunity to travel within North America and Europe.
At work and everywhere else we interacted with Americans, we were very impressed to see how professional and thorough most of them are in everything they do and it was also heartening to see a majority of the people in the country are socially responsible citizens. Our social life in America inevitably involved mingling with other Indian families over meals, where the topics of discussion ranged from whereabouts of Indian grocery stores, latest Bollywood movies, showing off sarees and jewelry procured during trips to India to Indian politics and how everything 'sucked' in India. Another thing I never understood is why Indian parents are so hell bent on making their children jack of all trades by signing them up for several activities and as a result not giving them the down time they need.
As our boys grew, I and my husband like many Indian families living abroad debated on the pros and cons of raising them abroad and thought it best to bring them up closer to their roots. So, in the spring of 2010, we purchased one way tickets for the family to move back to India (Bangalore) with a slight detour in London. Our friends helped us find a house within a small gated community in a place called Devarabeesanahalli, a name that needed some getting used to. We selected a school where there is a big emphasis on the students' all round development, certainly a positive change from our good old days of rote learning and pressure on becoming a topper.
I am discovering that the city of Bangalore has changed immensely since my last visit thirteen years ago and am taking some time to get used to the two Indias that have got created in this period. The prices of things and real estate have gone through the roof and the spending capacity of people and hence consumerism has increased manifold, and yet in spite of all this, there is this huge class of very ordinary Indians living in poverty and struggling to make their ends meet. The elite choose to travel in air conditioned Volvo city buses, which the people from the struggling class cannot afford to board. There are now malls, technology parks, huge residential complexes and imported cars everywhere and a lot of infrastructural work is going on in the city. I have to admit, learning to drive with innumerable cars honking non-stop while getting used to a manual transmission car was quite an experience. Unfortunately, several businesses I have interacted with lack professionalism and have no respect for your time. When I ask someone for directions the usual response is 'straaiiiiiiiiiiiiiiiight' no matter where I am going. We used to find it quite amusing as we juggled our responsibilities without any help in Boston, to hear our friends in India grumble about how life is hard because the maids are unreliable, and I am now experiencing this first hand. In fact at a surprise birthday party of a friend, one of the meeting rules was 'NO DISCUSSION ABOUT MAIDS'.
Having said all this, there are certain joys that can only be experienced in India. Ours is a very close knit community, and all the children go to one another's houses whenever they please without the parents having to arrange play dates. On Diwali my door bell rang constantly, and the neighbors brought so many sweets that I had no idea what do with them. I have noticed, every time I give my maid something to eat, she doesn't even touch the food and takes it home for her two little children. While our leaders are embroiled in one scam after another, I have been touched several times by the honesty of the common man. Although joint families are not common anymore, I know of several families where the parents live with their grown up children. When one of the tires of my car fell in a ditch in a village, at least fifty people came running and lifted the car out. A friend was telling me the other day that when she was very sick, the neighbors took turns to supply food for the whole family for more than a month. Every time we go out with other families to eat, there is a fight because everyone wants to pay the bill.
I can go on and on about the simple things that make living in India fun. But here are a few things that I feel will help take India closer to being a developed nation. The need of the hour is to make sure we do not under-invest in rural India, we should not just start primary schools in every nook of the country, but also impart quality education comparable to private schools in all of them. I started a Bangalore based non profit charitable trust called One Billion Literates Foundation (http://onebillionliterates.org) in July 2010, whose mission is to improve English and impart technical skills to the women and children of rural India. I strongly feel children who are able to communicate better and are tech savvy will contribute a lot more to the development of the nation. At a time when technology is advancing at a very rapid pace, we cannot afford to keep a vast majority of rural India ignorant. While the Government is doing excellent work to promote inclusive growth and is creating world class highways, the growing middle class of India needs to take up a lot more social responsibilities and uplift the not so privileged ones. It is also imperative at this juncture to make EVERY woman of India be financially independent. But as I work on figuring out the best way to cross a busy street, I am happy to report six months after moving back, that I am thoroughly enjoying every minute of my life in the country where I belong!
About the Author
Anamika is a Software Engineer and has several years of experience working in companies like Sun Microsystems and Omgeo LLC (a subsidiary of Thomson Reuters) in Massachusetts, USA. She has an under-graduate degree from the Malaviya National Institute of Technology, Jaipur, Rajasthan, India and a Master's in Computer Science from the University of Massachusetts, Boston. Anamika has moved back to India after 12 years in May 2010 to start a non profit organization called One Billion Literates whose mission is to improve English and impart technical training in rural India.

Write a Comment about this Article
First Published: Jan 14, 2011