Expat Ecuador: 10 Tips for Living in Ecuador
By Betsy Burlingame
Summary: Expats in Ecuador appreciate the cost of living, the friendly people, the beautiful weather and warm culture. The bureaucracy can be very trying, petty theft an issue and driving downright dangerous. But, if you ask most expats who are retired or working in Ecuador, they don't regret the move to Ecuador.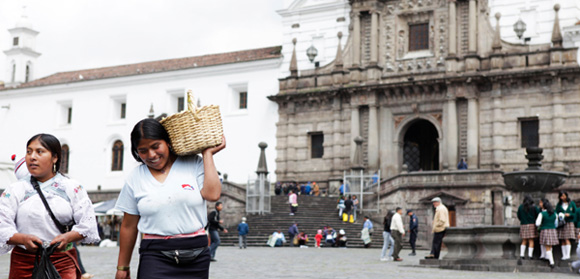 Culture Shock in Ecuador
An expat in Quito said, "we have had to suffer through robberies...which we found out were common here. There are many, many cultural anomalies that lay right below the surface here. Culturally, in the eyes of Ecuadorians, it is 'alright' to rob and take advantage of someone who is 'richer' than you are. It is a childlike stance...we were not used to it. We were not used to the abuse and the downright corruptness of the place. About 25 years ago we purchased an oven. When we took it home it did not work. We promptly took it back to the store and the owner at the time said, "that is your problem." We would not leave and finally, finally, we got some satisfaction. You never boast here. You never count your money in front of people here nor let them know what you have. They are astute as to how to get what you have, unfortunately this is not always the case, but in the majority of cases it is."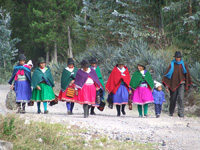 "Ecuador's lovely slower pace of life. People here take time to enjoy family and friends. They work to live which then gives them a better outlook. We feel very fortunate to have found Ecuador and love Bahia. We can go to Manta or Quito or Guayaquil if we need a fix of modernization. Along with it goes more stress and a more hectic pace of life although they still know how to take time for family and friends. We are settling in to the new culture very well. We take walks which is what everyone does here. We go into all the stores so the people get a chance to see us and we try to speak a little with them. We go to the market regularly and the vendors now know us and are so willing to make sure they get us the best product they can. If you don't know how much it is and you put your hand out with change, they take the amount that is correct. Both of us looked at each other the other day and said, "Can you believe we live here?" I think that is a pretty good feeling to have about a new home in a very foreign country. Wished we hadn't waited so long to move," said one expat living in Bahia de Caraquez.
"I was not prepared for the culture shock of the absence of sewer systems and the resulting smells you encounter in the towns and neighborhoods. The overall lack of respect for the environment means you see garbage just thrown or dumped along the roads, in empty lots, on the beaches. Very sad," reported on expat living in Salinas. "We like it. As far as the locals they seem to accept us here and some are very friendly and nice. Just like the states you'll find all kinds down here," said another expat in Salinas.
"We shouldn't compare cultures and think that one is superior to another; many express concern about those who live in rustic houses, but most of those people are extremely happy. Their basic needs are met, and they need little to be happy. Many of the extreme poor are the ones who befriend me most with incredible kindness and acceptance. The gift of a plantain or chunk of peanut candy might not be much to some, but the fact that they openly share with a stranger is enough to win my respect forever. Give a stranger a warm smile, and watch the smiles domino down the street. One doesn't need to speak the language well in order to communicate a sense of goodwill," said one expat.
International Schools in Ecuador
In our article, International Schools in Ecuador, we cover a number of Ecuador's international schools including Acadamia Cotopaxi in Quito, The American School of Quito, Alliance Academy International in Quito, Universidad SEK - Quito International School and Colegio Experimental Britanico Internacional. A parent with students at Acadamia Cotapaxi described her experiences with that school, "I love it. I have my two boys and am amazed at the academic standards. My oldest one is not quite studious, yet he manages to excel in many areas, even compared to other schools worldwide. When compared to other kids his age in other schools around the world, he is significantly more advanced. I think that says a lot. I like the special services and the close knit feel of the parent teacher relations."
Learning Spanish
"We tried to start to learn the Spanish before we came but we were always so busy finishing up everything in our home country we never got a good start on the language. We have been studying the language since we got here and are learning from the locals who are extremely helpful, friendly and try to help you one word or phrase at a time. I am already finding that I can speak some to them and they work with me on what I cannot understand yet," commented one expat in Ecuador. "I have picked up a little but can no longer remember vocabulary to the extent I could become fluent. This can, at times, be frustrating, but has not prevented us from accomplishing what we want to do. I find Google Translate extremely helpful, and there is no end to those who are fluent in both Spanish and English who are willing to help. I would not let the absence of language skills keep us from living in Ecuador," confessed another retiree in Ecuador.
Where to Live in Ecuador
Deciding where to live in Ecuador can take some time and travel, but you can narrow down your possible destinations by knowing your priorities -- such as proximity to beach, nightlife, work and preferences in terms of climate, privacy, security, expat or non-expat areas. "Come for 3 to 4 weeks to see if you will like the country and city before making permanent immigration plans," advised one expat in Bahia de Caraquez. "Choose an area of interest since Ecuador is so bio-diverse. Come for a visit, then if that works out, come for an extended stay to look around further. If you find something you love whenever you are here, go for it. If not, then just rent until you do. This does not have to be a one size fits all option," advised one expat.
Living in Quito, Ecuador
An expat living in Quito said, "Be prepared for pollution and robbery problems. Quito also has a large traffic issue and makes it hard to get around at busy hours of the day. The altitude is sometimes hard for people with asthma or the elderly. In general, it's still a small city and has a friendly welcoming attitude. It's easy to get away on weekends and go to the mountains for fresh air. The night life is fun and exciting in the mariscal area. I would research the city really well before renting or buying. Find the safer neighborhoods like Quito, Tenis or Gonzalez Suarez where there are many other expats. Quito is very diverse. We have a growing Asian community as well as a large expat community. The Quitenos are very nice and accepting of other cultures and people. The Latinos in general do not mix classes (the city is separated into neighborhoods of different classes.)"
Living in Manta, Ecuador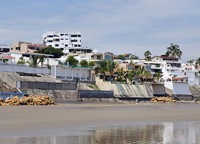 An expat in Manta said, "this is a super place to retire and Manta's location is dry and arid. Makes it very healthy and with little rain it's easy to plan many outdoor activities. One needs to smile a lot and it's amazing how a positive outlook spreads." Another said, "as for Manta, it's a developing city. I can give you comparisons, Manta is a place that people are helpful and nicer than Guayaquil. Very rare to see traffic, and drivers are somewhat pedestrian friendly. Yes, transportation is cheap, most rides start at $1 and go up to $2, the most I've paid. I don't know any expats in this area, I might be interested in meeting people here, so I can talk to people in English. I like how people here take siestas seriously, as I do as well for my business. Things I don't like about manta - very few streetlights and drivers like to speed because they claim they have preferencia."
Living in Cuenca, Ecuador
An expat living in Cuenca described that city as, "this city has a little of everything. The old and the new blend very well indeed. Lots of great restaurants, lots of music the weather is the best, the mountains are breathtaking, the prices for me are just right. I really have everything here I could ever wish for." Another expat said, "Cuenca has a lot going for it as far as the arts. There are always free concerts that you can attend in the city. Art festivals, Choirs, Orchestras you name it. This is a very family oriented society and life revolves around the family. My local business colleagues are always spending time with their families on the weekends and we should learn from them. They have a wonderful network of family around them. Religious events are a time for parades, church and other activities."
Living in Vilcabamba, Ecuador
One expat recommended Vilcabamba saying, "I suggest Vilcabamba, the valley of longevity, in southern Ecuador" It is a town of 4,000 people and there are about 500 gringos living there. The elevation is 5000 ft and its about 10 degrees warmer than Cuenca. The city of Loja is about 45 minutes away population 250,000 people... and it has all the modern conveniences..." Another said, "I've lived here over a year and have NO plans to live anywhere else. For us, this is the best country in the world and Vilca is the best place in this beautiful country. It depends on how you want to live. We like how quiet and beautiful it is here. The weather is unbeatable with more sun than anywhere in Ecuador and the air quality, if that happens to be on importance is awesome. Fresh from the Amazon. That can not be said for Cuenca. We can grow most of our own food so we know what we're eating. The coldest temperature we've seen is 15C and the hottest was 30C. When/if we feel the need for entertainment, all the major cities are a short flight away or a $15 bus ride from Loja. The population of Vilca is about 5,000 with around 500 expats."
Living in Salinas, Ecuador
"I spent two weeks in Salinas on the coast and it is great. The weather is warmer but not too hot. It cools of comfortably in the evening. The views are great and the people are friendly. There are a lot of expats who are easy to meet and you will make friends quickly. Prices are reasonable and life is positive for those I talked to there," commented one expat. Another member recently announced that travel to and from Salinas has improved. She said, "You can now fly directly to Salinas, Ecuador from Quito! The Paez National Airport in Salinas opened to commercial flights -- with flights to and from QUITO."
Living in San Clemente, Ecuador
An expat in San Clemente described life there, "we love this small fishing village and the Ecuadorian people are amazing, warm and always anxious to help. We have learned to give up some of the expected conveniences from the States in exchange for our easy, laid back lifestyle. No car, no close by shopping, very little English spoken but we now speak Spanglish..lol. Periodic loss of electricity and water, water here is very bad quality but we have had a reverse osmosis system installed so now have excellent pure water right from the sink. Mainly we have learned to expect and accept tis way of life where mañana does not necessarily mean tomorrow but just not today. Our health has improved, I have lost 35 pounds without dieting, just by being able to eat chemical and additive free foods and fresh air and walks on the beach."
Living in Cotacachi, Ecuador
In his article, Cotacachi, Ecuador - An Up and Coming Expat Destination, Gary Kesinger described Cotacachi as, "Cotacachi, Ecuador is a town on the move. While a few years ago, it was a little-known village that catered to tourists intent on buying leather products, it is now becoming a popular destination for retirees and others searching for a low cost place to live. The year-round spring like climate and mountain scenery are attracting expats from around the world. The changes can be seen everywhere. As little as three years ago, there were only a handful of full-time foreign residents. Now, expat-owned restaurants are opening that serve everything from meatloaf to fried chicken and French fries. Gated housing developments are springing up all around town. Social clubs are forming in the expat community around topics ranging from card games to Bible study." Another expat commented that, "Cotacachi is very small, with not a lot to do, unless you want to watch "the grass grow", which for a lot of us 60's and 70's gringos is fine. Cuenca is where most gringos go as there is a big social scene as well as the beach." It's all about personal preference!
Heath Care in Ecuador
An expat living in Ecuador described health care in Ecuador saying, "medical care in Ecuador is, for the most part, much less expensive than in the US. I say for the most part because some drugs are more expensive and some are not available. Doctor visits here in Cuenca are generally 20-30 dollars depending upon the doctor. Blood work, x-rays and so forth are also much less expensive. For most things you will probably spend about what your would have payed as a deductible for your insurance. That said, there are insurance policies available that cover your medical cost here in Cuenca. Most are associated with a hospital and pay up to 90% of the costs for medical procedures performed at that hospital. If you use a different hospital or doctor your coverage drops to 80% or less. There is a small deductible at the beginning of the year. Most if not all of these policies have a max age threshold for joining and generally a max age for expiration. Generally it is either 65 ir 70 to join and 75 or 80 as a ending age. My policy covers up to $20,000 per incident." Another expat advised, "there are a lot of different stories of health care in Ecuador and the situation for health care and specifically de la tercera edad remains in a state of flux. Whatever you hear, you may want to ask yourself if health care is something you want to gamble on... Keep in mind that even the working poor subsidize their health care by seeking private doctors and pay extra for health care services. There are more rural clinics, and district clinics and more provincial hospitals and more emergency services, but take the time to speak with people in your area -- both the locals in your neighborhood and the expats you know and find out who they use and where they go in case of emergency. Find out what is available to you in your location -- what is available in Manabi or Guayas is not going to apply in Santa Elena or Azuay."
Real Estate in Ecuador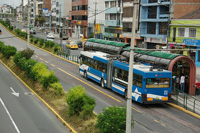 If you ask any expat whether you should rent or buy a home when first arriving in Ecuador, almost all of them would advise you to rent. One expat explained, "I believe that it is much better to wait at least a year before buying any real estate here in Ecuador. First, it will give you time to decide if Ecuador is really for you. It will also allow you to find the area and city that is YOUR best choice as a permanent home. And finally, you will gain knowledge as to the real estate market values in your city and the neighborhoods best suited to you. You will also, hopefully, learn at least some Spanish which will help you to feel more a part of the community here. And you will be less likely to get ripped off in a real estate purchase. Ecuador is not the United States or Canada. The protections you are used to that help prevent fraud in these countries are very much lacking here in Ecuador. For your own sake, spend at least a year learning about Ecuador by living here before you put one dollar toward a real estate purchase. You will be happier with your purchase because you will have learned where and what to purchase and you will pay less for it. You might even decide that you want to continue to rent."
"Do your research as there is a lot to know and understand I would strongly recommend you rent from people whom own the property. There are shysters that simply sub-let and you will have no protection of insurance and loss from people whom come and go there. Beware is the operative word here. We are in a large home which has separate baths for each bedroom and full use of the house/kitchen. It a beautiful home and the owner lives here as well. You will want to watch how far the bus stops are and markets. The quality is average however has a nice yard also," advised one expat living in Cuenca.
Another expat offered similar advice, "Get an agreement in writing, at least the basic rules and conditions. Compare and ask questions of expats living here. After paying far too much they demanded we pay for propane to cook, which was to be included. They turned off our gas so we could not cook. Ask if they own the house. They usually do not. If you are robbed or stolen from (it happens) they will not have insurance for you. Ask people living here about places to rent, not those under Air B&B."
Another expat in Ecuador offered a great set of tips about buying real estate in Ecuador. She suggested, "you will be told by numerous unscrupulous real estate "professionals" that a license is unnecessary, that they have "years of experience" that they have "inside" and "special" information and "anyone can get a license" -- Caveat Emptor/Buyer Beware. Don't be taken by a pretty website with fake properties! Spend more time researching your real estate agent than looking for that great property you think will get away and you'll be fine."
Expat Life in Ecuador
"The weather here is great, wardrobe is mostly shorts, sleeveless shirts and sandals. As expected, so much less stress than in the U.S. due to slower pace of life and simplifying daily tasks. The fresh inexpensive seafood, vegetables and fruits you can get at the outdoor markets are wonderful and daily walks on the beach make for a healthy lifestyle," said one expat in Salinas. "Our experience has met and exceeded our expectations. We have met some incredible people. We have more friends than we could have imagined; not to mention a "social life", something we barely had in the States. We have visited some beautiful places and had experiences with our family visiting and living here that I could have never dreamed of....Galapagos is one example," reported another expat. Yet another echoed, "Overall, the weather is wonderful, the prices remarkable, for things that really matter these days, and the Ecuadoran people are friendly and welcoming overall."
"I find that the pace of living, the cost of living, the surrounding natural beauty, the lack of junk mail in my box, the warmth of families and our acceptance by Ecuadorans in general permit me to reflect so favorably about our experience in Ecuador. WE are not ex-patriots, but live alternatively in both countries throughout the year, missing each when in the other country, glad to get back to each when in the other country. This lifestyle has ingratiated itself and we find ourselves enjoying life more in totality, as the cumulative effect is most pleasant," advised one expat.
"I learned very quickly that it was dangerous for a single woman to live by herself out in the country. Instead, I chose to live in an apartment on an upper floor in a small town, Bahia de Caraquez. I am able to buy excellent fruits and vegetables, chicken, eggs and everything I need at very reasonable prices in the beautiful market every day. I am able to walk everywhere I need to go in this town, which has everything I need, so I don't need a car. When I go to other cities I am able to take a taxi for a few dollars. The people are warm and friendly and I have made many new Ecuadorian friends," explained an expat living in Bahia de Caraquez.
Bureaucracy in Ecuador
"Bureaucracy, patience, and tolerance - three of the most important words I can think of that one must keep in mind when moving. Things move at a much slower pace and do not happen as planned. We were used to living in a world where one phone call was all it took to solve a problem. In another country, it is a whole new ball game. Sometimes it feels as if it is impossible to get something done, but my motto is "one day at a time"! It does eventually get done, it just may take may take a month instead of a week. Realize that you have to have patience and prioritize what you really need and want to happen," said one expat. Another explained, "I am a realist and knew things would be difficult getting used to a whole new culture. But reality check - it is a whole lot HARDER than I ever thought. Mostly that it takes FOREVER to get anything done. Now I knew it took FOREVER before, but somehow forever goes into eternity once you live here."
Transportation in Ecuador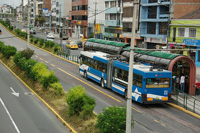 Many expats avoid driving in Ecuador for a number of reasons. One expat said, "driving in Ecuador is not like driving in the US. Many of the rules and practices are different (passing on curves, crossing double lines is the norm) and certainly driving through the Andes is very different. This is not to mention the fact that roads are not marked well (or at all) and unless you are fluent in Spanish good luck in getting directions," explained one expat. Another went on to say, "one problem with driving in Ecuador is that if an accident occurs, everyone involved, passengers and drivers can be taken to jail while they investigate. This can take weeks. This is not a rumor. I went to bring food to a friend who was put in jail after the car he was a passenger in was in a crash. He doesn't even have a license nor does he know how to drive. I have lived here ten years and am just now at a point where I will consider driving. And I've driven all over Mexico and Brazil. I'm not a wimp. The laws that went into effect earlier this year will throw you in jail for three days if you go ten kilometers over the speed limit, so its important to know what the speed limit is everywhere you go. And no, it's not always marked." In a recent thread on our Ecuador forum, expats shared their experiences driving in Ecuador and discuss the driver's test and driving school.
"There is almost no place in Ecuador that is not served by bus and virtually every town and city has cab service. And the cost of bus service is about 1.00 per hour of travel on buses traveling from city to city and generally 25 cents on buses within cities. Cabs are equally cheap," said one expat. That said, we have read countless posts on the Ecuador forum of robberies on buses - some at gunpoint.
Cost of Living in Ecuador
"You can buy a beautiful 2 brm 2.5 bathroom apartment from about $78,000 upwards. If you are looking for a home with a bit of land around you can go about 15 mins from Cuenca and find the most beautiful homes for $150,000 - $300,000 and of course then you have the ones that are even higher. Depending on what you are looking for. There are beautiful pre-construction apartments selling from $60,000 to a large penthouse which has the most spectacular views for under $200,000. I went and paid our phone and electric bill the other day and for the two of us it was $30 for the month. Our apartment taxes are around $30 per year. Our security apartment and gas fees per month are $63.00," explained an expat who moved to Cuenca.
"In general, the pace of life is delightful, people are friendly and the climate is agreeable. I relax so much more and after 6 months or so, I could viscerally feel the stress leaving my body. We live a very good life for about 1/3 the cost of what life was costing us in Washington State. The cost of living will depend on how you chose to live. There are no set rules. If you want to live large, you can spend as much as you want. There is a burgeoning middle class," described one expat in Cuenca.
About the Author
Betsy Burlingame is the Founder of Expat Exchange. She launched Expat Exchange in 1997 as her Master's thesis project at NYU. She graduated from Ohio Wesleyan University with a BA in International Business and German.
Write a Comment about this Article
First Published: Feb 13, 2014