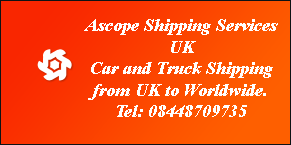 Ascope shipping services offer cheap shipping and transport services for new and used vehicles and trucks from UK to worldwide.
Web Site:
Contact Name:
Jacob
Phone:
08448709735
E-mail:
Fax:
01482228897
Address:
Suite 22, Commerce Hous
62 Paragon Street
Hull
United Kingdom
HU1 3PW
We are one of the leading specialists in organizing, handling, and shipping of cargo i.e vehicles/cars and personal items. We have a team of experienced and dedicated shipping staff, fully trained in the intricacies of international shipping. We have earned a well-deserved reputation as successful Ship Agents representing ship operators. Our company offer International shipping / Export services for cars (saloon cars and 4x4 cars), trucks, SUV's and Vans from UK to overseas. Your cargo can either be shipped on Ro-Ro or Container basis.
We realize that relocation and moving vehicle/car or personal items can be a complicated experience, which is why we strive to make the process as painless as possible. With no obligation, receive a free instant quote by contacting us by phone or filling out the easy to use Quote Request Form.
Regardless of the method, we will ship your vehicle / car with the care you would expect so that it arrives safely at its destination. For more information, speak to a member of our knowledgeable team.
We can arrange shipping of your car/cars to the following popular destinations: Kenya, Tanzania, South Africa, Mozambique, Ghana, Cyprus, Malta, Australia, New Zealand, Nigeria, Morocco, Tunisia, Libya, Spain, Italy, France, Portugal, Belgium, Netherlands, Germany, Slovenia, Turkey, Greece, Sweden, Denmark, Israel and many more...
Our service include Obtaining and Reserving the requested Car/Cars, Inspecting and Valleting the Car/Cars before shipping, Arranging and preparing the shipping of the Car/Cars, Delivering/Transport the Car/Cars to the Ports/Docks for Exportation, Guiding, Updating and Advising clients through the entire Process.
Shipping Personal Items (Air freight)
Ascope shippers supply all the necessary packaging to Kenya, Nigeria, Ghana, Ivory Coast, Gambia, Togo, Angola, Guinea, Benin, Senegal, Sierra Leone, Gabon, Liberia and Congo from boxes, pallets, crates to bubble wrap and tissue, ensuring furniture and ornaments are properly protected while during shipping. For added protection, our vehicles are even fitted with padded rails.
Prices range from £2.50 per kilo (air freight).
Ascope shippers are friendly, reliable, prompt and upto speed with the industry. We can offer you the best deals with safe moving of your goods.