Spain: International Car Shipping, Auto Transport Companies, Car Transporter & Overseas Car Shipping
Shipping a car to Spain or looking to buy or lease a car while living abroad? Below you will find information about international auto shipping, auto transport companies and specialized expat auto sales and leasing companies. Contact these companies for more information or to obtain an auto transport quote..
Interested in being included in this section. Contact us to discuss partnership opportunities.
Safe, reliable and low priced international car and motorcycle shipping services with over 25 years experience.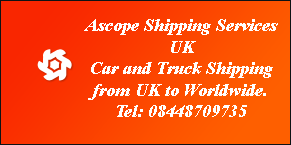 Ascope shipping services offer cheap shipping and transport services for new and used vehicles and trucks from UK to worldwide.
Related Articles