Living in Egypt
Last updated on Feb 10, 2022
Summary: Expats, digital nomads and retirees talk about what it is really like living in Egypt. They offer advice about meeting people, cost of living, finding a home and more.
What do I need to know about living in Egypt?
When we asked people what advice they would give someone preparing to move to Egypt, they said:
"Be very prepared not let the backward ways and slowness and unorganized ways get to you. Relax and take it for what this country is great for which is cultural, beauty, great food and fun in the sun," added another person living in Alexandria.
How do I meet people in Egypt?
When we asked people living in Egypt about club and activities where newcomers can meet others, they responded:
"The British Club and read the free newspapers for groups that meet once a week or so," explained one expat living in Alexandria.
"There is Alexandria American ladies group. It is unofficial social gathering for the American women's who live in Alex. They meet once a month for coffee and planning events. The group is involved with the American center as well. There is another group called Alexandria women association. They meet every Monday for coffee and they do mostly charity work around Alexandria and it is open for all expects not just Americans," said another expat in Alexandria.
William Russell's private medical insurance will cover you and your family wherever you may be. Whether you need primary care or complex surgery, you'll have access to the best hospitals & doctors available. Unlike some insurers, we also include medical evacuation and mental health cover in our plans (except SilverLite).
Get a quote from our partner, William Russell
.
Will I be able to find a job in Egypt?
When we asked people about industries and career opportunities in Egypt, they reponded:
"Jobs are not easy to find but companies like to hire people from other countries. The travel/tourist business is good. If you can teach English or even tutor kids is a great job to get," said another expat in Alexandria.
"There are international schools in here American, French, and German and if you have the right qualification they really pay well. There are several American companies in here and they work with government contracts. I don't recommend coming over without having a job first," added another person living in Alexandria.
What is life like in Egypt?
When we asked people living in Egypt what life is like and how people spend their time, they said:
"In Egypt, Family is number one but going for coffee is right up there as well. Going to the mall (Carfor) seems to be a big deal here," added another person living in Alexandria.
"New Cairo City is still in its developmental stage. Since I've been here (the first one on my block; not even a paved street) slowly stores are being added and public transportation. I would like to know if there are other Americans in this area, and what they are doing. I'm interested in fitness and seeing things the ordinary tourists do not see. Also bargain hunting for household items," explained one expat living in New Cairo City.
What do expats in Egypt appreciate most about the local culture?
If you live in Egypt, newcomers to Egypt would love to hear your answer to this question.
"The people are very friendly and try and help wherever they can. The sense of safety is also a surprise. The delight in finding things that I am looking for is wonderful," added another person living in Alexandria.
What do expats find most challenging?
"Very dirty, smelly, busy, noisy place. Nothing is the way you would expect it to be, and it's difficult to get many things done," said another expat in Alexandria.
Is there a lot of diversity? Are people in Egypt accepting of differences?
"Very friendly people and excepting of most but don't ever forget that being Muslim is very important to people here. They like people from all over to visit because this means having a good tourist business," remarked another expat in Alexandria.
"Egypt is a Muslim country and there is a large percentage of christens as well. They live in harmony for the most part. Most people like expects and as long as you don't offend any one you will be fine," explained one expat living in Alexandria.
What are the schools in Egypt like?
"I would put a thumbs-up and tell you to go ahead. Misr American College is the ideal school for your children. Its small community, foreign teachers, polite students, elite class, good reputation, effective methodologies, warm welcome, and strict yet relaxed atmosphere make it the ideal elementary, middle, and high school for expatriates and Egyptians," said another parent with children at Misr American College (MAC) in Maadi .
"CAC is a decent school but very schizophrenic. Be ready to live in a state of constant change if you stay more than 2 years or so. They are always rearranging/changing the curriculum, schedules, class and testing policies. Nothing remains the same for more than a year or so and at times I feel like my child has been a guinea pig when policy changes are made at the expense of consistent learning. It stresses out the kids, especially high school age, because they are always trying to figure out what the expectations are. The administration/teacher turnover has been rapid in the past 5 years which adds to the unsettled feeling at the school. Add in the revolution of the country last year and it makes for a very stressful environment that the administration fails to recognize," commented one expat when asked about Cairo American College in Maadi.
Answer Question & View More Answers
About the Author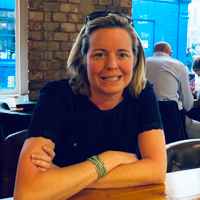 Betsy Burlingame is the Founder and President of Expat Exchange and is one of the Founders of Digital Nomad Exchange. She launched Expat Exchange in 1997 as her Master's thesis project at NYU. Prior to Expat Exchange, Betsy worked at AT&T in International and Mass Market Marketing. She graduated from Ohio Wesleyan University with a BA in International Business and German.
Some of Betsy's articles include 12 Best Places to Live in Portugal, 7 Best Places to Live in Panama and 12 Things to Know Before Moving to the Dominican Republic. Betsy loves to travel and spend time with her family. Connect with Betsy on LinkedIn.