Cost of Living in Ukraine
Last updated on Nov 27, 2021
Summary: What is the cost of living in Ukraine? Expats, digital nomads and retirees living in Ukraine talk about the general living costs, the cost of housing and health insurance.
Is the cost of living in Ukraine high?
We asked people how much they someone comfortably live on in Ukraine, they wrote:
"Very broad question a lot of people call "comfortable" a lot of different things. Comfortable for me is doing what I want when I want and so that translates to about 10k per month," remarked another expat in Odessa.
"Very difficult to say, depends on: * If you have any dependents, ie children to support. * If you rent a fully furnished apartment from an agency it's expensive, better to buy or find a private landlord. * You have to buy extra clothing for the winter, it's inescapable unless you want to freeze your knees off," explained one expat living in Kharkov.
Answer Question & View More Answers
William Russell's private medical insurance will cover you and your family wherever you may be. Whether you need primary care or complex surgery, you'll have access to the best hospitals & doctors available. Unlike some insurers, we also include medical evacuation and mental health cover in our plans (except SilverLite).
Get a quote from our partner, William Russell
.
Will I save money living in Ukraine?
If you live in Ukraine, newcomers to Ukraine would love to hear your answer to this question.
"Well prices have risen here of course, but the exchange rate is still consistently good against the British pound," explained one expat living in Kharkov.
"I have been very happy with my cost of living here and lifestyle. It is much better than I expected," said another expat in Kharkov.
About the Author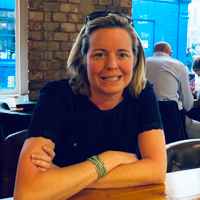 Betsy Burlingame is the Founder and President of Expat Exchange and is one of the Founders of Digital Nomad Exchange. She launched Expat Exchange in 1997 as her Master's thesis project at NYU. Prior to Expat Exchange, Betsy worked at AT&T in International and Mass Market Marketing. She graduated from Ohio Wesleyan University with a BA in International Business and German.
Some of Betsy's articles include 12 Best Places to Live in Portugal, 7 Best Places to Live in Panama and 12 Things to Know Before Moving to the Dominican Republic. Betsy loves to travel and spend time with her family. Connect with Betsy on LinkedIn.