Moving to Austria
Last updated on Nov 22, 2022
Summary: Moving to Austria? Expats talk about what you need to know before moving to Austria.
What do I need to know before moving to Austria?
When we asked people what advice they would give someone preparing to move to Austria, they said:
"Prepare to learn this language, and this slang. Go to the district office for help in finding a place, but do this as soon as possible, also look in the paper, or go to virtual vienna site, there is alot of help there," remarked another expat who made the move to Graz.
"Vienna is not such a friendly place if you come from America - very "provincial and suspicious nature abounds here. If you are staying a long time...+5 years consider to try and integrate, if less than 5 years then move to 18th or 19th districts, expats slums. In the 18th & 19th you have lots of Eng speaking temp families with which you have things in common," explained one expat living in Vienna, Austria.
What is the average cost of housing in Austria?
If you are thinking about moving to Austria, cost of living in probably a key consideration. Expats commented about the cost of housing:
"Higher, and the average is about 8 -1200 American Dollars per month WITHOUT the ammenities, and you need to purchase your own kitchen. I am not kidding," remarked another expat who made the move to Graz.
What should I pack when moving to Austria?
If you live in Austria, newcomers to Austria would love to hear your answer to this question.
We asked people living in Austria to list three things they wish they had brought and three they wish they had left behind. They responded:
"Well, every time we return to the States we brings loads of our favorites things. But we never forget our vitamins which cost a fortune in Austria, our over the counter meds, also expensive here and spices. Thank You Sam's and Costco! The biggest mistake was shipping our Volvo 6cyl over here, it cost us 22,000 euros in customs fees when we had been told it might be 6000 euros… ugh. We also brought too many clothes for fitting into their Schranks, it's just not necessary. And the best piece of advise is sign up for Amazon.de, they have everything," added another expat who made the move to Austria.
"Wish I brought a variety of Ziplock bags and containers. Wish I brought Uncle Dans Ranch Dressing, and also Best Foods Mayo. And my 12 cup Cuisinart coffee maker. I have too long a list. 3 things I should not have brought , I cannot think of even one," explained one expat living in Graz, Austria.
What cultural faux pas should I try to avoid making in Austria?
We asked people in Austria if they could share any humorous cultural blunders they commited. For new expats, keep in mind that these incidents are an inevitable part of expat life. Learning to laugh about them is the key!:
"When first here I rode the Tram and wanted to stop. Not knowing what the red handle was for, I chose to pull it, thereby stopping the tram abruptly. The driver came back and scolded me in German. You get the idea," commented one expat who made the move to Vienna.
How are healthcare services Austria?
When we asked expats and global nomads about the quality of medical care in Austria, they replied:
"Well worth the money, which is affordable, and no such thing as pre-existing conditions, for the insurance to give you a reason to be denied," remarked another expat in Vienna.
About the Author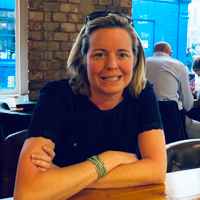 Betsy Burlingame is the Founder and President of Expat Exchange and is one of the Founders of Digital Nomad Exchange. She launched Expat Exchange in 1997 as her Master's thesis project at NYU. Prior to Expat Exchange, Betsy worked at AT&T in International and Mass Market Marketing. She graduated from Ohio Wesleyan University with a BA in International Business and German.
Some of Betsy's articles include 12 Best Places to Live in Portugal, 7 Best Places to Live in Panama and 12 Things to Know Before Moving to the Dominican Republic. Betsy loves to travel and spend time with her family. Connect with Betsy on LinkedIn.