Real Estate in South Africa
Last updated on Nov 27, 2021
Summary: People living in South Africa offer advice about real estate. How do you find a home in South Africa? Should you buy or rent? What is the cost of housing?
How do I find a place to live in South Africa?
If you live in South Africa, newcomers to South Africa would love to hear your answer to this question.
We asked expats how they chose their neighborhood and found a place to live. They answered:
"Wanted somewhere that was close to the beach (5 mins away) somewhere not too close to the city but not too far (15min drive away from city central) and somewhere that felt safe. Table View has all that going for it and I really love it here," said another expat in Cape Town.
What is a typical expat home or apartment like in South Africa?
"I don't know any expats here in South Africa at all - only been here 4 months and not so easy to meet people. Its a free standing house with a big yard and a pool - lovely!," remarked another member in Cape Town.
"Single family home in a gated community. It is very typical for most expats. In fact, I have been told that the majority that live in there are expats. Bacause it is in a secured community, our child can walk and play in freely. But, there are too many walls with the community," explained one expat living in Johannesburg, South Africa.
What is the average cost of housing in South Africa?
If you are thinking about moving to South Africa, cost of living in probably a key consideration. Expats commented about the cost of housing:
"Lower, but so is the quality of the house. No, central heating and very large single pane windows to give examples," said another expat in Johannesburg.
"Haven't lived in NZ for a while but compared to UK and Ireland and US where I lived it is much cheaper (except food) - I could never have the lifestyle anywhere else that I have here," remarked another member in Cape Town.
Answer Question & View More Answers
About the Author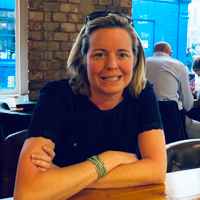 Betsy Burlingame is the Founder and President of Expat Exchange and is one of the Founders of Digital Nomad Exchange. She launched Expat Exchange in 1997 as her Master's thesis project at NYU. Prior to Expat Exchange, Betsy worked at AT&T in International and Mass Market Marketing. She graduated from Ohio Wesleyan University with a BA in International Business and German.
Some of Betsy's articles include 12 Best Places to Live in Portugal, 7 Best Places to Live in Panama and 12 Things to Know Before Moving to the Dominican Republic. Betsy loves to travel and spend time with her family. Connect with Betsy on LinkedIn.