Expat Thailand: 5 Reasons to Move to Thailand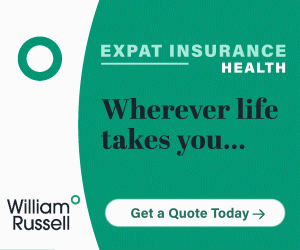 Summary: Expats in Bankok, Thailand enjoy a wonderful lifestyle for a variety of reasons. Emily McClaren explores why it is a popular destination for expats from all over the world.
There are always important factors to consider when moving abroad. Where to live, what to pack – and, most importantly – what life will be like when you get there. What's the healthcare system like? Will my children be happy here? Is it safe?
Thailand (also known as 'the land of smiles') is a beautiful country. There's a large expat community out there, plenty of great International schools, and a lifestyle that will stop you from ever thinking the grass is greener on the other side. It doesn't get much greener! So, put aside any concerns that you may have about Thailand, and Bangkok in particular - I'm here to give you five reasons why re-locating to Bangkok is a great idea (based on my own experiences of living there).
1. Efficient healthcare
Thailand is very efficient in many ways and the Thai people take great pride and care in their work. The country's work ethic can be witnessed across a lot of occupations – not just in the healthcare industry. If you plan on having a family in Bangkok and are worried about giving birth there – fear not. My mum gave birth to me in Bangkok at Samitivej Sukhumvit Hospital and having asked her of her experiences there compared with giving birth in the UK, she had nothing but raving reviews. The hospital staff were very warm and professional – even if they did let it slip that she was in fact having a baby girl, despite her not wanting to know!
Please note that my experience of Thailand is mainly based on Bangkok, a large city – so be aware that remote areas of Thailand may not have the same healthcare facilities.
Also, remember to make sure that you have the appropriate health insurance arranged and that you've received the correct vaccinations before jetting off.
2. Plentiful food
There is food to suit all tastes in Thailand – from the farang's favourite of Pad Thai to the more adventurous array of street food on offer. Coq(roach) au Vin anyone?
There are a lot of healthy options though in Thailand – therefore it's no surprise to hear that being healthy there doesn't require too much effort. There are a lot of healthy and low fat options, for example,
Tom Yum Soup
– a popular soup in Thailand, has been linked to fighting off cold and flu viruses.
3. Great weather
Thailand has three official seasons – hot, cool and wet. I'd take the 'cool' part with a pinch of salt though. That word in the UK would probably have a polar opposite definition. Their 'cool' is our hottest day of the year (ever) most likely.
The rainy season is hard to define. As with any weather report, it's not necessarily going to be accurate and there are contradicting reports out there. I've been in Thailand during the monsoon season when it's unfortunately rained heavily for a solid day, several days in a row, but I've also been there during the rainy season where it's rather considerately rained for approximately one hour, roughly every evening at 5pm – right after my swim and right before dinner. Perfect ?
When the sun shines though – it shines! Even when it's overcast, don't be fooled as this is often the most dangerous time to be sunbathing. I've been fooled before – fallen asleep under the overcast sky and woken up miserably burnt. To make matters worse, I had a flight to catch that night. Fortunately this was prior to the 100ml rule – which I of course took advantage of by carrying an excessively large bottle of after sun in my hand luggage which I re-applied religiously every 20 minutes.
So, take it from me and remember to keep yourself fully sun protected – lots of sun cream, even when you think you don't need it.
4. An excuse to keep fit
Living in a hot country, you're able to spend a lot more time outside. This is a great way to keep yourself fit and healthy – swimming, playing tennis, running and so on. If doing this alone isn't your idea of a good time then there are always groups which you can join for example, Hash House Harriers is a group of non-competitive running social clubs which operate across Thailand for example in Bangkok and Phuket. It's "a drinking club with a running problem" – catchy title if I don't say so myself.
5. A beautiful place to raise a family
There are some fantastic properties available in Bangkok – houses that you can certainly make into a comfortable home. It's important to consider location though when choosing a place to stay. Traffic in Bangkok can be awful at times (sitting still for 40 minutes type of terrible), so choosing somewhere that is close to your work and children's school will certainly pay off. If not that, then being close to the Skytrain or underground should certainly help you. For more information on Thailand, check the latest government advice given by the Foreign and Commonwealth Office (FCO) here.
About the Author
Emily runs her own travel and fitness blog. Growing up in the expat world and going on to travel independently around the world. You can keep up with all her travels and fitness posts at Borders and Burpees.
Comments
Austintatious
WOW...such a misinformed article. I have been teaching in Thai universities for several years and I have traveled all over the country. My take on your 5 points: 1) There are many good private hospitals in the Bangkok, Pattaya and Phuket areas, and I have visited a couple of them. Many of these hospitals specialize in medical tourism and do a good job, at a reasonable price. In the countryside the medical care is adequate and has improved substantially over the last decade. In terms of dentistry, even the Farang price is low, but service seems rushed - a checkup/cleaning is usually completed in about 10 minutes. 2) Food, like music, is a matter of personal preference. I love Thai cuisine, but quite honestly the Thai food in California's Thai restaurants is consistently better than the Thai food you will find in all but a few restaurants in Thailand. Thais don't seem to mind a lot of bones, guts and chicken skin mixed in with their dinners. However, you can find tasty street meals for about 30 baht (one US dollar) if you don't mind the extra work of removing bones, etc. 3) Great weather? If you like hot and humid weather, then Thailand is great. There are usually a few weeks of nice weather in December/January, but otherwise most of Thailand is more like Houston in summertime. The rainy season is June-October and the rest of the year is dry. The smoke from farms burning rice stubble and from thousands of cooks using charcoal makes the air unhealthy much of the year. 4) Relative to about 40 other countries I have visited, people in Thailand tend to walk and exercise less than any of them. Motorbikes are everywhere and people don't walk if they need to go just one kilometer. It is just too hot and humid. Swimming? Have you seen how filthy most of the rivers and lakes are in Thailand? Get far enough away from the cities and the beaches are OK, but they are declining. 5) Farangs cannot buy land/houses in Thailand unless they are married to a Thai person. You can buy a condo, and renting is of course more popular. As for traffic, Bangkok is no worse than NYC, LA, Chicago, or Houston. The taxi drivers are clever and the BTS is very good, so overall it is not too bad. The recent military coup will ensure that most of Thailand's resources remain concentrated in the Bangkok area while the countryside gets the short end of the stick. This will not affect many foreigners unless some type of civil war erupts. Personally, I found this to be "the straw that broke the camel's back" and I left Thailand for good in May. I will miss the norther half of Thailand, but I will not miss the smoke and feral dogs.
djappger
This from a close friend, former Marine helicopter & major US airline pilot who has owned a 1/2 million dollar home in Puckett for many years. Here are his thoughts: "Heat, humidity, vehicle exhaust, standstill traffic, pathetic construction workmanship, violent crime, incessant power outages, cultural-intellectual desert. "Land of Scowls," (rather than Smiles) would be more appropriate. What attracted me is no longer valid, being happily married. ;-) Thought I had found eternal youth.....Forgot to mention "Lese Majeste." No freedom of speech or opinion. Say something negative about the monarchy and you get 15 years in prison. Have to stand up for two minutes before a movie begins to honor the king......