8 Best Places to Live in Uruguay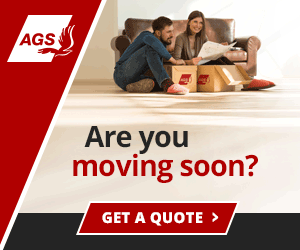 Summary: Expats in Uruguay agree that the best thing about living in Uruguay is the friendly people. In addition to the friendly locals, the weather, beautiful beaches and stable economy make it a great place to live. We've compiled a list of the 8 best places to live in Uruguay based upon the recommendations of expats.
If you're considering a move to Uruguay and don't know where to live, one member advised, "We visited Uruguay -- mostly the Punta shore area, Atlantida, and Montevideo and Uruguay remains at the top of our list of places to move. Why? Friendly people, much lower cost than U.S. (although we understand that it's one of the costlier South American countries), fairly stable economy and government, and weather, which we love. We met many lovely people there, including small groups of English speaking expats who are willing to help us through the transition." Another expat wrote, "If you have kids in school, intend to work in an office or run a business than being in Montevideo might be the better choice. If it about lifestyle, cleaner less stressful living than a resort area like Punta Del Este (which really is much more than just PdE itself would probably suit you better. But like we tell most people who are interested in joining us Expats, "Rent" and try out a few places before you decide."
Our list of the 8 best places to live in Uruguay is based upon recommendations and advice from expats, digital nomads and other people living in Uruguay.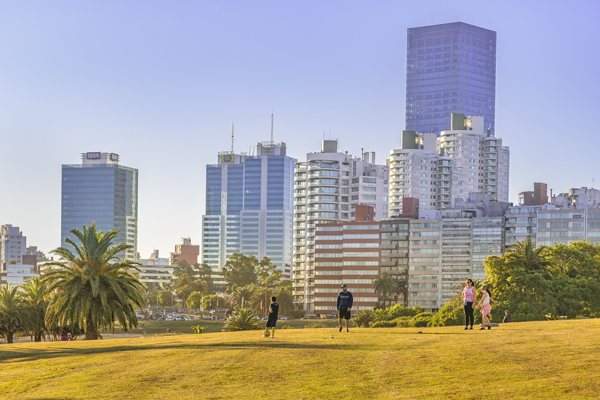 Montevideo, on the southern coast of Uruguay, is the capital and home to a large expat community. In the article, 4 Months Later: Reflections on Living in Uruguay, Brian Johnson describes his initial impressions of Montevideo saying, "The city of Montevideo is beautiful. From the parts of the US I've lived in, you never see architecture like you do here. There are some amazingly beautiful old buildings. There are some run down areas too. The sidewalks may not be even, but they carry a lot of character� being that every tile was hand laid. The city is very modern from what I was expecting. There are buses and taxis everywhere. You can buy a lot of US goods down here� It's very cosmopolitan here. Montevideo is only about 1.5 million people, but it feels a lot smaller. Not because it is, but because all of the people here are very warm and welcoming. We have met a ton of absolutely wonderful people since we have arrived in Uruguay. Actually, there is a lot of city crammed into a small area here� It's no more than a US $5-6 cab ride from one side of Montevideo to the other."
Many expats in Montevideo take public transportation and taxies. One expat remarked, "About driving in Montevideo... during the brief amount of time I have been here I can say that driving in Montevideo is a circus. Driving on the Rambla and the bigger main roads isn't as bad, but navigating through the city can be confusing and dangerous. Just be careful and you'll be good." Another expat talked about in Montevideo saying, "I can tell you that I've never felt insecure in the street the way some people seem to perceive it. Of course, just like in any city of the world there are bad neighbourhoods, criminality exists and we also have news media trying to manipulate perceptions just like everywhere else in the world. That's their job, that's fine. Whether we decide to believe that, that's another story."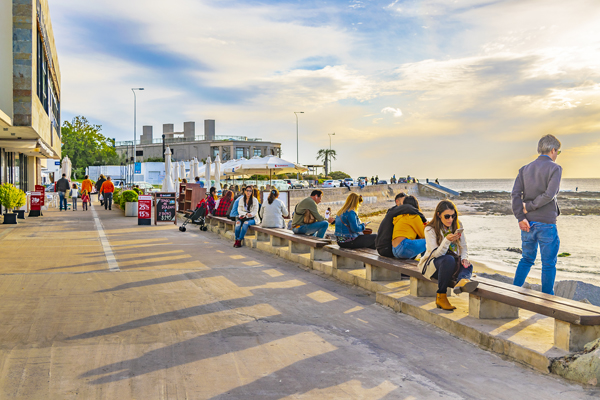 Punta del Este is a very popular resort destination on the Atlantic coast with approximately 10,000 full-time residents. During the summer, the population and rental rates skyrocket, which makes finding affordable yearly rentals more difficult. An expat in Punta del Este advised, "Living in Punta del Este is expensive, it is a resort city and many extranjeros live here. If you choose to buy in the Punta area, be aware that the property taxes are high within the city limits. Also, be advised that many, if not all, of the apartments demand very high 'maintenance' fees in addition to the property taxes. Look at properties in the Campo surrounding Punta to avoid paying the high property taxes." Another expat who moved to Punta del Este offered a slightly different perspective, "The reason to live in Punta del Este is because it is a good way to live, that is, the food is fresh, the air and water are clean, it is beautiful, the beaches are wonderful, the people are welcoming, and you can live as you cannot in Europe or the U.S. any longer. What I mean is that the cost of help is affordable. People services are available and affordable, whether that is having your clothes tailored, going to the doctor/dentist, finding a gardener, a chef, cleaning services... You can afford to live well and the people providing the services are happy to do it. There is no class struggle in Uruguay."
In terms of school options in Punta del Este, St. Clare's College (k-12) received extremely negative reviews and warnings from several members of Expat Exchange. One said, "Punta del Este is a a little piece of heaven on earth. It is probably one of 4 or 5 true paradises on earth. Saint Clare's College Punta del Este is intended to be a money machine. Really outstanding phenomenal marketing. But a horrible place to send your children to school." Another expat recommended St. Joseph Mary College.
More about Punta del Este: 8 Tips for Living in Punta del Este, More about Living in Punta del Este, Healthcare in Punta del Este and Real Estate Advice for Punta del Este.
According to Wikipedia, Atlantida, Uruguay was originally a resort destination for wealthy people from Montevideo. Today it is a middle class resort destination with about 5,000 year-round residents located about an hour up the coast from Montevideo. One expat described Atlantida, "Atlantida probably meets your criteria of being close to the beach, affordable, and close to city amenities. It is an easy drive or bus ride from Atlantida into Montevideo. There is an eclectic mix of well travelled locals and foreigners in Atlantida." Another expat in Atlantida reported, "Most of the year Atlantida is very quiet with at least half the houses closed up and many of the small businesses and restaurants closed. The summer is busy of course, this year more than I have seen for several years since the folk from Argentine can once again take their money out of the country. We find it busy enough for us, there is a nice group of English speakers - we meet twice a month and the numbers vary from about 6 - 25. Some are locals who have lived in the US and want to keep up their English, some are German, others are from Canada, the US, and elsewhere. We have not been personally affected by the increase in crime but we have to be much more aware than we were in Canada. We have a monitored alarm and a dog and if we go away for any length of time we have house sitters. We have neighbours who are here most of the time as well. We have made some nice friends - both English speaking and local and for now we are content. Especially this time of year seeing the weather reports from Canada (where we last lived.) Here is Atlantida it is rare to hear English spoken while out shopping etc. and it is very rarely that I see any expats that I know by chance except at the weekly feria." One expat described the beaches in Atlantida, "The beaches around Atlantida are fairly empty except for mid December to the end of February and even then they are not really crowded especially if you walk in either direction away from the downtown. If you want blue water though, you will need to go as far as Punta del Este as most of the time the water up to that point is a muddy colour."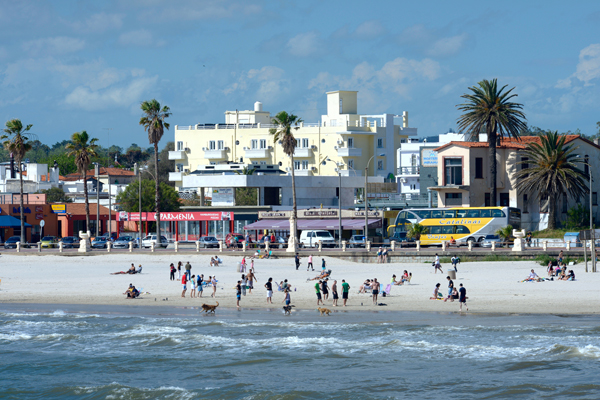 Piriapolis, Uruguay is a small city of approximately 8,000 located about 1.5 hours up the coast from Montevideo and 40 minutes from Punta del Este. "Piriapolis is a really cute beach town. It is a tourist town plus lots of locals go there for weekend get aways during the Summer," said one expat. Another expat in Piriapolis added, "I am staying in a place called Piriapolis Uruguay, and I have never seen so many motor scooters in all my life. And they shop with them and have carts to tow behind them. It is the most common method of getting around town."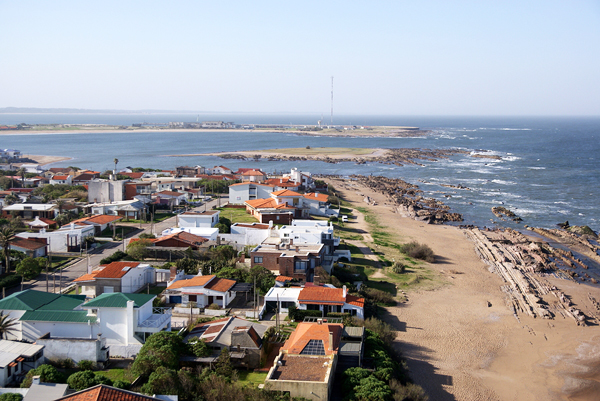 An expat in Uruguay described La Paloma, "I know basically nothing about Gregorio Aznarez, but we looked extremely closely at La Paloma, Rocha when we first came at the end of 2013. We really loved the small town atmosphere of La Paloma and all of the natural delight of the Lagoon - but eventually became concerned about the planned deep water port - scheduled (MAYBE) to be built a few km north of La Paloma. We thought if that port goes in - it will change the area dramatically, increase the traffic and destroy or at least adversely effect the bird and other wildlife. Who knows if it will ever be built - but we elected to go where we didn't have to worry about it. If you aren't wed to living near the water / ocean - there are many lovely, reasonably priced areas - and even on the coast there are charming less frenetic and expensive places than Punta del Este and Montevideo such as Colonia and Piriapolis. Good luck with your explorations! Hope you find what you are looking for. We certainly did."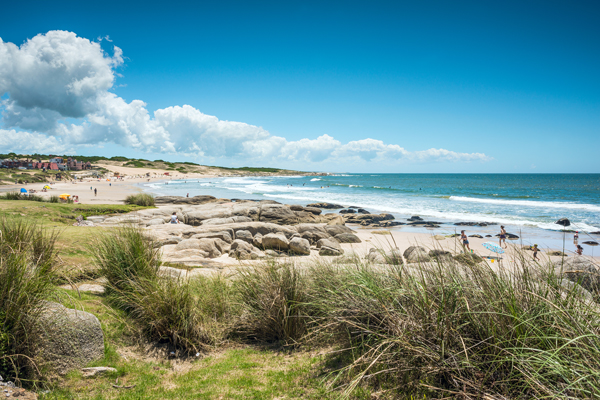 "Here [Punta del Diablo] is just a magic vibe, granite boulders covered with mussels & snails, the mighty Atlantic on your doorstep, with 4 beaches. As for activities, just daily life is enough for us... Gardening, cooking out, building on our house. The whole area is filled with national parks and some old Spanish/Portuguese forts, etc. Great for hiking through the ghost gums (eucalyptus trees), checking out the capybara & fantastic birds from a comfy blind, and perving on all that luscious plants in the shade gardens, etc... Laguna Negra is nearby, a great lake for fishing & camping. Don't expect your catfish to look like the ones you've caught. These have a fin all the way around the back to the belly side of the tail, but they taste the same... If you or your kids are into soccer (futbol here) then you're home free as far as a social life. Life revolves around the kids," remarked one member.
"Family is the MOST important consideration here. Raising kids on pure air, clean water, unprocessed foods (keeping them from eating too many sweets) are all high priorities. Life is not a race here. Relax, take five minutes instead of one - they're small. :D The parilla is an EVENT, not a meal. It's a chance for family & friends to get together around the grill for nice conversation while the kids run around, a few delicious bites, a glass or two of excellent wine... Our village is centered around two things: tourism & fishing. One feeds the other & vice-versa. The one word that ALWAYS comes up in conversations about Punta del Diablo is "que tranquilo," which, of course, it IS. Everyone is relaxed... I found myself relaxing immediately. Anything that can't be finished today will certainly be waiting for you tomorrow. I doubt, when I stand before my Maker, that I will regret not having spent more time cleaning house or washing dishes. Rather, time with friends on the beach fishing or taking the sun, enjoying one another's company is a high priority for me," added another person living in Punta del Diablo.
More about Punta del Diablo: Living in Punta del Diablo, Healthcare in Punta del Diablo and Retiring in Punta del Diablo.
With a population of over 38,000, Minas, Uruguay is an inland city located in the Lavalleja Department. An expat in Minas said, "May I suggest the little city of Minas, in Lavallaje? I retired here over a year ago, and it is practically heaven. There are very few expats in this area, and not much non-Spanish speaking. I consider that part of the charm (my Spanish is absolutely appalling, yet townspeople are very helpful and kind and I rather enjoy being the crazy gringa that moved away from it all and doesn't even speak the language - it doesn't mean I haven't figured out what's going on around me, and I can get what I need/want thru drawing, pantomime, writing it out from dictionary, etc). Prices out in the 'sticks' are much cheaper than the usual expat areas. IF you do have a car, the beach is only 45 minutes away (and the bus goes there, too, but takes a lot longer). Just wanted to make a suggestion for your list of places to consider."
Colonia del Sacramento (a.k.a. Colonia) is situated on the Rio de la Plata facing Buenos Aires. It takes an hour on a high-speed Buquebus ferry to reach Buenos Aires. With a population of approximately 27,000, Colonia is a UNESCO World Heritage Site and one of the oldest towns in Uruguay. One expat said, "If you are after a beautiful lifestyle, quieter towns then I would suggest Colonia which is heritage listed and is very tranquil, safe and just divine."
About the Author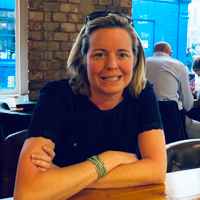 Betsy Burlingame is the Founder and President of Expat Exchange and is one of the Founders of Digital Nomad Exchange. She launched Expat Exchange in 1997 as her Master's thesis project at NYU. Prior to Expat Exchange, Betsy worked at AT&T in International and Mass Market Marketing. She graduated from Ohio Wesleyan University with a BA in International Business and German.
Some of Betsy's articles include 12 Best Places to Live in Portugal, 7 Best Places to Live in Panama and 12 Things to Know Before Moving to the Dominican Republic. Betsy loves to travel and spend time with her family. Connect with Betsy on LinkedIn.