12 Best Places to Live in Portugal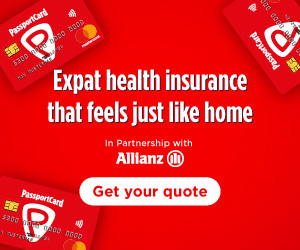 Summary: Portugal is a safe, expat-friendly country with stunning beaches, cities, popular beach towns and sleepy fishing villages. We've compiled a list of 12 of the best places to live based upon expats' recommendations. They include Lisbon, Cascais, Lagos, Tavira, Ericeira, Caldas da Rainha, Tomar, Nazare, Coimbra, Porto, Guimaraes and Braga.
Where are the best places to live in Portugal? Expats often debate this topic and offer recommendations to people considering a move to Portugal. Deciding where to live in Portugal depends upon each individual - work, schools, weather, proximity to the coast, population and cost of living are all factors. "Your preference of where to live depends on your personal interests. Porto and Faro are both portals with cheap travel to other European cities, Coimbra gives you Atlantic coast activities. Elvas and Evora put you in an amazing history rich area if you are interested in the peninsular wars, archaeology or roman times," advised one expat in a discussion about retiring in Portugal.
We've pulled together our list of the best places to live in Portugal based upon the cities and towns that are repeatedly recommended by our expat members. If you're favorite isn't on the list, please take a few minutes to post it below.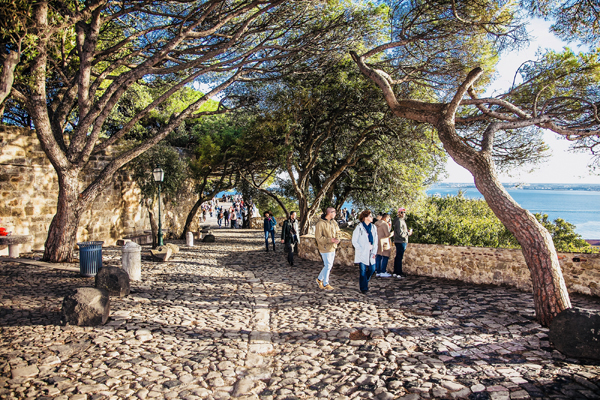 "Lisbon is remarkably diverse. The area of intendente itself is home to 87 nationalities! Portuguese are very friendly people and accepting of all people from every background. There is a little India area, little Chinatown, African cafes, Nepalese restaurants and also lots of options for vegan and vegetarian people. Lisbon is a great city for socializing. There are many expats and digital nomads here who are always open to meeting new people. It is great for young people, as well as older expats with is wide range of options and close proximity to the beaches and lots of bars, clubs and restaurants," remarked one expat living in Lisbon.
When we asked one expat if her life in Lisbon met the expectations she had before moving, she replied, "Absolutely. My monthly cost of living in Lisbon is half of New York's and the quality of life has tripled. Slower paced, shorter commutes, more friends, better food, better weather, more access to affordable cultural events."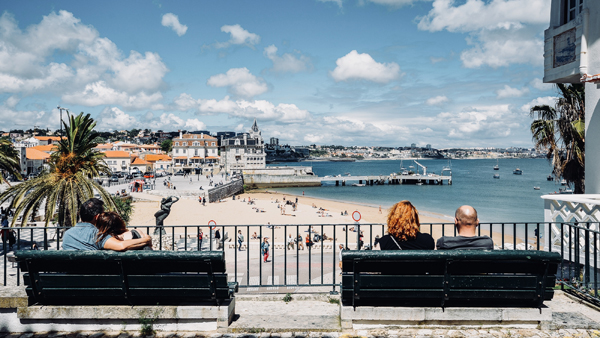 One expat who made the move to Portugal fell in love with Cascais, "The Lisboa area was delightful but we were sold when we took a train from Lisboa to Cascais. This is ideal: generally reliably nice weather, pristine beaches, restaurants all over the narrow streets and squares as well as along the pedestrian esplanade along the ocean. An easy train ride into Lisbon any time you want more culture or diversions, while plenty of museums, shows and parks in the Estoril/Cascais area. IDEAL!"
"Cascais is a very vibrant city. There are many things going on all the time, and there is a lively expat community in Cascais. There are international people from all over the world, and there are many networking opportunities. There is music, sports, you name it. Lisbon is just a 30 minute train ride away and the list of things to there is endless and enticing," wrote another retiree in Cascais
"Cascais is the most expensive (it includes Mt Estoril and Estoril) yet Oeiras, Parede, Caixas are also on this train line along the sea and more affordable. With a car you can go further east, inland," explained another expat.
About 2.5 to 3 hours south of Lisbon on the Atlantic coast, you'll find the popular beach region of the Algarve. "Many of us would never recommend the Algarve; it is tourist-central in summers, filled with drunken British teens; it is heavily overbuilt; winters are dead there. No culture, no public trans, blah," commented one expat. "I agree 100 % with Craignadmicky the Algarve is beautiful but boring in in the winters. A really nice place that is affordable is on the coast going North, Ericeira, Peniche, Foz Do Arelho, these are all small fishing villages that are quiet but close enough to Lisbon if you like a busy and noisy city like Lisbon," said another in a thread about retirement considerations in Portugal.
"I don't know that I would totally discount the Algarve. We were only there in the summer, so can't speak to how it would be in winter. But we didn't see any of the problematic behavior - i.e. no drunk rowdy teenagers where we were. I thought Tavira was a lovely town, and less touristy than some of the other areas. Even Lagos, while overrun with tourists, has a nice historic center. Silves is another town we really liked, although we didn't spend the night there. All-in-all, I would say Tavira is my favorite town in the Algarve, however, the location is not convenient for exploring the rest of Portugal by car. It is fairly close to the airport in Faro, though, which does give you many options for exploring Europe without the hassle of a big city airport," countered another newcomer.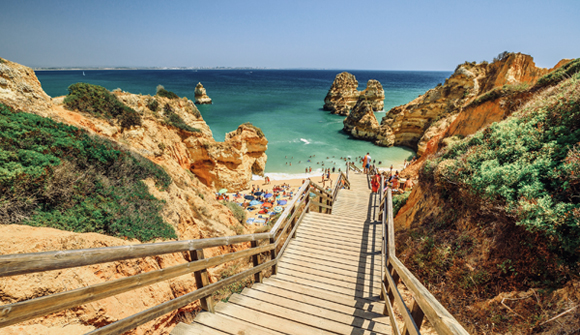 Lagos is home to several unbelievably stunning beaches such as Praia do Camilo, Praia do Porto de Mos and Praia Dona Ana. If you're checking out Lagos, have a meal at Mar d'Estorias which is a combination restaurant, rooftop bar with amazing views, shop and art gallery.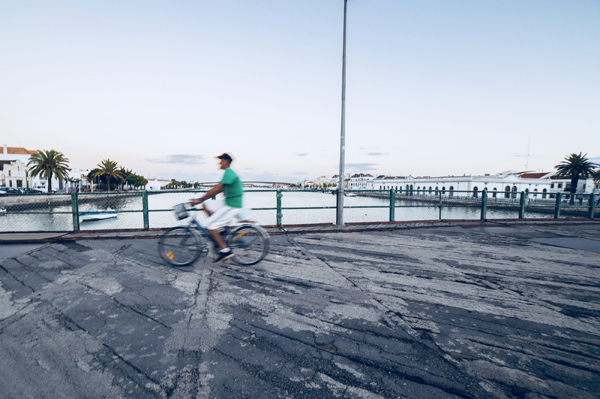 The small town of Tavira is considered by many to be the prettiest town in the Algarve. The Gilao River runs through Tavira and Praia do Barril is the closest beach to the town of Tavira. The beach located on Ilha de Tavira (Tavira Island), a barrier island that lies across a small channel. It's a little bit of a journey to reach this beautiful beach, but most people say it's well worth it. If you're checking out Tavira, have a meal at Pessoa's Cafe or Tasquinha Da Paula.
North of Lisbon
Many expats also choose to live north of Lisbon - there are small fishing villages, coastal cities and inland cities and villages.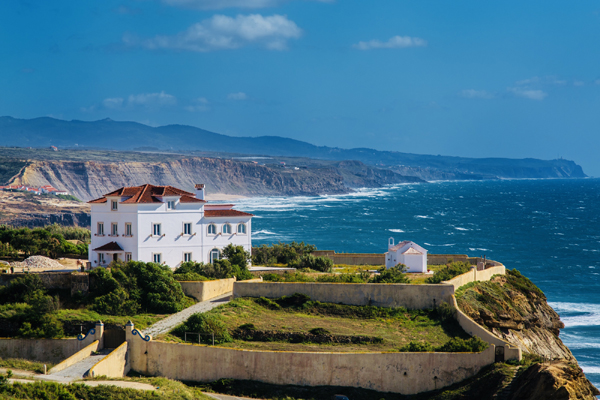 In recent years, surfers have found their way to the tiny fishing village of Ericeira. It's less expensive than Cascais, but still close to Lisbon. One expat described Ericeira saying, "Whilst not one of the towns you mentioned, you might consider Ericeira as being worth a thought. It is approximately 30 mins by car from the airport, has good bus links to other towns and cities, it has a health centre with the nearest hospital being in Mafra. It does not suffer from fog as affects towns further to the north, occasionally it is windy but nearly always sunny. It is well served by larger shops (continente, aldi, lidi, mini preco) but has retained its village charm with lots of interesting restaurants, ice cream shops, little boutiques etc. Best of all are the beaches! Water sports are very popular here, but there is ample opportunity to just sit, relax and enjoy the views. You can get a tosta and coffee for 2.20 in some of the cafes, so living here does not break the bank!"
If you're checking out Ericeira, stop by Mar d'Areia, a favorite with the locals, for fresh grilled fish. Have a gelado at Blue Ice Geladaria.
Portugal's Silver Coast (Costa de Prata)
The Silver Coast is a very popular coastal area of Portugal. You'll hear different opinions about the exact location of the Silver Coast in terms of where it begins and ends. According to this article, Europe's hidden coasts: Costa de Prata, Portugal, the Silver Coast runs from Assenta to Porto.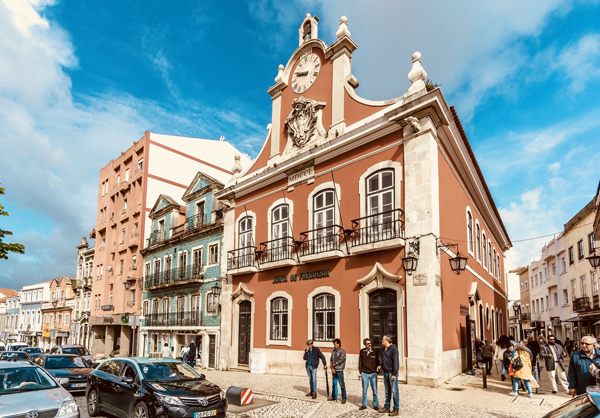 Caldas da Rainha is a spa town whose name means the Queen's Hot Springs. The closest beach, Foz do Arelho, is less than 15 minutes away and a pretty good surf spot. "We liked Caldas da Rainha. It had a nice relaxed feel. It's also pretty close to Lisbon," said one visitor. La Piazza Pizzeria is a great spot for pasta and pizza.
Ten minutes south of Caldas da Rainha, there is a new book-themed hotel in the town of Obidos. The Literary Man Hotel, which is a must see for bibliophiles, opened in October of 2018 and boasts tens of thousands of titles in English. It offers a restaurant and cocktail lounge to help you enjoy its enormous collection of books.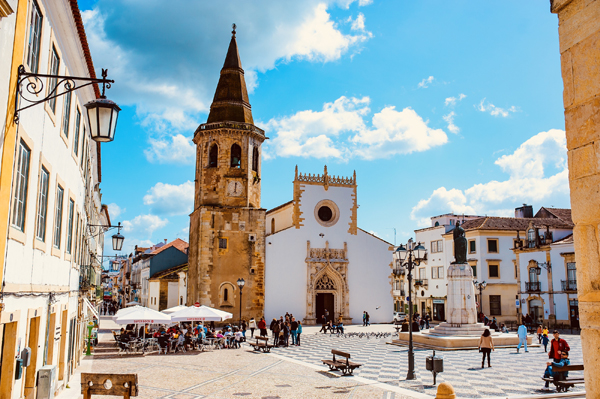 "We travelled extensively around Portugal, and although we wanted to live in the far north it was too cold in winter so we travelled further south and loved Tomar with its peaceful atmosphere, good connections, good shopping for my wife, good facilities and excellent access," wrote one expat who moved to Tomar.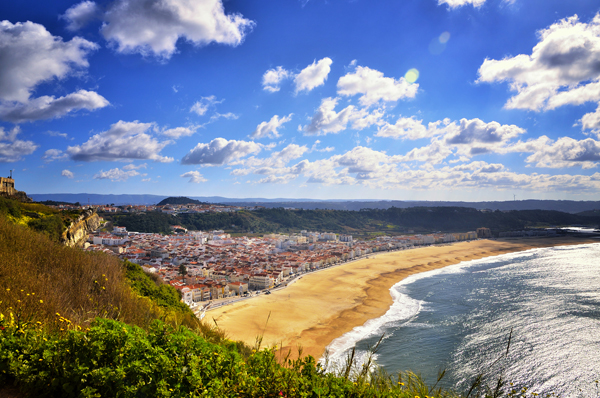 "Yes, costs in Nazare will be almost 50% less than Lisbon for housing, reststaurants. Utility pricing will be the same as will groceries, yet Nazare's small 'farmer's markets' will be priced lower than markets in Lisbon, Cascais. You can see the variations in cost of living at www.numbeo.com, which all of us contribute to. Also look at casasapo.pt, a housing multi-listing, as you'll then see the lower costs of housing outside of Lisbon, Cascais and Porto, the most expensive areas. Nazare is a really small village, tho, so think of what you want in your life--Coimbra is great for singles and lively, but Nazare is on the ocean," said one expat in a discussion about where to pick to live in Portugal.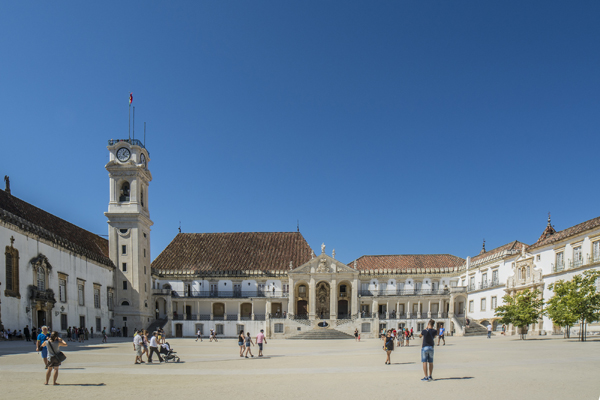 One expat described Coimbra saying, "Coimbra is a small city and university town but feels very small to me, especially once you get out of the touristy downtown area." Another said, "In the last 2 years, more people than before have chosen Coimbra...excellent train rides to Lisbon, porto, etc; university pace of life, cultural appeal and beauty."
"I'm in Coimbra, central Portugal, and I am considering a move here. Don't overlook it in your travels through the country -- it's a hidden gem," remarked one expat living in Coimbra.
"I understand your decision to move to Coimbra as I was there last summer and I fell in love with it, I had rented a house in Condeixa and had a wonderful time. Neighbors would offer me fruit and vegetables from their garden on a regular basis and I was so touched with their generosity and kindness that I felt at home so, I am moving there in the next few weeks. The food is delicious and cheaper than in the UK, the people are wonderful and the wine is delicious and cheap as well," said another expat who moved to Coimbra.
"Coimbra is a University city and is approx. 160,00 people, It has trains that connect from Lisbon, Porto and other cities and also has a good bus system. They have 3 malls and a sports stadium. And it is on a lovely river. It is only an hour and a half from Lisbon on the high speed Alpha Pendular Train. So it will be easy to go for the day to sight see or shop or concerts, or catch a cruise ship! The sea is 50 minutes by train from Coimbra and the town is called Figueira da Foz. I see they have rentals there also," described one newcomer.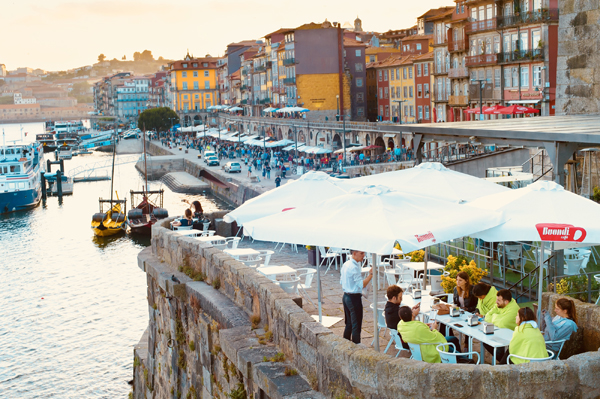 "Porto is a medium-sized city that feels like a real city," said one expat. "I live in Porto which is a fantastic city. A beautiful architecture, excellent gastronomy, has good people, is small and has sea and is 50 minutes, in good and cheap transport, (train) Braga, Guimaraes, Aveiro, Viana do Castelo. In summer, you can take a boat ride along the river Douro to see the vineyards, and you will find an unknown paradise! We have excellent medical services," described one expat living in Porto.
The Green Coast (Costa Verde)
From Porto north to border of Spain, you'll find Costa Verde, or The Green Coast. The weather is cooler than Lisbon, with winter temperatures in the 40s and 50s and summer in the 60s and 70s.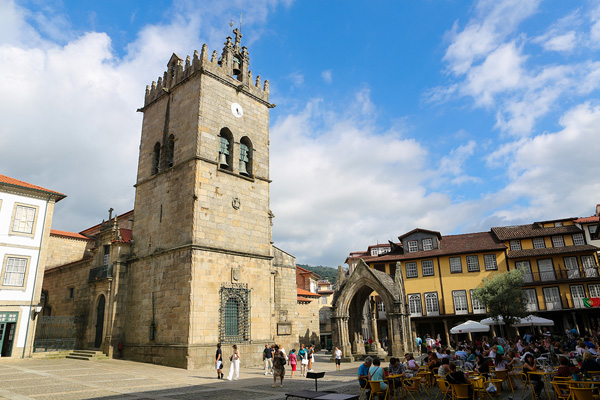 One Expat Exchange member offered a great overview of Guimaraes, Portugal, "1. GETTING THERE: Easy train ride from Lisbon, with the faster route being Lis-Porto-Guimaraes (ticket price includes station transfer for final leg) and the slow but direct and scenic route is Lis-Guimaraes. 2. STAYING THERE: Online booking sites had great guest recommendations. We chose Hotel Toural, for great location and price, plus delicious breakfasts. 3. GETTING AROUND: Walked everywhere, easily. The 'tag' bus runs all day and is inexpensive if you want to cut walking. 4. DO: Go to each square for the architecture, performance arts, shops and cafes. Take the 'Teleferico' cable car up to Penha. Fill your evenings with performances. Museums, castles, palaces are a short walk from the center and all worth the time. Castle is in ruins but affords superior views, and after all, it is where Portugal was born! 5. RESTAURANTS: Our favs: Martins on Largo do Toural; Art & Gula across from the town hall/former Sta. Clara conventl; Historico by Papaboa on Rua de Val Donas--sit outside!- but there are oh, so many others."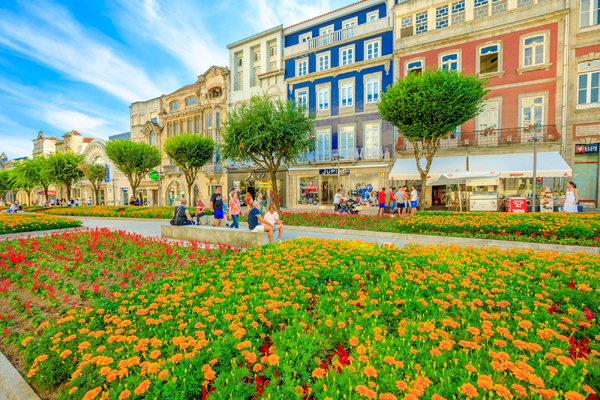 "The city has everything you need to live a life that you've been accustomed to in the US. Additionally, it's location is spectacular because you have the beach 30 minutes to the west, (awesome) Geres mountains 15 minutes to the east and Spain 40 minutes to the North.... you can't go wrong," remarked an American who moved to Braga.
About the Author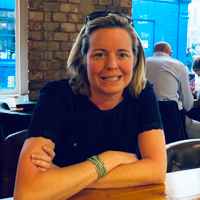 Betsy Burlingame is the Founder and President of Expat Exchange and is one of the Founders of Digital Nomad Exchange. She launched Expat Exchange in 1997 as her Master's thesis project at NYU. Prior to Expat Exchange, Betsy worked at AT&T in International and Mass Market Marketing. She graduated from Ohio Wesleyan University with a BA in International Business and German.
Some of Betsy's articles include 12 Best Places to Live in Portugal, 7 Best Places to Live in Panama and 12 Things to Know Before Moving to the Dominican Republic. Betsy loves to travel and spend time with her family. Connect with Betsy on LinkedIn.