11 Best Places to Live in The Philippines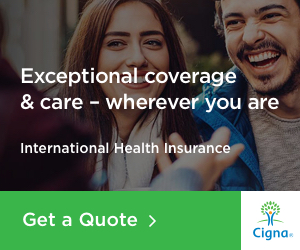 Summary: The Philippines is known for its big cities, breathtakingly beautiful beaches, friendly Filipinos and low cost of living. Where are the best places to live in the Philippines? Expats, digital nomads and retirees share their favorite places to live.
The Philippines is a very popular destination for expats, digital nomads and retirees. People move to the Philippines to enjoy its lower cost of living, beautiful beaches, bustling cities and welcoming people. If you're moving to the Philippines, it may be hard to decide where to live. Here are the 11 best places to live according to foreigners living in The Philippines:
"We live off the Aguinaldo Hiway in the southern most part of Silang on the edge of Tagaytay. 5 minutes from the highway, cooler, clean and peaceful. In and around us, we have a public and government hospital, a new specialist clinic, a good dentist, recreation, an abundance of restaurants and an 1 1/2 to 2 hour drive to the beach. Tagaytay has a Mall (Serin) and two public markets. There is a new mall opening now with four theaters (Fora). There are golf courses, a plethora of housing developments and rental homes advertised commercially as well as simply seen along the road as you travel around. Within about 20 to 35 minutes you also have two large malls in Dasmarinas (SM and Robinsons) and another near Nuvali Sta Rosa (Ayala). Near Tagaytay and often even cooler is the town of Mendez that has won awards for its cleanliness. Others include Alfonso, Indang, Laurel Batangas, Silang and Amadeo. The utilities where we live are dependable, including water, power and internet with satellite TV - though internet quality and reliability seems to vary greatly as you move around the area. Ask first before moving in," advised one expat.
"One Starbucks I go to in Tagaytay must have the BEST Starbucks view in the world!! The view over the lake is amazing... When I move there I will take my Ipad and read the news with a Grande Americano every morning :) Can't wait :)," said one soon-to-be expat. "I live in Tagaytay and wouldn't move to any other place. But... Tagaytay has become somewhat urbanized of sort. Judging from the way you described the life you want to live, the surrounding towns would fit you very well. The weather will still be Tagaytay like and all the amenities will be within a short hop away. The best thing for you to do is come and stay for a time," explained one expat.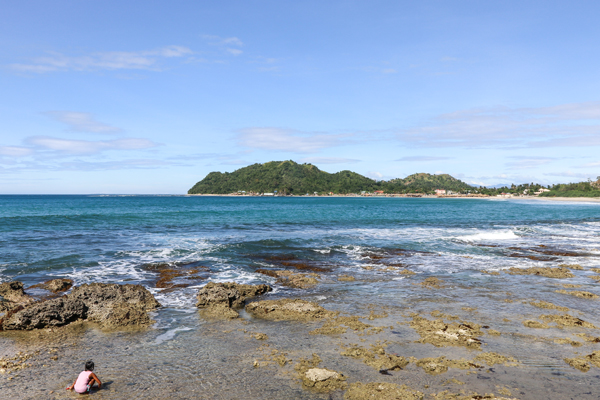 In a discussion about good surfing beaches in the Philippines, one member said, "La Union is a very popular surfing area with surf schools, sandy beaches, nice restaurants and expats. Renting a place near the beach might be expensive, but there must be cheaper around. It's about 4 - 5+ hours drive from Manila and one hour from Bagiou. I liked the place. But it does flood badly in places -- so be careful." Another expat said, "I live in the province of La Union, about 135 miles north of Manila. I love it here on so many levels. While it is not perfect, the cost of living is as low as anywhere in the country. I am on the leeward side of the island of Luzon on the South China Sea, so typhoons are only tropical storms if they come this way. Get away from Manila and look around. I live very well on my income which is about $2500/mo."
General Trias Cavite is a little more than an hour south of Manila. "We bought a property last year in General Trias Cavite at Eagle Ridge Golf Course, along Governors Drive. What I love about the place - it's quiet, close to hospitals and close to schools (De La Salle Cavite)," described one expat. Near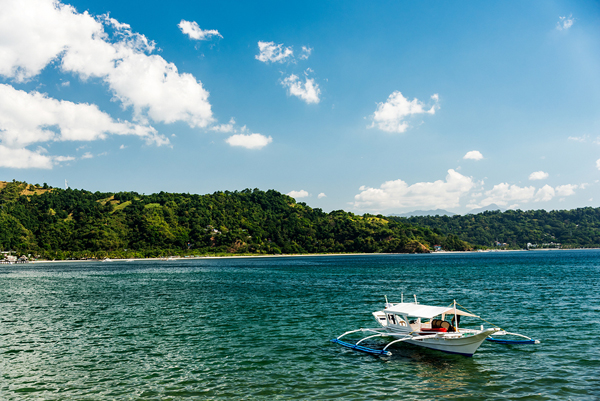 One expat offered advice to a newcomer looking for advice about where to live in the Philippines, "If you are a first timer coming to the Philippines, I'd first remind you that this is or can be a dangerous 3rd world country to just drop in on and stay. That said and for those reasons, I'd suggest an area outside of but close to the old US Navy base in Subic Bay on Luzon Island. Good area with complete infastructure on base that is hard to find anywhere else. Borcay is simply too expensive when Subic offers more for far less. Check out their chamber of commerce at the link at the end of my post. Good luck and enjoy the Philippines." "I like Subic - it's a lot cleaner than some other places I have visited. Went to a few resorts there can't say I noticed the water being polluted it was great. Go to Texas Joe's, best burger I have ever had, really good seafood restaurant opposite. Nice restaurants on the beach as well, police cruising the area. I liked it," said one expat. Another said, "Subic, it's very clean lots of expats, good beaches, restaurants etc Clark has big shopping malls, it's nice there."
Other expats debated the cleanliness of the beaches in Subic. One explained, "Baloy Beach or any other water in the Subic area is not what someone would call a beach or clean water that an expat would want to wade in. Just like GaryD had mentioned Subic, like Manila, is a bay. A lot of pollution gets stuck in it that doesn't move much."
An expat living in Santa Rosa City described what he likes about life there saying, "The friendliness of the people. I get invited to dinner and parties all the time. I appreciate the strong families and the conservative morality. Crime is much less here than what I saw in South America." Another expat in Santa Rosa City explained that your choice of subdivision will make a difference in terms of safety. He said, "We have friends in La Joya subdivision in Santa Rosa City. They are able to leave their bicycles unlocked in their open garage and never had a problem. It's not so safe where we live. No violence, but we are one block off the main drag and beggars and mental cases come by going through our trash. They even stole our trash can. So it depends not only from town to town but subdivisions also vary greatly. Generally the subdivisions where the professionals live are safe." Brent International School is located a few miles from the center of Santa Rosa.
Many expat retirees dislike Manila, but if you are moving to the Philippines for work, Metro Manila is very likely to be your destination. One expat described the misconceptions about safety in Manila. He said, "Manila is not as bad as many people make it seem. I lived or worked in Manila for 25 years. I was never held up and was never in real danger. You must understand how the people think and the do's and don'ts of living in the Philippines. All this time I used jeepnies, rode a motorcycle and drove a car (all at various times). I grew up in the Catskill mountains (quiet, peaceful, no pollution or traffic). I learned to adjust. I agree the traffic is terrible (it can't be worse than Tagaytay on weekends). You have to learn where and when you can travel. Pollution is terrible (air and water). I lived in a relatively clean subdivision, played tennis several times a week, played golf occasionally and lived in air conditioning most of the time. Every place has it's advantages. Would I live in downtown Manila (Escolta), no, but there are many places within Metro Manila that are livable and relatively safe. It does take getting use to. I didn't say it's my ideal place to live but it's not as bad as most expats moving to the Philippines thinks it is. Ask all the expats who are working for multinational companies or embassies. Of course it costs a lot more to live in Metro Manila but I wouldn't say it's more dangerous than many other parts of the country. You can blend in in Manila. Other areas you stick out like a sore thumb."
"This is so income dependent. If safety is your primary concern and you have the money, a place like Ayala Alabang or Greenhills would be the place. Just look for a subdivision with lots of Mercedes and BMW's in the driveways," suggested one retiree in the Philippines. Ayala Alabang is 45 minutes south of Manila and has a population of over 20,000. Greenhills is the name of a shopping center in the Greenhills area that lies about 30 minutes east of Manila.
A woman contemplating a move with her partner to Manila for a job opportunity in Ortigas Centre asked about safe places to live in that area. One expat replied, "You would not be able to find a house for rent within 15 minutes of Ortigas Centre (Greenhills, White Plains, Valle Verde, Green Meadows) for anything near 40T pesos a month. Most likely 60T-100T. Unless you have a need for a yard, you'd be better off with a condo. There are some relatively new ones that are pretty nice in that area which should have their own swimming areas, gym, etc. in a gated area with good security. My ex brother-in-law lives in a nice condo in that area that has all the above accommodations (probably would cost 60T-100T a month). In places like that any taxi's would be safe and registered with the association. You'd be within a short distance of some of the nicest restaurants and one of the nicest malls in Metro Manila."
One expat described living in Lipa, Philippines saying, "Lipa is still a little cooler than most lowland areas. It is located on the SLEX Highway between Manila and Batangas City, handy for business or to the beaches and coastal areas. The City has an SM mall with shopping theaters and restaurants and you are also within a short drive to Mt. Makiling Park and Botanical Gardens. If you are a diver, the Mabini area has many dive resorts or you are also a short drive or the white sandy beaches near Laiya. You are also near the Calamba area and many hot springs resorts. If you like fresh water fishing, you are about a 3 hour drive to Lake Caliraya, a large man made lake stocked with bass and Resorts on the lake are affordable. You can also drive north and west through Tanauan down to the town of Talisay along Taal Lake to the Taal Lake Yacht Club where you can learn to sail or rent a sail boat once you've proven your seamanship abilities -- or you can continue up the road to Tagaytay. The five lakes area near Alaminos on the Laguna Lake loop is also close by as well as Mt. Banahaw. If you golf there is the Mt. Malarayat Golf and Country Club, though I have no idea of the what the fees might be. You can also drive to Batangas and take a ferry to Mindoro and more resorts and beaches. Wherever you land if your new to the Philippines, rent first or always and check out the reliability and availability of the utilities before you pick a spot."
"Central Makati and Fort are very safe places, day and night, but traffic means kids cannot ride bikes or walk alone outside the villages. Nobody gives way to pedestrians, and crosswalks and lights are decoration only. Apartments in Makati and Fort Bonifacio are generally secure with excellent size and quality, big pools and maybe gyms and tennis. Nowhere for bicycles. Recommended apartments are One Roxas Triangle (ORT), Four Seasons, One Salcedo, Pacific Plaza, Essensa, Greenbelt, Serendra, Hidalgo. Many other excellent apartments, 200-300sqm rents 140,000-250,000 pesos per month. Can get smaller and cheaper. If you are paying your own way, you are in for a shock. Rents on Village houses and the above apartments are huge, and services can be expensive. Electricty is very expensive, 15,000-40,000 pesos a month. Ours is 35,000 a month. Expat life here is very comfortable, and all familiar foods and services are available. Many expat groups here, so isolation is not a major issue. Easy way to describe greater Manila, think Los Angeles without the freeways or beaches," wrote one person living in Makati.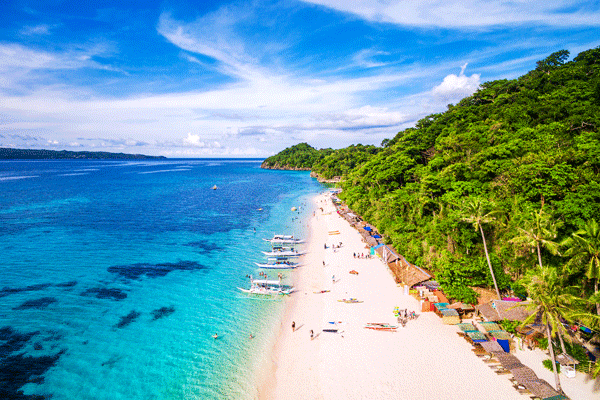 One expat described life on Boracay Island saying, "I live in the Yapak area of Boracay ( third part). The island is about 7.5km long by about 2km wide at it's maximum and 800m at it's minimum and split into 3 areas. First third near the jetty port that you land at tends to be more local's properties and not a lot there. Second part is the centre where there's hundreds of restaurants, bars etc. Modern rentals available there but small plus cost more. Third part is a lot of high end resorts and condominiums. A few quiet and nice beaches there only a few restaurants but there's a small Mall and cinema, golf course etc. Transport wise I have a motorcycle but there's hourly free transport via an air con van or jump on an E Trike for 40 peso to the centre."
Places Expats Love with Risks
Life in The Philippines is not without risks and many expats love living in cities and areas that may come with some reasons to think twice about living there. Below we highlight two cities where some expats love living despite safety warnings (Davao) and risks of landslides (Baguio).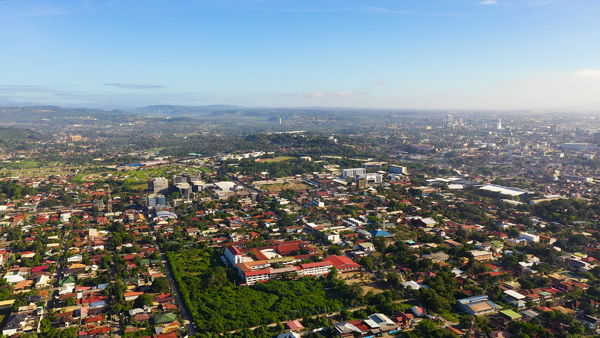 Davao City, remains a popular city on Mindanao Island despite past incidents of terrorism. In September 2016, US Embassy in Manila reported, "An explosive device was detonated in a crowded market in Davao, Philippines on the evening of September 2, 2016." Mindanao, including Davao City, lived under marshall law for several years. One retiree explained, "Mindanao is under martial law which means there are checkpoints on all main highways to the city checking IDs vehicles which prevents terrorists getting through in the first place." Martial law ended on January 1, 2020. But, a state of emergency exists in some areas of Mindanao, "The Philippine government maintains a state of emergency and greater police presence in the Cotabato City area, and in the Maguindanao, North Cotabato, and Sultan Kudarat provinces."
In 2021, one member wrote, "Greeting from Davao City in Mindanao. Davao City and the Samal Island area are safe to live in general, and cost of living is significantly lower than Manila, and even Cebu city. In addition to friendly locals, the Mindanao area has the best Durian as fruit and tuna as seafood. The other fruits such as banana, pineapple, mango, papaya are also plentiful and cheap, and I particularly like the pineapple and mango here. Davao City is a major city with a large population. However, there is not much entertainment, far less than Manila or Cebu. Economy or social development is also lacking behind. Chance of find reasonablly paying job is close to zero." Another member recently wrote, "Davao City is a good place to settle. If you want city life, Davao City is good. Not as much entertainment outlets as in Manila or even Cebu. Nearby Samal Island could be a perfect place to settle for those like quiet life but still close to major city. Much lower violent crime rate than in US in Davao City. A safe place."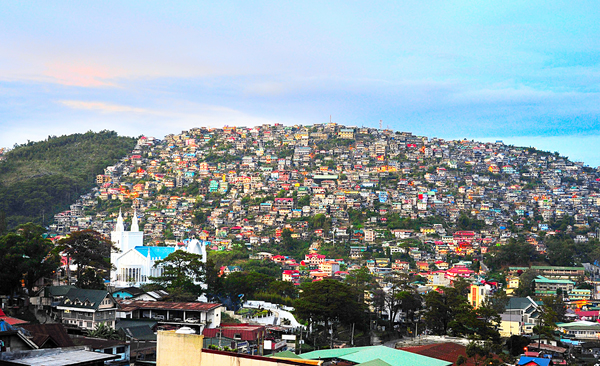 "I lived in Baguio many years ago and loved the city. All that was once so attractive has been lost in the hopeless congestion of a city grown far beyond capacity. Driving is a nightmare. Water and power is a problem. Construction is rampant. Still, there are expats there who wouldn't live anywhere else. Best to get a taste of it yourself," recommended one expat. "Baguio is very cool but it does seem to rain an awful lot. The city is set on top of a mountain and the area does suffer from landslides. Getting out of Baguio means driving down the mountain every time. Lennon road has beautiful views and waterfalls but is under constant repair, again due to landslides. Baguio city is very busy, session Street is where the shops and restaurants are. It feels safe walking around at night. Some nice places to visit. Strawberry farm is worth visiting some really good strawberry jam. Downside for me is being on top of a mountain, and the risk of landslides. Earthquakes can be devastating there, I went there after an earthquake a large hotel had fallen down the mountain side. I like Baguio, it's a nice place, busy but nice," elaborated another member.
"I love Baguio as well. Much cooler there, and a non NPA [New People's Army] location as well. The far north is especially beautiful and much less crowded than other areas. I especially like the Pagudpud area Of Ilocos Norte. I think the most important thing is for newcomers to rent and try different areas until you find the place you feel safe and comfortable in," advised one person. "With Baguio, you just have to keep in mind that it's an urban lifestyle, not a small village. There's traffic, and air pollution, etc. But the weather is nice and the people are friendly, not as tourist-oriented as you find in a place like Sagada, that would only be a farmers' market town if there weren't any foreign tourists," said another person living in Baguio.
About the Author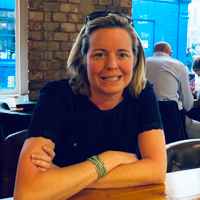 Betsy Burlingame is the Founder and President of Expat Exchange and is one of the Founders of Digital Nomad Exchange. She launched Expat Exchange in 1997 as her Master's thesis project at NYU. Prior to Expat Exchange, Betsy worked at AT&T in International and Mass Market Marketing. She graduated from Ohio Wesleyan University with a BA in International Business and German.
Some of Betsy's articles include 12 Best Places to Live in Portugal, 7 Best Places to Live in Panama and 12 Things to Know Before Moving to the Dominican Republic. Betsy loves to travel and spend time with her family. Connect with Betsy on LinkedIn.