12 Best Places to Live in Mexico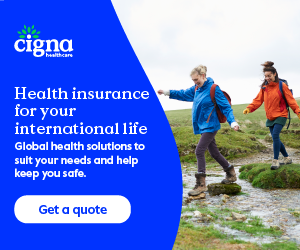 Summary: Mexico is increasing in popularity among expats, snowbirds, digital nomads and retirees in 2022. Learn about the 12 Best Places to Live in Mexico in 2022 according to people already living there.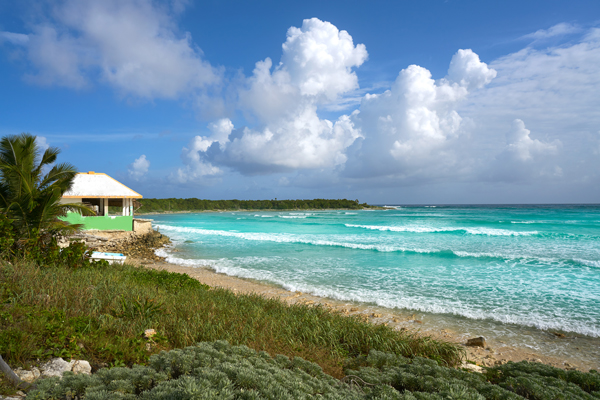 Mexico has been a popular destination among snowbirds, digital nomads, retirees and expats for years. Post pandemic, Mexico's popularity is on the rise. The low cost of living, quality healthcare (varies by city and region), good schools, blue seas, white sandy beaches and beautiful weather are among the laundry list of reasons why people love living in Mexico. Safety is one issue that causes concern among people thinking about moving to Mexico. We've taken that into account when putting together our list of the 12 Best Places to Live in Mexico in 2022, but we recommend that you do your own due diligence. Tips: Visit before you move, rent before you buy and enjoy the process of finding your dream destination in Mexico.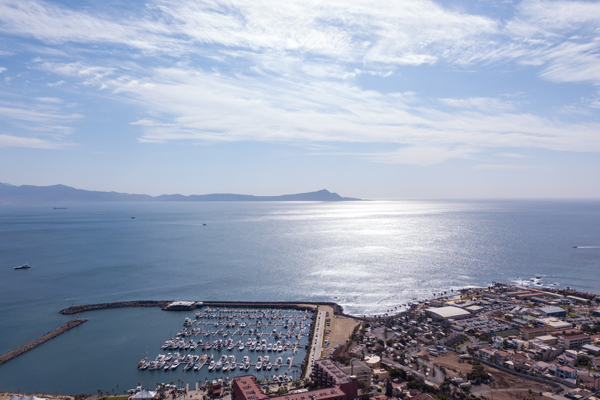 Ensenada, Mexico is a beachfront city with a population of over 500,000 that lies about 2 hours south of San Diego in Baja Norte. "Ensenada is just 3-5 degrees warmer at most than San Diego. Nice in winter and not even noticeable in summer as we always have a very strong breeze coming off the Pacific in the afternoons. You can rent a small home for less than 500 USD per month. There is a large expat community just south of town at Punta Banda," said one expat in Baja. Another expat described Ensenada saying, "But as soon as I arrived I loved it. It has lots of culture, great restaurants many Americans & Canadians, Germans etc..."
More about Ensenada: Mexico Tourism Board's Ensenada Page.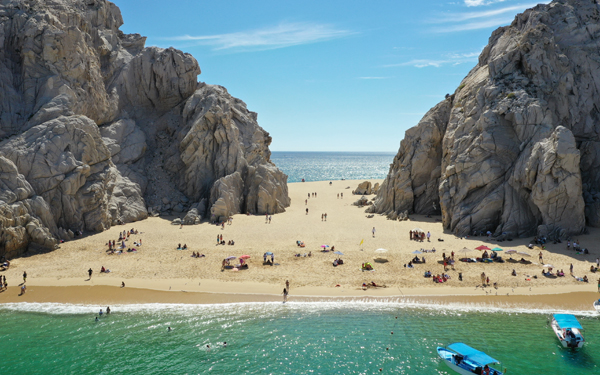 Cabo San Lucas is an extremely popular destination for expats. What many people describe as "Cabo San Lucas" is actually Los Cabos, which is at the southern end of the Baja California peninsula. The two towns of San Jose del Cabo and Cabo San Lucas and the 20 mile "resort corridor" that links the two.
"We live in the town of San Jose Del Cabo and enjoy its many benefits excluding the hot spell (July to October) although tempered with the ocean breezes most of the time.. It is a family oriented town away from the hubbub of Cabo San Lucas. Great world class restaurants, sporting events, international shows, great art galleries, not to forget the wonderful beaches everywhere, and the list goes on. If relaxed ocean living appeals to you then it is a place worthy of consideration. I can say that many of my friends who travel throughout other areas in Mexico comment that our area is by far the most expensive in Mexico excluding those communities that are within the upper class areas of Mexico City, Guadalajara and San Miguel Allende. I have my INAPAM card so my water, property taxes and drivers license are 50% less which makes them reasonable.. The many locally owned mom and pop restaurants are very inexpensive but as expected, the resort dining is pricey. The grocery stores including La Comer, Soriana, Chedraui are not anymore expensive than anywhere else in Mexico I am told. Best to spend a week or so and determine the viability for ones budget," wrote one member.
"Los Cabos has a strong English influence and has had for over 30 years. Mainly American and Canada, however over the lat couple of years we have seen a European influx. The local Mexican population embraces the growth knowing it strengthen their economic future. Over the past 5 years I have noticed the Mexican youth, 25-35 are showing up at the more expensive places to hang out. This tells me there is a growth in the middle class sector of their population, which is great," explained one person living in Cabos.
More about Cabo San Lucas: Living in Cabo San Lucas, Retiring in Cabo San Lucas.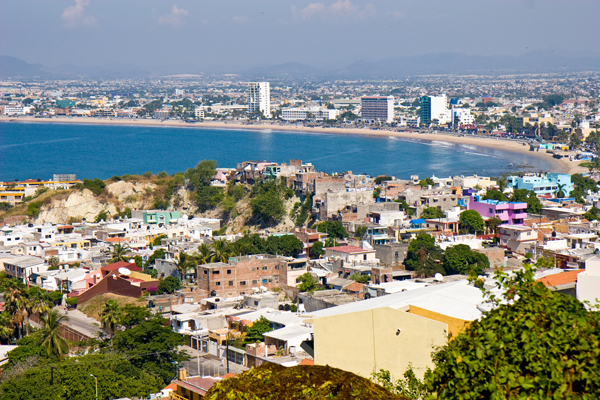 "Mazatlan is a wonderful place to live! We have annual Carnaval and Motorcycle Week celebrations, and there is always some activity going on. There is drug violence, but it is extremely rare for expats to be affected in any way by it. Use the same cautions you would use in any large city. Bring only your electronics, clothes, and things you absolutely can't live without, because moving your goods is very expensive, and prices for replacing them here are very reasonable. Learn as much Spanish as you can (of course!); for a tourist city there were not as many English speaking merchants and service people as I thought there would be. Make an effort to speak Spanish to the people, even if you mangle the language, they will think much more highly of you for trying," wrote one expat in Mazatlan.
"For expats, Mazatlan is a very small town in a large city! It is easy to meet other expats, and we look out for one another. Walk through Centro, the tourist zone, or down the Malecon and odds are good that you'll see someone you know! Most of us are involved in at least one volunteer effort, trying to help make the lives of our gracious hosts just a little better. The citizens of Mazatlan are great people! Family is the most important thing, but people are very involved in earning a living, watching our baseball team (Venados), and enjoying life by the ocean," explained another member.
More about Mazatlan: Living in Mazatlan, Retiring in Mazatlan, Healthcare in Mazatlan, Pros & Cons of Living in Mazatlan and Moving to Mazatlan.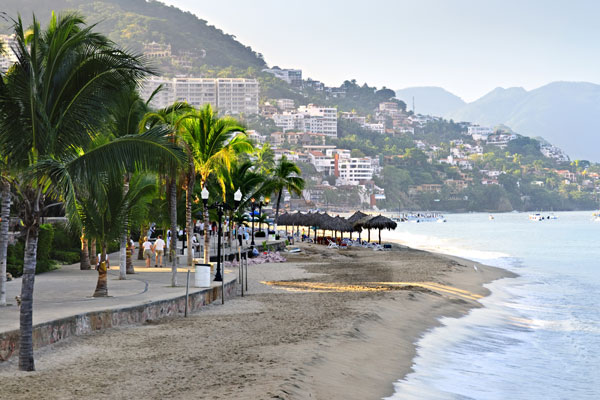 "PV is beautiful. Tropical mountains and beaches. The winters have perfect weather, but the summers are difficult because of the heat and humidity. The Mexican people are happy and friendly, and Mexico is much safer than its reputation. Rental prices and home prices in the expat areas are only somewhat less expensive than the U.S. because it's a very popular town," explained one expat in PV. "The Hotel Zone is a strip of resorts and modern shopping centers. These two areas resemble southern California or Florida. Centro is downtown Puerto Vallarta where the famous malecon boardwalk is located- loud, popular with tourists, fast paced Old Town Puerto Vallarta is slower paced, trendy, more traditional with cobblestone streets, residences, bars/clubs- this is also the popular gay area and has become quite stylish. Mismaloya is farthest south with different areas along the way, marked by "the crescent beaches." This area is lush in tropical jungle and lined with villas and luxury condominiums overlooking private beaches and the ocean," added another member.
Nuevo Vallarta is a popular expat area just north of Puerto Vallarta. "We have a beachfront condo in the north end of Nuevo Flamingos and love it. The area is continuing to grow, is gated and safe, and has easy access to medical, grocery, banks, restaurants, both inside Neuvo and 1 mile away in Bucerias. Restaurant food is very good and reasonable. Nuevo beach is the best -- flat and good for swimming and some boogyboarding. Nuevo Marina has water ferry to downtown and Rythyms of the Night, plus whale watch. Las Cruces, and Punta de Mita are close and have good restaurants and watersports. Love it all," described one expat living in Nuevo Vallarta.
More about Puerto Vallarta & Neuvo Vallarta: Living in Puerto Vallarta, Retiring in Puerto Vallarta, Cost of Living in Puerto Vallarta, Healthcare in Puerto Vallarta, Pros & Cons of Living in Puerto Vallarta, Moving to Puerto Vallarta and Real Estate in PV.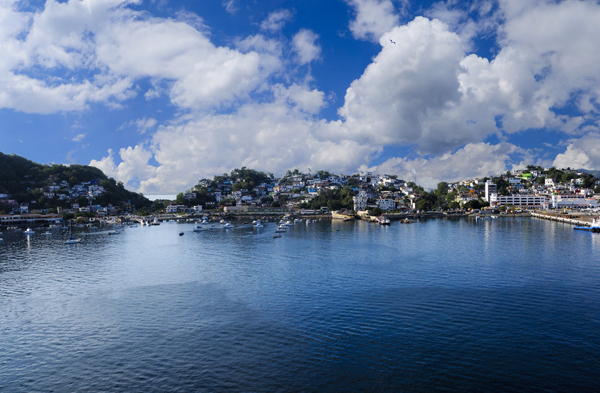 Expats in Manzanillo enjoy a life by the Pacific Ocean in the Mexican state of Colima. While hot in the summer, the number of activities available year round make this a destination enjoyed by expats but not overrun by too many foreigners to ruin an authentic Mexican experience by the sea. "We have a small but active ex-pat community. We have a ladies lunch group once a month to hear speakers on local issues and meet other expats, plus keep up on what is happening in town. We have a couples group that has dinners every Thursday at different restaurants also to meet the other ex-pats. We have golf groups, tennis, bridge, cards, a church service or two in English. We also have a new Gold's gym. The university of Colima has a great music department that has brought us some classical music concerts the last few years. We have many great restaurants and most have live music and dancing. We live in a house on the beach. Many ex-pats live in houses and condos on or close to the beach. The costs of living are going up, but we still have a much better life style here for less money. Our expectations have been met and everytime we go north it is sticker shock in the grocery store and restaurants. The town is mainly Catholic, with some other Christian thrown in. There are a couple of English services of the non denominational Christian belief. The Mexicans are very accepting of us foreigners and very patient with us," described one expat.
More about Manzanillo: Living in Manzanillo, More about Living in Manzanillo, Retiring in Manzanillo, Healthcare in Manzanillo, Moving to Manzanillo and Cost of Living in Manzanillo.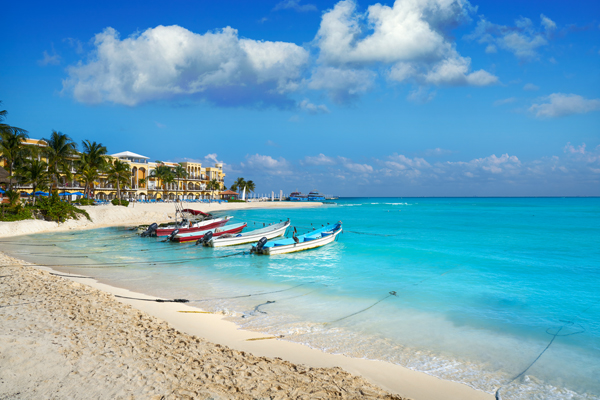 Playa del Carmen (many simply say, "Playa") is a popular destination for expats, retirees and digital nomads. Playa is 40 minutes south of Cancun and on the coast across from the island of Cozumel. "This is a very popular expat community for a number of reasons. The first and foremost...the sun and the beaches! We have white sand and turquoise water. It is an amazing sight. Of course another reason is the cost of living is much less than in the US, Canada, or Europe. We are only about an 1.5 plane ride from Miami, so many expats like the fact that it is easy to get back if necessary," wrote one expat living in Playa Del Carmen.
"Yes, Playa del Carmen is a busy town and expanding, but we love the North end, and we bought in a quieter area where we can drive to Playa and ferry to Cozumel and Belize. But there are many options right in Playa where everything is within walking distance. The north end of 5th Avenue is a very nice area with nice shopping and fabulous restaurants (and 2 blocks to a gorgeous beach). Playa offers the best of everything IMHO. So Playa offers not only the conveniences but many great dining options and bars. But it is a busier city now with a vibrant vibe and you may want something more colonial. If it gets too busy we'll move to another area, so many to choose from," explained another member in Playa.
More about Playa del Carmen: Living in Playa del Carmen, More about Living in Playa del Carmen, Retiring in Playa del Carmen, Healthcare in Playa del Carmen, Moving to Playa del Carmen and Real Estate in Playa.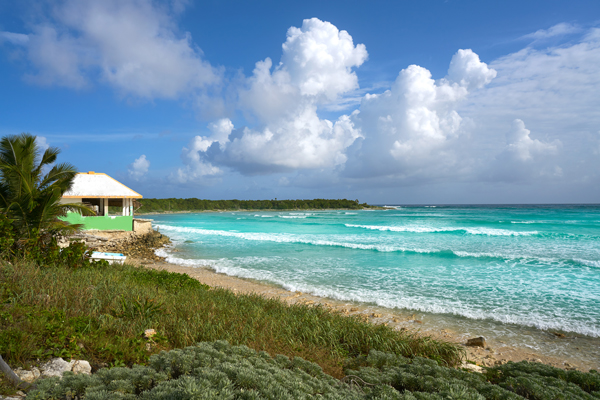 Most of Cozumel's 100,000 residents live in the city of San Miguel. There are 3 different high-speed ferry companies which take passengers from Playa del Carmen to Cozumel in about 40 minutes. Car ferries also take passengers and cars to Cozumel, which takes about 1 hour and 15 minutes. "As my tag implies we live on the island of Cozumel... bought in 2001. No regrets, safe, secure and absolutely beautiful sunsets. All areas have grown which can be good or bad. CZM has good ex-pat community... best advice decide what is most important to u," advised one expat. "Cozumel in our opinion is just right, good restaurants, good ex-pat community, of course world class diving and snorkeling... Some people look at cruise boats as an issue, we don't because it brings revenue to the island... Tues & Wed are big boat days, simple don't go to town those days," wrote an expat in Cozumel.
More about Cozumel: Culture Shock in Cozumel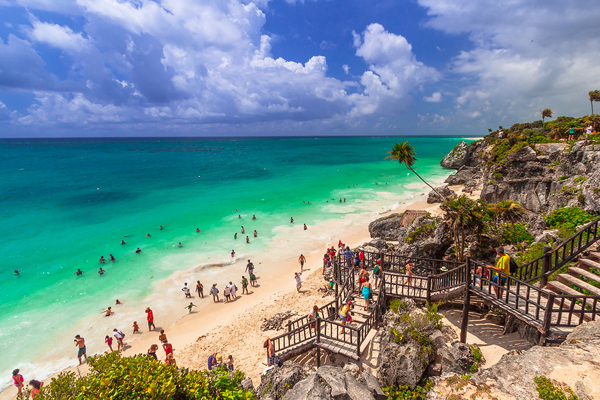 Tulum was one of the last cities built by the Maya. It's population has been growing dramatically. Today, Tulum is a popular expat destination for divers, yoga lovers and those seeking unspoiled beaches and a laid-back lifestyle. Tulum is also known for its foodie scene. Tulum's restaurants serve fresh seafood, traditional Mexican food, vegan fare and more.
"You can live a nice lifestyle on 50k usd's a year in Tulum. There are a lot of people moving here. There is a huge housing shortage, which makes lower end rents, high priced compared to the rest of the area. The good thing is that there is a lots of construction happening and newer rentals are coming on line all the time," advised one member.
There are some drawbacks to Tulum. One member explained, "We decided against Tulum because of two things: the utilities are spotty the closer you get to the beach, and reliable internet service is hard to get. Most of the beaches in the main 'strip' are monopolized by private hotels that will not allow you to access the beaches, or try to chase you away if you are not a hotel guest. We just heard so many great things about Tulum and then when we actually got there it was a bit of a let-down. It's relatively cheap to live there, but only if you live away from the beach. While the beaches are lovely, the main town of Tulum is rather dirty. Hence, there's not a lot of 'middle' ground with regards to rentals in tulum. You will pay thousands to live on the beach, or you can pay a few hundred and live in town, away from the beaches. But you might love it. I strongly suggest an extended visit to see if it's for you."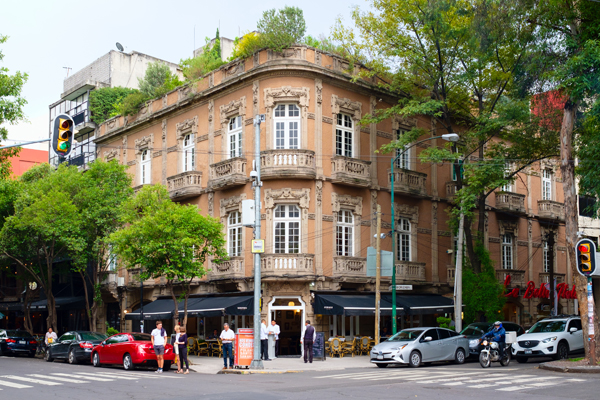 "Mexico City is a fascinating, vibrant, enchanting, culturally rich location that is simultaneously very violent and dangerous and has pockets of crushing poverty and horrific criminality... it is a place of extremes in a culture of extremes," said one member. Another said, "We moved to Mexico City. None of the expats guides suggest CDMX as a retirement location, but there are incredible reasons to live here, even if it is not for everyone."
"I lived in DF [Mexico City] for 26 months near the Archangel in Colonia Cuahetomec. This is behind the American embassy on Paseo Reforma. There really isn't a gringo community in DF, but the greatest sprinkling is where I lived, Roma Sur and Norte, and Condesa. When I say sprinking, I mean you are in neighborhoods that are 200 Mexicans to 1 gringo," wrote one member.
More about Mexico City: Living in Mexico City, Living in Mexico City, Is Mexico City Safe?, International Schools in Mexico City, Retiring in Mexico City, Healthcare in Mexico City, Pros & Cons of Living in Mexico City and Moving to Mexico City.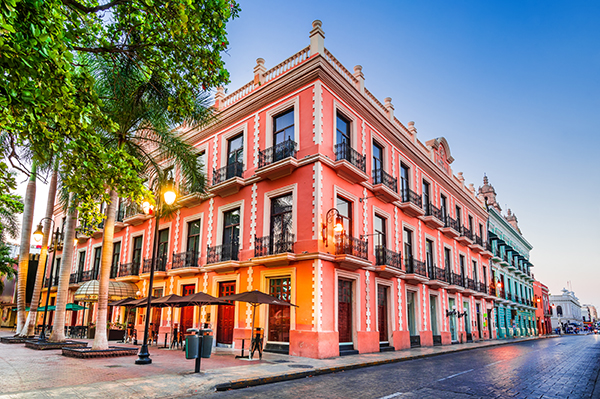 Many foreigners who end up calling Merida home move there for a short stay and absolutely fall in love with the city. "We just returned from travel to Merida in April and were not deterred by the heat! For my husband, not terribly fond of hot weather, to feel so strongly about this place, took me aback. It surprised us both. We expected to like it, but not to utterly love it," confessed one expat. Another member wrote, "This is a FABULOUS city with lots of expats from Canada, U.S. and Europe. The centro district is where all the action is and it is packed with cultural events daily and nightly...Try not to rent too far South of the centro. There is an English Language Library, live theater, symphony, fabulous restaurants, churches galore, parks in every neighborhood and, of course, the zocolo. Not to bore other readers, you can feel free to contact me with a private message for any future questions. As for safety...it's perfectly wonderful! Take off your "worry cap" and enjoy, enjoy!"
Hot, humid weather is one of Merida's drawbacks and anyone moving here should spend time in the city deciding if the weather is a game changer. Some people decide to look elsewhere. Others who stay share this expat's mentality, "Merida is a great city with lots of free activities for adults and children. It is sophisticated, with diverse areas to live in and friendly people, and a good public transportation system. It is a pretty city. However, it is Hot! Come prepared for heat during the day, but the nights cool off comfortably. Make sure your home is well ventilated so that you can enjoy fresh air at night and not need air conditioning. You will not need to bring much, there are plenty of malls and stores with merchandise for you and your home from high end to low," explained one member in Merida.
Language tip: "English is less spoken than in many places in Mexico. I would suggest learning intermediate to advanced Spanish here. Maya is also widely spoken as a first and second language too," advised one person.
More about Merida: Living in Merida, Mexico, More about Living in Merida, Retiring in Merida, Healthcare in Merida and Moving to Merida.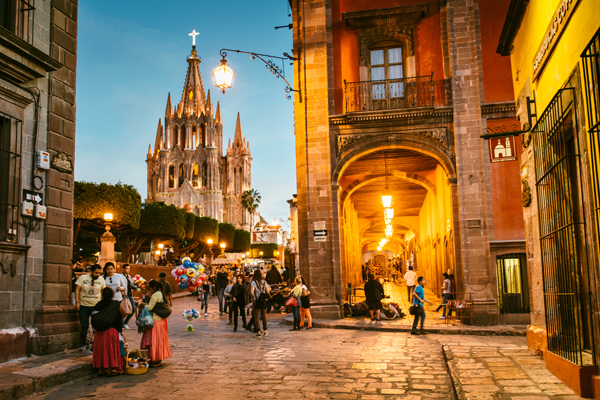 San Miguel de Allende (abbreviated SMA) is a beautiful inland city, with UNESCO World Heritage site designation. The city's cobblestone streets, well-known art scene, famous central plaza, called El Jardin, and active expat community of approximately 10,000 have made it one of the best places to live in Mexico. "San Miguel de Allende is a truly magnificent Mexican location. It is also becoming a locale of choice for American and Canadian expats. There is a highly developed infrastructure that supports a very large and sophisticated English speaking community there. Culture abounds and there is an extremely active social calendar," wrote one expat living in San Miguel de Allende. "San Miguel is quaint with tennis, books, coffee... there is traffic mid-day. 10K plus international community. Renting or buying are both options. Very active community," added another.
"San Miguel is great. I am from Arizona and love it. Summer is high 70's to low 80's (June, July, August). At night you need a light wrap. We have a great rainy season. Rains don't last long most of the time but are fierce and fun," commented one expat living in San Miguel.
More about San Miguel de Allende: Living in San Miguel de Allende, Healthcare in San Miguel de Allende, Pros & Cons of Living in San Miguel de Allende and Moving to San Miguel de Allende.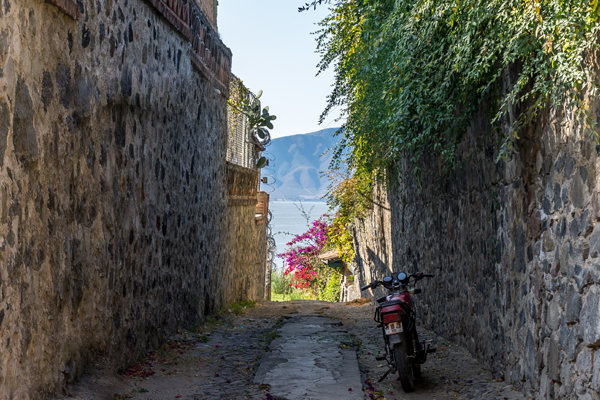 An expat in Lake Chapala described the area saying, "let me tell a little bit about where I call home or my little piece of paradise. There are several villages on the North West edge of Lake Chapala. Yes, villages. This is not a metropolitan area. Guadalajara is about 30-40 minutes away with an international airport -- so that is a plus. We are at about 5000 ft. between the mountains and the lake, and have wonderful weather. Right now we are experiencing a cold snap, but this is very unusual. There are many expats in the area. About half are snowbirds. The houses are very quaint. You will see cars, many buses, trucks, horses, donkeys, cows and scooters. And that might be in one day. The pace of life is much slower, but we are kept quite busy." Another expat said, "Fresh food--veggies, fruit everywhere. Street markets that have everything you need, and the smell of cooking. People saying "buenas dias" and "buenos tarde" when passing on the street. No one's in a hurry, except macho jovenes in their cars, and then it's only to the next tope. Tequila and basic Mexican home cooking. The craftsmen and women, who still make items as their parents and parents before them did, and the fact that chicken wire has so many uses."
More about Lake Chapala: 10 Tips for Living in Lake Chapala, Living in Lake Chapala, Retiring in Lake Chapala, Cost of Living in Lake Chapala, Healthcare in Lake Chapala, Pros & Cons of Living in Lake Chapala and Moving to Lake Chapala.
About the Author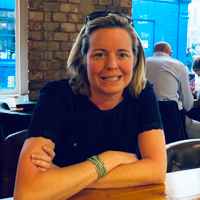 Betsy Burlingame is the Founder and President of Expat Exchange and is one of the Founders of Digital Nomad Exchange. She launched Expat Exchange in 1997 as her Master's thesis project at NYU. Prior to Expat Exchange, Betsy worked at AT&T in International and Mass Market Marketing. She graduated from Ohio Wesleyan University with a BA in International Business and German.
Some of Betsy's articles include 12 Best Places to Live in Portugal, 7 Best Places to Live in Panama and 12 Things to Know Before Moving to the Dominican Republic. Betsy loves to travel and spend time with her family. Connect with Betsy on LinkedIn.