International Destination Report
12 Tips for Living in Granada, Spain
By sambern8
An expat in Spain talks about what it's like living in Granada. About an hour from the coast and close to skiing and hiking in the Sierra Nevadas, Granada is a university town with a much lower cost of living than many US cities.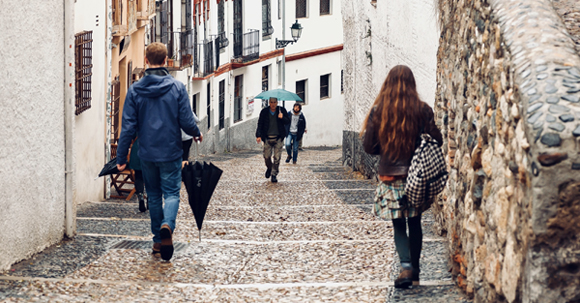 Expat Life in Granada
It's a medium sized college town that is very vibrant and inter-cultural Also near the coast and skiing.
Cost of Living in Granada, Spain
We used Numbeo to reasearch and compare. Basically, cost of living in Granada is 1/3 that of NEW York and 2/3 the cost of our US home, Dallas. Did we mention free health care?
Local Clubs and Organizations
Vibrant meet-up group of expats. You can always find someone willing to go out for Tapas. Lot of hiking groups for the nearby Sierra Nevadas. We live near a community tennis center and play there a lot. We also joined a group of expats in forming a board game group.
International Schools in Granada
The Globe is here. Many English language schools, either casual, intensive for temp people, or prep for Cambridge). We enrolled in University Granada.
Shopping in Granada
Every corner has a local grocer. There is also Carrefour and the Corte Ingles mid-town. We also found two great small Asian markets, one Chinese, one with Indian food.
Public Transportation
Bus line is great! We sold our car and walk/take bus. We've been waiting for train station remodel for 5+ years (but that's Spain)
Climate
Hot but dry summers, cool winter with one cold snap usually. Spring and Fall outstanding!
Restaurants and Nightlife
Tapas is king here, and it is cheap (only tourists pay for tapas). lunch is not served till about 2:00, but you can find great menu del dia deals (multiple courses and beer/wine for 10 euros). Dinner at 9-11:00 pm
What are local hospitals and emergency services like?
Haven't used, but hear they are fine. Private insurance first year (about $80 per month with NO deductible), after that can get on state medical for free!
Recreational Activities in Granada
Hiking and skiing in Sierra Nevadas, One hour bus ride from coast. We are near tennis park, though tennis here limited.
Residency and Visa Requirements
Best to consult Spanish website,. We are here on a non-lucrative visa which requires minimum financial assets.
Crime in Granada, Spain
Petty theft. It's a very safe city. We stroll at midnight, seeing elderly, young people, etc.