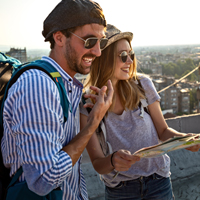 Now Health International
Live Healthier, Live Happier with award winning international health insurance.
GET A QUOTE

Living in Italy Guide
Expats in Italy discuss the pros and cons of living in Italy. From bureaucracy to expensive cities, Italy can be a challenge. Most expats find that the amazing food, charming countryside, beautiful beaches and public healthcare make up for the cons.
Italy Forum
Join our Italy forum to meet other expats and talk about living in Italy.

Contribute
Help other expats and newcomers by answering questions about the challenges and adventures of living in Italy.

Best Places to Live in Italy
If you're dreaming about living on the coast, here are the 11 best places to live on the coast in Italy.

Healthcare in Italy
An overview of the healthcare system in Italy - public and private hospitals, Servizio Sanitario Nazionale (SSN), getting your Tessera Sanitaria (healthcare card), Covid-19 entry requirements, vaccinations for Italy, prescription medication availability and more.

Cost of Living in Italy
Expats offer insight into the cost of living in Italy.

Moving to Italy Guide
Expats moving to Italy envision a romantic lifestyle in one of the most beautiful countries in the world. However, it is important to make sure that you do comprehensive research and fully understand what it will mean to move to the city, town or village you choose.

Real Estate in Italy
Real estate listings in popular cities and towns in Italy.

Pros & Cons of Living in Italy
Take off your rose-colored glasses and learn what expats have to say about the biggest challenges and the greatest rewards of living in Italy.

Retiring in Italy
Advice for people retiring in Italy.
Italy Visa & Residency Guide
Expats share their experiences obtaining residency in Italy. They discuss the ins and outs of the applying for the permesso di soggiorno, recent travel issues, permanent residency in Italy and more.
10 Tips for Living in Italy
Italy is a dream destination for many, but some expats have difficulty adjusting to the rustic Italian lifestyle. Expats share their top tips for living in Italy.