Moving to Georgia
Last updated on Feb 12, 2023
Summary: Expats and digital nomads move to Georgia Rep for its low cost of living, its beautiful landscapes, and its friendly people. The most popular cities for expats and digital nomads in Georgia Rep are Tbilisi, Batumi, and Kutaisi. People looking for a place to live in Georgia Rep can search online for rental listings, contact real estate agents, or look for postings on social media.
What do I need to know before moving to Georgia?
When we asked people what advice they would give someone preparing to move to Georgia, they said:
"Expats should do research on the cultures and norms of Georgia before moving to the country. It is important to understand the language, politics, climate, and food etiquette in order to ensure a smooth transition. Expats should familiarize themselves with local laws and regulations, explore housing options, and plan for healthcare, schools, and transportation. Additionally, it is recommended to connect with expats already living in Georgia for advice and recommendations," said one expat in Georgia Rep.
How do I find a place to live in Georgia?
We asked expats how they chose their neighborhood and found a place to live. They answered:
"When looking for a place to live in Georgia, you can start by researching the state's main cities. Explore the cost of living, public transportation, and rental platforms for the city you are interested in. Additionally, you can look for local resources and real estate agencies, either online or in person, that can help you find your ideal home. Consider what type of residence you want to live in - brownstone, condo, apartment, or house. Additionally, think about what other amenities are important to you such as access to parks, public transportation, or grocery stores. With this information in hand, you will be set to find the perfect place to live in the Peach State," said one expat who made the move to Georgia Rep.
What is a typical expat home or apartment like in Georgia?
"Expat homes and apartments in Georgia are typically spacious, comfortable, and well-furnished. With modern amenities, they offer plenty of privacy and security. Most apartments come with their own balconies, terraces, or private gardens, giving occupants a chance to enjoy some fresh air and disconnect from the hustle and bustle of the city. Expat homes in Georgia are typically beautifully decorated with wooden floors, classic furniture and even art pieces, reflecting traditional Georgian interiors in a contemporary and stylish way. Moreover, larger expat homes usually come with full-fledged housekeeping services along with a handyman, laundry, and security personnel," remarked one expat in Georgia Rep.
What is the average cost of housing in Georgia?
If you are thinking about moving to Georgia, cost of living in probably a key consideration. Expats commented about the cost of housing:
"The average cost of housing in Georgia is relatively high, with prices varying greatly from city to city. Renting an apartment in the state is generally more expensive than other parts of the United States, with an average middle range price of around $1,000-$1,500 a month. Buying a home can also be expensive, with median list prices of over $200,000. Generally, the more urban and rural areas of the state tend to have higher housing costs than suburban areas," explained one expat living in Georgia Rep.
Should I buy or rent a home in Georgia?
If you have not spent a lot of time in Georgia, you should rent before even thinking about buying. We asked expats there about the buy vs. rent decision:
"It is ultimately a personal decision as to whether you buy or rent a home in Georgia. Buying a home in Georgia means you will have to pay closing costs, such as insurance, title search and some other costs, as well as a mortgage. Renting a home in Georgia often does not require a down payment and can provide more flexibility in regards to location, as well as the length of your rental agreement. Consider the costs and benefits of each option in light of your personal budget, needs and preferences to decide the best course of action," commented one expat who made the move to Georgia Rep.
What should I pack when moving to Georgia?
We asked people living in Georgia to list three things they wish they had brought and three they wish they had left behind. They responded:
"It is important to prepare for changes in climate when moving to Georgia. Warm weather clothing, including lightweight shirts, shorts, and swimwear, will come in handy for those hot, humid Georgia summers. In addition, you may want to bring layers such as sweaters, jackets, and rain gear for cooler months. Being in the south, it's also important to bring mosquito repellent and sunscreen. If you're moving during the winter months, be sure to bring winter weather appropriate clothing, like scarves, gloves, and heavier jackets. Georgia also experiences severe thunderstorms, so an emergency preparedness kit is a good idea. Finally, items such as a first-aid kit and basic tools will be helpful for any home repairs or maintenance," said one expat in Georgia Rep.
What cultural faux pas should I try to avoid making in Georgia?
We asked people in Georgia if they could share any humorous cultural blunders they commited. For new expats, keep in mind that these incidents are an inevitable part of expat life. Learning to laugh about them is the key!:
"It is important to respect Georgia's deep-rooted Christian traditions. Avoid using profane or offensive language, and refrain from public displays of affection. Showing respect for religious days, such as Good Friday, is also important; it is customary to dress conservatively and to abstain from activities such as gambling or drinking. It is also important to show respect for the elderly members of society; for example, it is considered polite to stand up when an elderly person enters the room. Additionally, speaking too loudly, especially in public places, is frowned upon," said one expat who made the move to Georgia Rep.
"Just translation/grammar mistakes. I was asked where I was from, answered 'the Netherlands' and when the baker ask where that was, in stead of saying 'that is West of Germany', I ended up saying 'that is in Western Germany"," explained one expat living in Tbilisi, Georgia Rep.
Why do people move to Georgia?
When we asked people why foreigners move to Georgia, they responded:
"Georgia is increasingly becoming an attractive destination for expats, due to its low cost of living, vibrant culture, fascinating historical and natural attractions, and strong economy. The country's quickly-developing infrastructure, which includes reliable transportation networks, modern hotels, and excellent healthcare facilities, provide a comfortable living environment for expats. Furthermore, the warm climate of the country and its friendly locals offer a welcoming atmosphere to those relocating to Georgia, who have the option to choose from the range of international restaurants, leisure, and entertainment venues located in the cities. With its young population and openness to diversity, Georgia provides plenty of opportunities for those who want to learn, experience, explore, and grow," stated one expat who made the move to Georgia Rep.
How are healthcare services Georgia?
When we asked expats and global nomads about the quality of medical care in Georgia, they replied:
"Healthcare services in Georgia are provided by both public and private institutions. The public healthcare system is funded by the government and is available to all citizens and foreign residents. The quality of public healthcare in Georgia is generally good, with a wide range of services available. Expats in Georgia can use the public healthcare system, but they may need to pay for some services. In addition, there are a number of private healthcare providers in Georgia that offer a range of services, including specialist care. Expats in Georgia can also access private healthcare services, although they may need to pay for these services out of pocket," remarked one expat in Georgia Rep.
What are medical services in Georgia like?
When we asked expats and global nomads about the quality of medical care in Georgia, they replied:
"In Georgia, medical services are widely available and of a high quality. The country has a well-developed healthcare system, with a network of hospitals, clinics, and medical centers providing a range of services. Georgia also has a number of specialized medical centers, such as cancer treatment centers, cardiology centers, and fertility clinics. The country also has a number of highly trained medical professionals, including doctors, nurses, and other healthcare professionals. Additionally, Georgia has a number of medical insurance plans available to its citizens, allowing them to access quality healthcare services," said one expat.
About the Author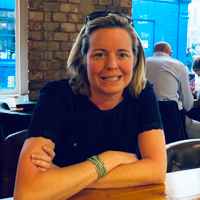 Betsy Burlingame is the Founder and President of Expat Exchange and is one of the Founders of Digital Nomad Exchange. She launched Expat Exchange in 1997 as her Master's thesis project at NYU. Prior to Expat Exchange, Betsy worked at AT&T in International and Mass Market Marketing. She graduated from Ohio Wesleyan University with a BA in International Business and German.
Some of Betsy's articles include 12 Best Places to Live in Portugal, 7 Best Places to Live in Panama and 12 Things to Know Before Moving to the Dominican Republic. Betsy loves to travel and spend time with her family. Connect with Betsy on LinkedIn.