Moving to Lithuania
Last updated on Nov 27, 2021
Summary: Moving to Lithuania? Expats talk about what you need to know before moving to Lithuania.
What do I need to know before moving to Lithuania?
When we asked people what advice they would give someone preparing to move to Lithuania, they said:
"Language is critical. You probably will not succeed or even stay if you do not know the language. Let a local to handle as many of the transactions as possible. A spouse or girl/boyfriend is best for this," said another expat in Vilnius.
How do I find a place to live in Lithuania?
We asked expats how they chose their neighborhood and found a place to live. They answered:
"Actually my wife at that time chose this flat due to location. Things to watch out for: a seedy neighbourhood, top and bottom floors, brand-new flats (sub-standard fixtures and settling can cause serious damage), and no shade. The sun can get pretty hot here and if you have no balcony overhand or trees to block the summer sun, June/July can get pretty warm on occasion. Insist on a steel door," remarked another expat in Vilnius, Lithuania.
What is a typical expat home or apartment like in Lithuania?
"I live in a flat. Houses have only recently come into fashion. So expect to live in a flat, which is considerably cheaper than a house," explained one expat living in Vilnius, Lithuania.
What is the average cost of housing in Lithuania?
If you are thinking about moving to Lithuania, cost of living in probably a key consideration. Expats commented about the cost of housing:
"Probably higher since a run down flat in Vilnius a couple of years ago cost nerly as much a modern flat in Stockholm, only our wages are consideraby lower than those in Sweden. The Lithuanian ex-pats sending money back home to invest are what is driving the real estate market," explained one expat living in Vilnius, Lithuania.
What should I pack when moving to Lithuania?
We asked people living in Lithuania to list three things they wish they had brought and three they wish they had left behind. They responded:
"You can get pretty much everything here, but it might take you a while to find it. One thing that is hard to find are the little things like a nylon bag pacifier to give a baby a piece of apple with. Buying a computer here is a chancy thing as they often offer sale computers with a few obsolete parts, that complicate use. My laptop, for example, has a French keeyboard. Electronics seem to be a lot more expensive here as well. Foods are different here and while major brands may be available, your local favourite foods may not be. The latest DVDs and books will probably not be available here for a while or at all. Wrist/ankle wallets are not available here. Things to leave behind. Most of your clothing. You can get inexpensive, good quality clothes at the used clothing shops. Tons of books. Some used clothing shops do a good job of selling used English books. Only take those you need immediately or are rarer. Most of your tools. You can find most of them here. But good quality hand tools like carving chisels go ahead and bring," added another expat who made the move to Vilnius.
What cultural faux pas should I try to avoid making in Lithuania?
We asked people in Lithuania if they could share any humorous cultural blunders they commited. For new expats, keep in mind that these incidents are an inevitable part of expat life. Learning to laugh about them is the key!:
"I've become paranoid about gender and toilet facilities - I assumed that most washrooms would be unisex as they are throughout mainland Europe, so I blithely sailed into more than one 'gents' by mistake, which embarrassed the occupants more than it did me," explained one expat living in Visaginas, Lithuania.
How are healthcare services Lithuania?
When we asked expats and global nomads about the quality of medical care in Lithuania, they replied:
"Understand that health care in Lithuania is hit and miss, depending on who you are and where you live - health care providers here are often poorly paid, poorly motivated, and irresponsible," added one expat living in Lithuania.
About the Author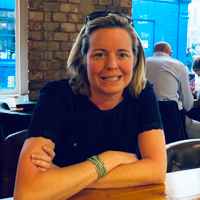 Betsy Burlingame is the Founder and President of Expat Exchange and is one of the Founders of Digital Nomad Exchange. She launched Expat Exchange in 1997 as her Master's thesis project at NYU. Prior to Expat Exchange, Betsy worked at AT&T in International and Mass Market Marketing. She graduated from Ohio Wesleyan University with a BA in International Business and German.
Some of Betsy's articles include 12 Best Places to Live in Portugal, 7 Best Places to Live in Panama and 12 Things to Know Before Moving to the Dominican Republic. Betsy loves to travel and spend time with her family. Connect with Betsy on LinkedIn.