Living in South Africa
Last updated on Feb 04, 2023
Summary: The approximate population of South Africa is 57.7 million people. The largest cities in South Africa are Johannesburg, Cape Town, Durban, Pretoria, and Port Elizabeth. Expats love living in South Africa for its diverse culture, beautiful landscapes, and friendly people. Life in South Africa is often described as vibrant, exciting, and full of opportunity. Popular foods in South Africa include braai (barbecue), pap (maize porridge), bobotie (a curried mince dish), and boerewors (sausage). The cons of living in South Africa include a high crime rate, poor infrastructure, and a lack of job opportunities. The average cost of living for an expat is around $1,500 to $2,500 per month, depending on lifestyle and location.
What do I need to know about living in South Africa?
When we asked people what advice they would give someone preparing to move to South Africa, they said:
"Before retiring in South Africa, it is important to research local laws and regulations related to working and living in the country. Depending on an individual's nationality, there may be visa requirements for long-term residence. It is important to contact a qualified attorney for advice on this matter. Additionally, one's retirement income destiny is of critical importance, so formulating a plan to maintain financial stability even after ceasing work is key. One's South African retirement plan may include saving regularly, claiming a South African state pension, and taking out an annuity or tax-efficient pension plan. Lastly, when considering retiring in South Africa it is essential to research the cost of living and weather conditions, as well as the country's geography, culture, and other necessary information to ensure a smooth retirement in the country," added another expat who made the move to South Africa.
"The biggest concern for this country is crime. You have to be careful and have to sacrifice a bit of freedom in terms of moving out," explained one expat living in Johannesburg, South Africa.
Answer Question & View More Answers
How do I meet people in South Africa?
When we asked people living in South Africa about club and activities where newcomers can meet others, they responded:
"Joining clubs and societies, attending social events, volunteering, participating in online communities and networking with professionals, friends and acquaintances are all great ways to meet people in South Africa. Joining expat communities, taking language classes, visiting local pubs and cafes, regularly attending cultural events and organising meetups are also good ways to meet people in South Africa. Lastly, getting involved in local communities, exploring different neighbourhoods and trying to travel around the country as much as possible will also contribute to meeting new people," remarked another expat who made the move to South Africa.
"I would suggest either an involvement with the Women's International Club or a similar group. I am not personally involved with any such groups, but have found I have met many people through going to the gym. Also, if you have children, you can always get involved with the school (generally) and meet other parents that way," explained one expat living in Johannesburg, South Africa.
What is life like in South Africa?
When we asked people living in South Africa what life is like and how people spend their time, they said:
"Living as an expat in Thailand is generally quite enjoyable and liberating. Working in Thailand is becoming increasingly popular and many expats find friendly, welcoming colleagues as well as a good work-life balance. The cost of living is relatively low, meaning expats can enjoy dining out, shopping, and going out for the night without breaking the bank. There is plenty to explore in terms of adventure and culture and the country is full of gorgeous islands, mountains, and beautiful scenery, meaning you can enjoy the great outdoors without having to travel too far. Additionally, the locals are kind, polite, and welcoming and there is plenty of help available for expats who require any form of assistance. All in all, living as an expat in Thailand is a great experience and one that many people find to be a rewarding, fun, and exciting life experience," added another expat who made the move to South Africa.
"Work seems to be the general feel of Johannesburg..... accented with lots of holidays during the 'festive' season (Dec & Jan). People are quite social on the weekends and plan large all day 'braiis' (barbeques) with loads of families and loads of food and drink. Going to the 'bush' is also important when one can take the time," explained one expat living in Johannesburg, South Africa.
Is there a lot of crime in South Africa?
We asked people if there is a lot of crime. They answered:
"Yes, crime is a major issue in South Africa. South Africa continues to have one of the highest rates of violent crime in the world, and the crime rate has been increasing over the years. According to the South African Police Service (SAPS), over 20,000 South Africans were murdered in 2019 alone. Other serious crimes include robbery, home invasion, carjacking, and burglary. Despite the high crime rate, South Africa remains a popular tourist destination with travelers from across the globe," commented one expat who made the move to South Africa.
Is there a lot of diversity? Are people in South Africa accepting of differences?
"In South Africa diversity is well-represented. South Africans are generally accepting of differences and of other cultures, primarily due to the fact that a large number of ethnicities, races and religious backgrounds are found in the country. South Africa is hailed for its culture of "ubuntu", which is often described as the acknowledgement of the interconnection between people and their shared humanity. This culture of acceptance and inclusivity has been strengthened by South Africa's progress with democratic transformation over the past two decades. As a result, South Africa is typically an accepting place where people of various cultural backgrounds can feel at home," remarked another expat who made the move to South Africa.
"Its a very diverse culture. people are tolerant with cultural issues and do recognise the differences," explained one expat living in Johannesburg, South Africa.
Answer Question & View More Answers
What are the schools in South Africa like?
"Schools in South Africa vary in terms of size and type. There are public and private schools, with a wide range of academic standards, curricula, and extra-curricular activities. In general, public schools are funded by the government and have fewer resources than private schools, making them often less desirable. Private schools tend to have higher-quality facilities and extra-curricular activities, better trained staff, and generally higher academic standards. Most schools in South Africa also offer specialised programmes and additional resources for students who need extra academic support or come from disadvantaged backgrounds," said another expat in with children at .
"The Cambridge qualifications are very flexible and give the students a lot of opportunities for study abroad. A fairly traditional school w.r.t. uniforms (blazers and straw boaters)and manners etc. Academic standards are quite high and they expect a lot from the kids.(not a bad thing) A super atmosphere around the school, the kids are happy," remarked another parent with kids at CHARTER COLLEGE INTERNATIONAL in Johannesburg.
Is the cost of living in South Africa high?
We asked people how much they someone comfortably live on in South Africa, they wrote:
"The cost of living in South Africa can vary depending on location and lifestyle. Generally, South Africa is considered to be fairly affordable and has much lower costs than other countries in the region, such as the UK or US," wrote a member in South Africa.
About the Author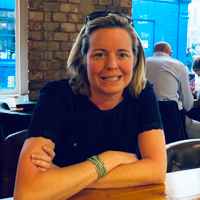 Betsy Burlingame is the Founder and President of Expat Exchange and is one of the Founders of Digital Nomad Exchange. She launched Expat Exchange in 1997 as her Master's thesis project at NYU. Prior to Expat Exchange, Betsy worked at AT&T in International and Mass Market Marketing. She graduated from Ohio Wesleyan University with a BA in International Business and German.
Some of Betsy's articles include 12 Best Places to Live in Portugal, 7 Best Places to Live in Panama and 12 Things to Know Before Moving to the Dominican Republic. Betsy loves to travel and spend time with her family. Connect with Betsy on LinkedIn.