9 Expats Talk about Health Insurance and Healthcare in the UAE
Last updated on Nov 27, 2021
Summary: Expats and global nomads in UAE share their experiences with health insurance, healthcare in UAE, local hospitals and specialists, quality of medical care and more.

How are healthcare services the UAE?
When we asked expats and global nomads about the quality of medical care in the UAE, they replied:
"There are a huge veriety of clinics and hospitals available, and most are held to a very hight standard of care. Seek advice from other expats and do some research, there is loads of info out there. It took us a few trys before we found a doctor that we were comfortable with and so you might need to shop around a bit. Doctors and other health care professionals tend to be expats as well," said one expat living in Dubai.
"Advanced recon on the ground is very important. Do not expect to find the perfect doctor straight away. The American hospitals are the most expensive but usually have the best standards of care. Find a doctor whom you like and stick with that person. If your company does not provide medical insurance, there are plenty of options to receive based on budget," mentioned another expat in Abu Dhabi.
Answer Question & View More Answers
"I am a mental health patient and I got a relapse episode here. The medication provided to me has massively improved my life," added another expat.
Are healthcare and health insurance expensive in the UAE?
"Health insurance is covered by the company we work for. We pay a minimal fee per doctors visit but thats it," said another expat.
"Like most places, you pay for what you get. My company had our family on a health plan but it continually changed with the company trying to save money every year," remarked another expat in Abu Dhabi.
Answer Question & View More Answers
What are emergency services like in the UAE?
When we asked about emergency services, members in the UAE wrote:
"There are 2 hospitals within 10 km of our house, both easily accessible and of a hugh standard. Both are private and have very good reputations. (Saudi german hospital and al zhara hospital. There are a huge number of clinics so you are never far away from one," added another expat.
"Hospitals are everywhere, clinics as well. Less than 30 minutes to any hospital unless you are out in the desert. MedClinic is a big hospital provider in the region. Quality varies on your insurance coverage. Both public and private options. The region is very class oriented and as a result, the costs associated with care filters out the people who cannot afford it," commented one expat who moved to Abu Dhabi.
Answer Question & View More Answers
Will I need to travel to see a specialist?
"I ha e never needed to do this, but every specialist we saw was really good and associated with high quality care and facilities," mentioned another expat living in Dubai.
"Many people traveled to Thailand or other south east asia for medical tourism. Everything from knee replacement to braces. Typically, standards are good if not better than care in UAE," said an expat in Abu Dhabi.
Answer Question & View More Answers
Are common prescription medications available in the UAE?
"We were able to get everything we needed. We did tend to find a lot of generic brands. We easily got antibiotics over the counter and didnt need a prescription for much, although what we did get a prescriotion for was almost always covered by insurance," said one expat living in Dubai.
"There are no prescribed narcotics: codine and similar drugs are not legally available and traveling in with them can get you in big trouble. The UAE website has a detailed list of what is legal. There are pharmacies all over with an assortment of medicines. Some things like birth control and Voltorin are available over the counter but other things like cough syrup may require prescription. You may often skip the doctor and go to a trusted pharmacy and they will advise on what to take to get better," mentioned another expat in Abu Dhabi.
Answer Question & View More Answers
"Hospitals are clustered in the city. On the outskirts they are less frequent, but you are never more than a 20 minute drive away from a hospital. There are private and government hospitals available, expats typically go to the private hospitals. Quality of care is high, hospitals are held to international standards and have expat nursing staff and doctors," said another expat.
"Hospitals are very close and provide adequate care. Like any area, you get what you pay for as well when it comes to the hospitals. The American hospitals are typically the most reliable for high level of care," remarked another expat in Abu Dhabi.
Answer Question & View More Answers
What have your experiences during the pandemic with the local healthcare system been like?
We asked members about local medical facilities in the UAE, they wrote...
"Very poor PEP protection at SGH but dentist VilaFortuny was excellent with full PEP available," remarked another expat in Dubai.
"Constant swabs freely available throughout the city. Tracing system a bit too elaborate :-)," remarked another expat living in Abu Dhabi.
What advice do you have for expats having a baby in the UAE?
We asked expat moms who gave birth in the UAE about their experiences and advice they have for other moms to be. They said:
"Understand your rights as a patient in the hospital. Know what is expected from you and know when you can leave. Push for what you want to happen. Many of the staff are underqualified and simply there to have jobs. Sorry to say but we experienced far too much uncertainty from the AD birth to have complete faith in their system. Our doctor was great but all of the support was less than stellar. Fortunately, we had no real complications and we were able to leave on our own. Remember, if you are working there, some maternity is up to 45-90 days. Use every bit of it. Also, the doctors and midwifes in the middle east will push for breast feeding for as long as possible. My wife's breasts became infected and the experience was not good until we went against the midwife's and doctors and started to feed with pumping and formula. Our girls turned out perfect. And our first time being parents was made easier when the stress of infected breasts went away," said another person in Dubai and Abu Dhabi.
"Ask if the hospital has an NICU or, if there were complications, what hospital nearby would have an NICU [knowing that your infant would need to be transported to that other hospital]," remarked another expat in Dubai.
Answer Question & View More Answers
About the Author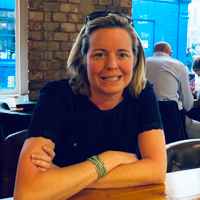 Betsy Burlingame is the Founder and President of Expat Exchange and is one of the Founders of Digital Nomad Exchange. She launched Expat Exchange in 1997 as her Master's thesis project at NYU. Prior to Expat Exchange, Betsy worked at AT&T in International and Mass Market Marketing. She graduated from Ohio Wesleyan University with a BA in International Business and German.
Some of Betsy's articles include 12 Best Places to Live in Portugal, 7 Best Places to Live in Panama and 12 Things to Know Before Moving to the Dominican Republic. Betsy loves to travel and spend time with her family. Connect with Betsy on LinkedIn.