15 Expats Talk about Health Insurance and Healthcare in Belize
Last updated on Feb 01, 2023
Summary: The quality of medical care in Belize is generally considered to be lower than that of the United States. Emergency services are available, but may be limited in some areas. To call for an ambulance, you can dial 911 or the local emergency number.
How are healthcare services Belize?
When we asked expats and global nomads about the quality of medical care in Belize, they replied:
"Our first choice is to go to the local pharmacist, who is very knowledgeable and helpful," commented one expat living in Hopkins Village, Belize.
"Word of mouth is a great way to find a doctor if you need one. Our pharmacist has a neurogist that comes to her place of business twice a month from Belize City. He is a wealth of information. Also, be willing to travel to Belize City or Chetumal Mexico to see specialists. We are very pleased with the care we have received thus far. Most of our prescriptions cost us less or equal to our copay in the US without having the cost of a monthly premium on top of that. We are going to look into getting an international health insurance just in case one of us has an emergency that can not be handled here or in Mexico," added another expat.
"I am located 10 kms from 3 towns that provide adequate health care, but Santa Familia itself does not. So their healthcare is non-existent, but I don't care, I'm a 10-minute drive from 3 towns with good healthcare," remarked another expat in Carmelita Gardens.
"I would strongly suggest anyone thinking of moving to Belize consult with those of us who have lived there for a long period instead of consulting the internet," remarked another expat living in Sittee River.
Answer Question & View More Answers
Are healthcare and health insurance expensive in Belize?
"In the US I have Medicare and a supplemental insurance, which is fine and I have had no problems with coverage. In Belize, I do not purchase medical insurance because it is very expensive. ," said an expat in Hopkins Village.
What are emergency services like in Belize?
When we asked about emergency services, members in Belize wrote:
"Dangriga, about 40 minutes away by car, has a public hospital, Southern Regional Hospital. About 2.5 hours away is Karl Heusner Memorial Hospital in Belize City," said one expat living in Hopkins Village.
"La Loma Luz - Santa Elena. I am not aware of the emergency services. Quality of care is adequate, but my last experience was 12 years ago! Private hospital," mentioned another expat in San Ignacio.
Answer Question & View More Answers
Will I need to travel to see a specialist?
"It depends upon how serious. I would prefer to have surgeries done in the US. Initially, however, I would go to Dangriga or Belize City for help," commented one expat who moved to Hopkins Village.
"We went to Belize City to see a cardiologist. We were extremely pleased with the quality of care we received. Complete bloodwork and EKG's and ultrasounds were done all on site and the doctor spent over an hour with us going over all of the results. This is better care than what we received in the US. Also, we were able to get a appointment within less than a week. The cost for everything for both me and my husband was equal to what I paid for one month's premium of my health insurance back in the states. That insurance would have also cost me copays on the tests themselves," said another expat.
Are common prescription medications available in Belize?
"In checking with the Pharmacist in Hopkins, I found he could get all my prescription meds. It might take a couple of days, but he assured me he could get them. Additionally, he let me purchase a prescription medication for a rash I got at the beginning of rainy season," commented one expat who moved to Hopkins Village.
"Yes, common prescriptions are available at our local pharmacy. They are inexpensive and you often do not need a prescription. Anything prescribed by the local doctor is available locally. If you had an unusual illness of needed a particular medication, it would be wise to bring additional supplies, but once here you can speak to the pharmacist and likely they can arrange to bring it in for you," said another expat.
Answer Question & View More Answers
"Hospital are in Dangriga, Belmopan and Belize City. There are 4 Private Hospitals that offer excellent services. In Placencia there are 2 doctors - Public and Private. There are 2 different Ambulance Services in the area and both offer excellent service. Quality of care in the Private Hospitals is very good. Public is so so," commented one expat living in Placencia, Belize.
"Hopkins has a new ambulance service and emergency care. There is a local clinic with a doctor nearby. There is also a hospital in Dangriga, about 40 minutes away," added another expat.
Answer Question & View More Answers
What have your experiences during the pandemic with the local healthcare system been like?
We asked members about local medical facilities in Belize, they wrote...
"two visits to an optometrist, both went well. One trip to a clinic for a reaction to bug bites. It went well too," mentioned another expat in Carmelita Gardens.
"My private/public system doctor had me get tested when I had a flu bug. It was done professionally and with good social distancing practice. They also put me on a prophylactic regimen of drugs just to be sure, Test came back negative," commented one expat who moved to San Ignacio, Belize.
What advice do you have for expats having a baby in Belize?
We asked expat moms who gave birth in Belize about their experiences and advice they have for other moms to be. They said:
"When having a baby in Belize, it is important to be aware of the local laws, regulations and medical standards that may be in place. It is also important to be familiar with the birthing process, such as choosing the best maternity care provider, hospital and birthing procedures that are available. Seeking advice from local medical professionals and relying on the help of family or friends who have experience of birthing in Belize is beneficial. It is beneficial to also research the availability of resources such as antenatal classes, midwives, breastfeeding support and pain relief. Additionally, it is important to look into the necessary congenital screening tests and vaccinations that are available and to consider the healthcare costs or insurance that can cover these essentials. It is also important to look into family planning services and the financial support that may be available after delivery. Finally, be aware of any emergency care services that are nearby and be prepared with a hospital bag in the event of an unexpected delivery," remarked another in Belize.
"(following what other expats have done) I would suggest my friend go back to her mother country for the last month until after delivery. Simply because the infant cannot receive citizen status," explained one expat.
Are healthcare services good in Belize?
We asked people if they have access to good medical care in Belize. They wrote:
"Healthcare services in Belize are provided by both the public and private sectors. The public healthcare system is run by the Ministry of Health and has primary, secondary, and tertiary care centers throughout the country. Primary care services are offered mainly at polyclinics, many of which are located in rural areas. These services include immunizations, antenatal care, family planning, disease control and prevention, laboratory services and primary healthcare services. Secondary care is provided mainly through the district hospitals and consists of services such as surgery, obstetrics, and post-operative care. Tertiary care is provided in Belize City, where a major hospital offers specialized diagnostic and therapeutic services in areas such as pediatrics, neonatology, gynecology, cardiology, oncology, and neurology. Private healthcare services are available in cities and towns and are offered by Doctors, private medical centers, and private hospitals. Many people in the country opt for private services due to the better quality of care and more personalized and flexible service they offer," said another person in Belize.
"Cheap and good! Chetumal, Mexico is just over the border if you want to get a second opinion. Not expensive at all," remarked another expat in Cerros Sands Corozal .
Answer Question & View More Answers
About the Author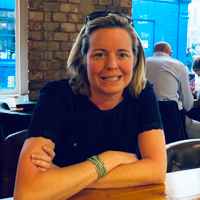 Betsy Burlingame is the Founder and President of Expat Exchange and is one of the Founders of Digital Nomad Exchange. She launched Expat Exchange in 1997 as her Master's thesis project at NYU. Prior to Expat Exchange, Betsy worked at AT&T in International and Mass Market Marketing. She graduated from Ohio Wesleyan University with a BA in International Business and German.
Some of Betsy's articles include 12 Best Places to Live in Portugal, 7 Best Places to Live in Panama and 12 Things to Know Before Moving to the Dominican Republic. Betsy loves to travel and spend time with her family. Connect with Betsy on LinkedIn.