15 Expats Talk about Health Insurance and Healthcare in Jamaica
Last updated on Feb 12, 2023
Summary: The quality of medical care in Jamaica is generally considered to be good, although it is not as advanced as the medical care available in the United States. Emergency services are available in Jamaica, and ambulances can be called by dialing the local emergency number, which is 110. The response time for ambulances can vary depending on the location, but they are generally reliable and well-equipped.
How are healthcare services Jamaica?
When we asked expats and global nomads about the quality of medical care in Jamaica, they replied:
"Jamaica has a comprehensive national healthcare system that is free for resident citizens and visitors. According to the World Health Organization (WHO), the government of Jamaica provides a wide range of healthcare services including in-patient and out-patient services, hospital care, and preventive care. The country's public healthcare system is mainly administered by the Ministry of Health and Wellness and the Jamaica Public Health Service. The quality of public healthcare services in Jamaica is generally considered to be good. Foreign residents are eligible to access basic public healthcare services, but they may be required to pay out of pocket for the more specialized services. Expats in Jamaica usually use private healthcare facilities located in urban areas, since these are typically of higher quality than those in rural areas," mentioned one expat in Jamaica.
What are medical services in Jamaica like?
When we asked expats and global nomads about the quality of medical care in Jamaica, they replied:
"Healthcare in Jamaica is generally accessible, affordable and of good quality. There are a wide range of medical services available throughout the country, from state-run hospitals and clinics to private medical facilities. Health care services cover preventive and curative aspects of care with both traditional and modern treatments for various medical conditions. There are also specialized medical facilities and services, including maternity care, neonatal care, pediatric services, rehabilitation centers, geriatric and sporting medicine, and mental health services. Jamaica is also a major destination for medical tourism, with foreigners seeking medical care while they enjoy Jamaican culture and relaxation," said one expat living in Jamaica.
Are healthcare and health insurance expensive in Jamaica?
"There are doctors that will see patients on an ad hoc basis without medical insurance. I've been here for four months now - extended leisure visit - and I see a great doctor in Kingston. Each visit is 4K JMD a pop. He will provide prescriptions, and if needed, make referrals to specialist services. However I would say that you should seriously consider medical insurance as you would in the USA. Medication etc is not cheap and if you need specialist treatment costs can be high (though lower than in the States in most cases) but as an instance I've just had to pay 80k JMD for an MRI scan. I could have waited until I return to the UK and have it done for free there but the advantage of paying for it privately here meant that I could have it done and obtain results within days rather than the weeks or months I'd have to wait on the NHS. Medical insurance would definitely have been cheaper! If you are relocating for work then your employer should provide medical insurance for yourself and any accompanying family members. Definitely if you have young children or pre-existing illness then ensure you have insurance. I'm a diabetic and the cost of insulin is pretty eyewatering. But as I said you can just find a physician and go see her/hum as you need to. They will keep a medical record with med history, meds, etc," commented one expat who moved to Kingston.
"Ensure that you have insurance and don't take an unregulated taxi as it might not be insured. I was unfortunate to be in a pretty serious car crash here and it would have involved been horrendous health care costs without insurance," said one expat.
Answer Question & View More Answers
What are emergency services like in Jamaica?
When we asked about emergency services, members in Jamaica wrote:
"Emergency services in Jamaica are accessible and provide urgent medical care around the clock. In order to call for an ambulance, individuals should dial the national emergency number, which is 119. Ambulance services are run by the Jamaica Fire Brigade and are free of charge. All ambulances are manned by experienced professionals who are trained in basic first aid and are equipped with a variety of medical supplies and equipment. Response times may vary depending on traffic conditions, but ambulances will generally arrive within 30 minutes. Patients should notify the operator of their exact location in order to ensure a prompt response," said one expat living in Jamaica.
Will I need to travel to see a specialist?
"The largest concentration of medical specialists in Jamaica can be found in Kingston, one of the most populous cities on the island. Montego Bay is another city with a wide variety of specialists available, due to the region's popularity as a tourist destination. Additionally, the town of Mandeville in the Central Jamaica region is known for its strong selection of highly qualified practitioners. Other areas with a considerable number of medical specialists include Portmore, Port Antonio and Ocho Rios," mentioned one expat in Jamaica.
Are common prescription medications available in Jamaica?
"Yes, common prescription medications can be found in Jamaica. Many pharmacies on the island carry a selection of brand-name and generic medications, as well as over-the-counter remedies. Popular medications prescribed by doctors, such as antibiotics and anti-inflammatory drugs, can be found in Jamaica, as well as medications for conditions like insomnia and hypertension. In some cases, medications that are not available in Jamaica can be ordered from abroad and some pharmacists will go so far as to research drug availability for patients," remarked one expat in Jamaica.
Do you have anything more to add about local medical facilities in Jamaica?
"Jamaica has a well-developed healthcare system with a network of public and private medical facilities throughout the country. Patients in Jamaica can expect to receive high-quality medical care from well-trained medical professionals. The majority of medical treatments, from vaccinations to more complex surgeries, are available in Jamaica. Along with excellent medical care, the country also has advanced medical technology and highly specialized medical laboratories that make it a viable option for medical care," said one expat.
As a foreigner living in Jamaica, will I have access to public healthcare? What is it like?
"Yes, foreigners living in Jamaica have access to public healthcare. The quality of public healthcare varies depending on where one is in the country, but in general, public healthcare is accessible and offers primary and secondary care. Jamaica has a public health insurance program called "National Health Fund," which foreigners can use to access public healthcare services. However, the majority of the Jamaican public does not have health insurance, so public healthcare facilities tend to be overcrowded and often lack adequate resources. In addition, the quality of care may not always be on par with private healthcare options," said one expat living in Jamaica.
"You should have concerns and you should research insurance. As long as you have immigration status in JA, you can purchase health insurance… just plan on using private doctors, clinics and hospitals. Private care isn't cheap so make sure you have access to credit card or cash..they require payment up front. In the last 10 years or so, the private sector for healthcare has exploded… you have more options, costly, but they're there. Public health care here in Jamaica is quite frankly a joke… The clinics, the hospitals, the doctors… Go private," mentioned one expat in Montego Bay.
What have your experiences during the pandemic with the local healthcare system been like?
We asked expats in Jamaica if they have access to public healthcare in Jamaica. And, if they do have access, what is it like. They wrote...
"Jamaica's healthcare system has coped with the pressures of Covid-19 by providing comprehensive assistance to those in need. Healthcare staff are creative, diligent and compassionate in addressing the pandemic. The government erected makeshift hospitals in public spaces to help minimize the spread of the virus and support those infected. Furthermore, Jamaica has launched a nationwide vaccination program, providing citizens with the opportunity to protect themselves against the virus and to reduce transmission in the broader population. Despite the challenges Jamaica has faced, the nation's healthcare system has worked diligently to ensure the health of its citizens," commented one expat who moved to Jamaica.
What advice do you have for expats having a baby in Jamaica?
We asked expat moms who gave birth in Jamaica about their experiences and advice they have for other moms to be. They said:
"Make sure to find an experienced local midwife or obstetrician who you trust to care for yourself and your baby throughout the pregnancy. Additionally, research local hospitals to ensure you are comfortable with both their facilities and the providers should an emergency or unplanned c-section be necessary. Make sure to talk to other expats to gain insight into the particular challenges and considerations associated with having a baby in Jamaica. Lastly, you should be aware of the mandatory vaccinations for infants in Jamaica and understand the purpose of each immunization," explained one expat.
Are healthcare services good in Jamaica?
We asked people if they have access to good medical care in Jamaica. They wrote:
"Healthcare services in Jamaica are widely available, with a network of public hospitals, private hospitals, private medical clinics and a free healthcare system through the Ministry of Health. There is also a strong focus on preventative healthcare and public health programmes, such as the National HIV/AIDS Programme and National Nutrition Programme, as well as primary healthcare initiatives, including primary care facilities and wellness centres. In addition, Jamaica has a highly qualified and internationally recognised medical workforce with strong national and international healthcare accreditation," explained one expat living in Jamaica.
About the Author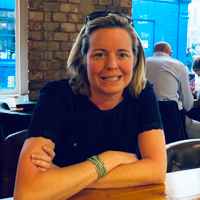 Betsy Burlingame is the Founder and President of Expat Exchange and is one of the Founders of Digital Nomad Exchange. She launched Expat Exchange in 1997 as her Master's thesis project at NYU. Prior to Expat Exchange, Betsy worked at AT&T in International and Mass Market Marketing. She graduated from Ohio Wesleyan University with a BA in International Business and German.
Some of Betsy's articles include 12 Best Places to Live in Portugal, 7 Best Places to Live in Panama and 12 Things to Know Before Moving to the Dominican Republic. Betsy loves to travel and spend time with her family. Connect with Betsy on LinkedIn.