Retire in Turkey
Last updated on Nov 27, 2021
Summary: Retirees share their experiences living in Turkey. What are the challenges and rewards of retiring in Turkey?
What is it like to retire in Turkey?
"Very relaxing. From Kemer where I used to live, there were very few expats living there, except during the summer months when a lot come to spend time in their holiday homes. In Antalya there are quite a number of expats living there from various countries. In Istanbul where I now live is a large number of expats, spread out in different areas. There is an active group called Internations, who hold a variety of events during the year. In the area where my Turkish wife and I live, there does not seem many expats living here. Turkey is full of ancient ruins, which are well worth seeing. Istanbul has itself a great wealth of cultural activities as well as many sights to visit. Here there are a variety of recreational activities to pursue, with a wide diversity of nightlife suitable for all ages," explained one retiree living in Antalya.
What advice do overseas retirees have for others considering retiring abroad?
"It is better to rent before buying. That way if you don't like where you are living you can move elsewhere. The Antalya region can get extremely hot during July and agust with temperatures being sometimes in the 50c. So unless you like it this hot, be careful about buying property there," explained one retiree living in Antalya.
What are the most rewarding aspects of retiring in Turkey?
"a far more relaxing lifestyle than in the UK. Being able to live in shorts and tops for most of the year," commented one retiree living in Antalya, Turkey.
What are healthcare services like in Turkey?
We asked retirees if they have access to good medical care in Turkey. They wrote:
"Yes, there are many excellent hospitals in Turkey, with there being no waiting to see a doctor, or to have an operation. An ever growing amount of people come to Turkey for operations as the costs here are very reasonable compared to those in the UK. I personally have had two operations here with no problems at all. As I am covered by private health insurance I do not know what costs are. But have been informed by friends costs here are very reasonable. These do however, vary, especially here in Istanbul. I have found the Baskent Hospital to be excellent for both service and costs," said another retiree in Antalya.
How do I meet people in Turkey?
When we asked people living in Turkey about club and activities where newcomers can meet others, they responded:
"There's the Izmir Turkish American Association which has various activities for Turks and Americans and some of them are free and for others there's a fee. They do things such as go on outings to historical sites, cooking classes, English lessons, poetry club and movie nights, just to name a few. Also, there's the IWAI (International Women's Association of Izmir), which hosts coffee mornings, dinners, and other events," explained a retiree in Izmir.
"There are many activities in which you can meet new people, like dance lessons, sport clubs, etc. The university has a lot of programs and many european students on erasmus exchanges. They are always eager to meet new people and share experiences," explained one retiree living in Antalya.
Answer Question & View More Answers
What is life like in Turkey?
When we asked people living in Turkey what life is like and how people spend their time, they said:
"Family oriented, internet connected, soccer loving, interested in foreign neighbors as lons as they arenotreligious missioners," added another person in Turkey.
"In my opinion people focus mainly on work and family (with family comes the socializing). My strata is mainly with folks in their 30's and 40's and so they work (life requires it) and then want to spend time with their family and friends. Many Turks work long hours unfortunately so when they have free time they want to socialize. I'm not sure about the college folks etc. They probably have a whole different scene," remarked another retiree in Izmir.
Answer Question & View More Answers
What do I need to know before retiring in Turkey?
When we asked people what advice they would give someone preparing to move to Turkey, they said:
"Do not move if you are very religious. Do not do if you do not have an income of minimum $600 a month. $100-200 rent; $200 food; $100 travel; $100 other expenses," remarked another retiree in Turkey.
"If a friend of mine was thinking of moving here I would be delighted! I think it's a great city. I would advise them to learn some Turkish beforehand (it'll make things a little smoother) and not to forget their winter stuff (even though Izmir is on the Aegean and has hot summers it gets cold here in the winter)," said a retiree who moved to Izmir, Turkey.
Answer Question & View More Answers
About the Author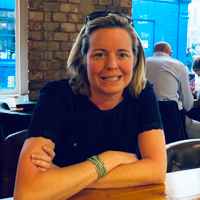 Betsy Burlingame is the Founder and President of Expat Exchange and is one of the Founders of Digital Nomad Exchange. She launched Expat Exchange in 1997 as her Master's thesis project at NYU. Prior to Expat Exchange, Betsy worked at AT&T in International and Mass Market Marketing. She graduated from Ohio Wesleyan University with a BA in International Business and German.
Some of Betsy's articles include 12 Best Places to Live in Portugal, 7 Best Places to Live in Panama and 12 Things to Know Before Moving to the Dominican Republic. Betsy loves to travel and spend time with her family. Connect with Betsy on LinkedIn.