Moving to Izmir, Turkey
Last updated on Feb 02, 2023
Summary: Expatriates are drawn to Izmir, Turkey for its vibrant culture, stunning scenery, and Mediterranean climate. With its rich history, Izmir is a great place to explore and experience the best of Turkish culture. The city is also known for its excellent food, friendly locals, and affordable cost of living. Before moving to Izmir, it is important to research the local laws and regulations, as well as the language and culture of the area. Additionally, it is important to obtain the necessary visas and permits before arriving in the city. Finally, it is important to familiarize yourself with the local transportation system and to make sure you have access to reliable healthcare.
What do I need to know before moving to Izmir?
When we asked people what advice they would give someone preparing to move to Izmir, they said:
"Izmir is one of the most populated cities in Turkey and has a big expat community. It has mild winters and hot summers, so it's important to be prepared with the appropriate clothing and goods. Public transportation is convenient, with a metro, trams, and buses connecting the city. The majority of people speak Turkish, however many locals speak some English and if you want to study the language there are many courses and schools that can help. The cost of living in Izmir is low compared to other cities in Turkey, and there are many inexpensive options for food and accommodation. Besides the traditional culture that Turkey is known for, Izmir offers a vibrant nightlife, beaches, and cultural festivals. It's important to note that there are major seasonal differences in Izmir, with some months being extremely hot, so be sure to plan ahead," said another expat in Izmir.
"I know an expat who moved her stuff from abroad to Izmir by boat and that was costly. I would suggest just buying furniture here there's lot of designs and styles. Bring what you can from home in your suitcases and even if you have to pay an $50 bucks for an extra suitcase, it's worth it if the contents mean a lot to you. Find a neighborhood that feels comfortable and pleasant to you. It's important to like what you see when you look out the window and walk down the street. I like how all the apartments in my area are different architecturally and it's pleasing to the eye. The streets are tree-lined and it's not very noisy. So, make sure you feel good about the place you're in," remarked another expat who made the move to Izmir.
How do I find a place to live in Izmir?
We asked expats how they chose their neighborhood and found a place to live. They answered:
"Izmir is a popular destination for its Mediterranean climate, cultural attractions and stunning sea views. There are a variety of accommodation options in Izmir, ranging from luxury hotels to budget guesthouses and apartments. Depending on your budget and preferences, you can search online for suitable accommodation such as HotelsCombined and Booking.com for hotels, AirBnB for apartments and homestays, or TripAdvisor for user reviews and recommendations. Additionally, there are real-estate websites in Turkey where you can compare prices and locations before buying a property, such as sahibinden.com, gayrimenkul.com and zingat.com. Finally, it is also possible to find a place to rent directly from landlords or contact local estate agents to help you find the perfect place to live," replied a member in Izmir.
"I recently married a lovely Turkish man and he already has his own home in a very nice neighborhood of Karsiyaka. It's a 10 min. walk to the seaside and parks and there are ample corner markets, bakeries, pharmacies and grocery stores nearby. The post office isn't far away either, so we are in a good location," commented one expat who made the move to Izmir.
What is a typical expat home or apartment like in Izmir?
"Typical expat homes or apartments in Izmir tend to be luxurious and well-appointed. They typically have modern appliances and amenities like high-speed internet, air-conditioners, and comfortable furnishings. Many offer access to nearby recreational facilities like pools, tennis courts, and golf courses. Expats can typically find homes or apartments located in areas near the city centre, close to shopping, restaurants, and entertainment. Most properties will also have access to good public transport links and are often located in gated compounds for added safety and security," remarked another expat in Izmir, Turkey.
"We live in an apartment ('daire' as they say in Turkish) which is of a good size for us (open kitchen and a decent size living room, one bathroom, two bedrooms and a balcony). I have met a few expats and they all have similar housing," said another expat in Izmir.
What is the average cost of housing in Izmir?
If you are thinking about moving to Izmir, cost of living in probably a key consideration. Expats commented about the cost of housing:
"The average cost of housing in Izmir is generally considered to be moderate. Prices can vary depending on the area, but generally range from around 500-1600 euros per month for a one-bedroom apartment or house," remarked another expat who made the move to Izmir.
"Lower--because in the States I paid rent. My husband had his own home so there's no rent. Yay! However, even if we did pay rent it would be cheaper than back in the US. A person can find a nice apt. for anywhere between 450 to 600 Turkish lira. But 500 TL seems to be more of the average in our neighborhood," explained one expat living in Izmir, Turkey.
Should I buy or rent a home in Izmir?
If you have not spent a lot of time in Izmir, you should rent before even thinking about buying. We asked expats there about the buy vs. rent decision:
"Whether to buy or rent a home in Izmir depends largely on your budget, needs, and the current local real estate market conditions. Buying a home may be a better option if you plan to stay in Izmir long-term and you can get a good deal. However, if you may move in the near future, renting could be better because it provides more flexibility and generally involves less upfront costs. Research the local market, consider your individual situation, and weigh the pros and cons of each option to determine which is the best fit for you," said another expat in Izmir.
What should I pack when moving to Izmir?
We asked people living in Izmir to list three things they wish they had brought and three they wish they had left behind. They responded:
"Essentials for a move to Izmir include, but are not limited to, clothing for various weather conditions, bedding, cooking supplies, toiletries and cleaning supplies, documents and identification, important papers and files, money, medicines, pictures and mementoes, and books and favorite items. Electronics and equipment such as computers, chargers, and adapters, if needed. Local currency, a power strip for plugging in electronics, a phone and its charger, adapters, and plug converters, an unlocked cell phone, personal hygiene items, towels and face cloths, and any important items needed while settling into a new home," said another expat in Izmir.
"At the moment, the only things I wish I would have brought with me are a nice tin of baking cocoa, some good quality slippers in a size 10 for ladies and my collection of dvds," remarked another expat who made the move to Izmir.
What cultural faux pas should I try to avoid making in Izmir?
We asked people in Izmir if they could share any humorous cultural blunders they commited. For new expats, keep in mind that these incidents are an inevitable part of expat life. Learning to laugh about them is the key!:
"In Izmir, it is important to act courteously and be respectful towards other individuals and their beliefs. Some cultural faux pas to avoid include not using your left hand when shaking hands or handing items to people; taking off your shoes when entering someone's house; speaking disrespectfully to elders; driving aggressively; dressing scantily in public; speaking loudly in public; playing your music too loud in public; eating while walking; criticizing the Turkish government; and littering," added another expat who made the move to Izmir.
"Honestly, I can't think of any. Oh, wait I remember! It was last year in Istanbul. I did the "I got your nose" game with someone and they said that it's offensive here in Turkey (the move you do with your thumb in between your fingers). Everyone started laughing, Turks and expats, because they knew I didn't know. But I've made sure not to do that again," explained one expat living in Izmir, Turkey.
About the Author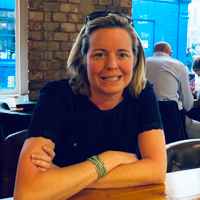 Betsy Burlingame is the Founder and President of Expat Exchange and is one of the Founders of Digital Nomad Exchange. She launched Expat Exchange in 1997 as her Master's thesis project at NYU. Prior to Expat Exchange, Betsy worked at AT&T in International and Mass Market Marketing. She graduated from Ohio Wesleyan University with a BA in International Business and German.
Some of Betsy's articles include 12 Best Places to Live in Portugal, 7 Best Places to Live in Panama and 12 Things to Know Before Moving to the Dominican Republic. Betsy loves to travel and spend time with her family. Connect with Betsy on LinkedIn.