Al Ain, the UAE
Last updated on Sep 17, 2022
Summary: Expats, digital nomads and retirees talk about what it is really like living in Al Ain, UAE. They offer advice about meeting people, cost of living, finding a home and more.
What do I need to know about living in Al Ain?
When we asked people what advice they would give someone preparing to move to Al Ain, they said:
"Do it! you will love it if you bring an open mind and some patience and don't expect things to be like it is 'at home'. The temperatures here are extreme - up to 58-60 degrees in summer! Winter is very pleasant," explained one expat living in Al Ain.
"Since you will probably be far from family, be sure to connect with people in Al Ain who come from your country. You need to have friendships and contacts with those who have something in common, your holidays, traditions, religion, etc. These people become your 'family.' They will help you adapt to your new homeland. Someone told me this before I moved there. he was right. I didn't realize how right he was until my 2nd year there when I met and befriended some people, who were like me in many ways (fun, easy-going, like to dance, willing to be patient with our new home country and embrace it), and found more satisfaction than I did my first year with those I befriended in my first month in UAE. It did a lot for my morale to find 'the right friends.' But, don't be too picky about friends. Do not expect your job and life to be wonderful all by itself. You may have to be tolerant of things taking a long time to get addressed/answered. Patience will go a long way in UAE. It's better for the blood pressure if you learn to be patient, to the utmost. Find activities to become involved in so as not to always be 'stuck' inside. Enjoy everything around you, camel rides, the Al Ain air show, beauty of the desert, the mountain Jabel Hafeet, the date palm trees, etc," said another expat in Al Ain.
How do I meet people in Al Ain?
When we asked people living in Al Ain about club and activities where newcomers can meet others, they responded:
"Major international hotels are (in order of my preference) the Intercontinental, Hilton, Rotana, Mercure Jebel Hafeet. The Palm Resort has a Rugby Club and Golf Club and both are good value. Have a look at the Living in Al Ain thread on the British Expats site in the Middle East Forum, it is a very popular thread and full of information about events, schooling, life in general," said another expat in Al Ain.
"1) Al Ain Toastmasters Club 584495 to meet other professionals (while developing other useful skills). Check out www.toastmasters.org to find the club. 2) For those who like to sing, join the Al Ain Choral Society. 3) Join in at social activities at lounges/pubs in the local international hotels, such as trivia contests, karaoke, etc. 4) Go to the cafes (Starbucks, Coffee/Bean/Tea Leaf, etc.) in the local malls on weekend afternoons (11 a.m. - 5 p.m.). You'll be certain to see people you know or make new friends. (Evenings it gets too crowded.) 5) Join one of the clubs are the local international hotels where other westerners go to swim, exercise, dine, tennis, etc. 6) For sports enthusiasts, especially men, you can find rugby and other intramural sports. 7) Join the Emirates Natural History Group (www.enhg.org), an interesting way to not only meet people but have an opportunity to explore the natural histories of the UAE and Oman. 8) Your workplace may organize social activities including trips to the other Emirates for shopping, sightseeing, etc. You may also be able to join activities at some of the other organizations/companies in the area," added another person living in Al Ain.
William Russell's private medical insurance will cover you and your family wherever you may be. Whether you need primary care or complex surgery, you'll have access to the best hospitals & doctors available. Unlike some insurers, we also include medical evacuation and mental health cover in our plans (except SilverLite).
Get a quote from our partner, William Russell
.
Will I be able to find a job in Al Ain?
When we asked people about industries and career opportunities in Al Ain, they reponded:
"It seems to get a job here (that pays anywhere near a decent wage) you must have a degree (minimum) qualification. Usually you will apply for a job from outside the country and come in under the sponsorship of an employer. If your spouse or partner wants to find work it is available, but you won't have the selection of jobs that you will have in the West.And there is no job advertising so word of mouth is how you will find one. You really have to talk to a lot of people," explained one expat.
What is life like in Al Ain?
When we asked people living in Al Ain what life is like and how people spend their time, they said:
"Al Ain is a great city to live in and offers many things to see and do. Expats get together frequently for quiz nights, to watch sporting events, meet for coffee in the malls. Life is varied and interesting," explained one expat living in Al Ain.
"Life definitely revolves around work. Otherwise, it depends on if you are single, have children with you (and their age), etc. Singles often like to go to Dubai on the weekends for fun, sun, dance, shopping, friendships, etc. Families usually stay in the Al Ain area. With the clubs to join at the hotels, and other activities that many of them discover, there is sufficient activities for people not to get bored. There is a lot of socializing, too. Schools have a lot of after school activities, sports, dance classes, etc., and often have recitals and presentations. Married couples, and singles who do not enjoy the party/night life, join clubs and organizations in Al Ain, socialize among themselves, etc. We spend a lot of time at the mall, sitting and talking, too. Many people like to camp in the various Emirates as well. There are churchas and religious gatherings. Some of us organized Bible Studies, and were active in our churches. Some did volunteer work organizations such as Feline for Friends," said another expat in Al Ain.
Is there a lot of diversity? Are people in Al Ain accepting of differences?
"Al Ain is much more traditional than Dubai or Abu Dhabi - so you will see more of true Emirati culture. The Emirati are a very closed culture and men and women do not generally socialise together. if you can make a few Emirati friends and be invited into the inner sanctum you will be very welcomed and valued, however it is not easy to do that. Most of the population in the Emirates is Indian - over 50% and the Emirati are a very small percentage (maybe 12-15%) so it is very multicultural here. Islam is the main religion and permeates all aspects of life here - and it is very peaceful and non-threatening," remarked another in Al Ain.
"There is definitely a lot of diversity. The universities, private schools (K-12), and hospitals are one reason for a lot of diversity and a lot of Westerners in Al Ain. A lot of Arabic and East-Asian nationalities are employed in Al Ain. However, there is an over abundance of men, living far from their families, often milling around down town Al Ain on their day off from work. The country as a whole is tolerant of the diversity and Western Ways (to a limit). Women should be sensitive to the imbalance of the genders, and all should be respectful of the local culture and customs," explained one expat.
What are the schools in Al Ain like?
"We encourage parents who care about providing their children with good academic and discipline standards to enrol them at MADAR," said another expat in Al Ain with children at MADAR International School.
About the Author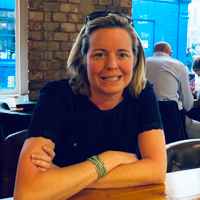 Betsy Burlingame is the Founder and President of Expat Exchange and is one of the Founders of Digital Nomad Exchange. She launched Expat Exchange in 1997 as her Master's thesis project at NYU. Prior to Expat Exchange, Betsy worked at AT&T in International and Mass Market Marketing. She graduated from Ohio Wesleyan University with a BA in International Business and German.
Some of Betsy's articles include 12 Best Places to Live in Portugal, 7 Best Places to Live in Panama and 12 Things to Know Before Moving to the Dominican Republic. Betsy loves to travel and spend time with her family. Connect with Betsy on LinkedIn.