Mogliv-Podilskyi, Ukraine
Last updated on Sep 17, 2022
Summary: Expats, digital nomads and retirees talk about what it is really like living in Mogliv-Podilskyi, Ukraine. They offer advice about meeting people, cost of living, finding a home and more.
What do I need to know about living in Mogliv-Podilskyi?
When we asked people what advice they would give someone preparing to move to Mogliv-Podilskyi, they said:
"Rent with an official rental agreement. It costs twice as much, but if you try the way they do, the first month is low, but you will then be asked for a LOT more, and if you don't pay, they promptly kick you out. Even if you have been there less than 24 hours, there is not a thing you can do. Well, maybe cry. Laws here are lax. You can do things that will amaze you. Even carry a concealed gun, no permit. If you are here over three months, you become an illegal alien. If you leave, you will not be allowed back. If you stay, they cannot afford to kick you out, so they will only fine you $100 upon your eventual departure. I cannot even go across the river to Moldova for lunch! Until I marry. If. If you marry a Ukrainian, you can stay here legally, and not become a UE citizen. I personally will get a UE lawyer to handle the papers. Like everything else here, it costs a lot less than the US. My very low SS Disability income is four times the national average income here. I can not afford to live in California anymore, but I can, here. At least, theoretically. They still are not paying me," remarked another expat in Mogliv-Podilskyi.
Will I be able to find a job in Mogliv-Podilskyi?
When we asked people about industries and career opportunities in Mogliv-Podilskyi, they reponded:
"I suspect the main industry is smuggling, and it is very hard for them to find a job now. But teaching English is in demand. Most jobs are found word of mouth, I think," remarked another in Mogliv-Podilskyi.
What is life like in Mogliv-Podilskyi?
When we asked people living in Mogliv-Podilskyi what life is like and how people spend their time, they said:
"Four universities and a host of job training schools, so many young. They have no cultural problem with promiscuity, and most children do not have fathers present. This usually results in criminal delinquency elsewhere. Mogliv is the second highest crime city in UE behind Odessa. Much smuggling from Moldova across the river. We have a dance club here, it is called Step. Three people knocked off by Russian Mafia last week. Best to be home after dark," said another expat in Mogliv-Podilskyi.
Is there a lot of diversity? Are people in Mogliv-Podilskyi accepting of differences?
"Almost all Russian Orthodox, no other races here, and last month there were four other Americans here. But no longer. When they meet people they know, they are sure to show acceptance and warm greetings. They always shake, removing gloves first, or hug/kiss on cheek. If you don't, you will be seen poorly. And word moves fast. Sidewalks are VERY busy during most days. Very primitive, and maybe icy/dangerous. Bring cleats. Taxi's are 20 hgrevna to anywhere in town. No stop lights, no horns used, no alarms going off constantly, only dogs sometimes barking. No sirens, no overhead jets. Barking. I can live with this. You must be careful if you are a single guy, to be sure that a woman has no man. But there are plenty of those! AIDs is epidemic in Ukraine, but this is a relatively remote town, and is not a problem here, that I know of. You can not buy beef in the grocery store (1), but you can get it in the open air market. There is no chili, or canned soups, or canned meals. I have learned to make my own chili. I get a good omelet at Pizza Cafe for about 3 dollars. I had to show them how to put a bunch of other stuff on it besides just the eggs. There is one hamburger place in town, across the street from Pizza Cafe. Like Mc Donalds, but Ukrainish. Good double cheese, maybe shakes. They also sell bigger pizza here," said another expat in Mogliv-Podilskyi.
About the Author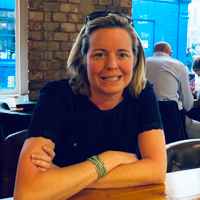 Betsy Burlingame is the Founder and President of Expat Exchange and is one of the Founders of Digital Nomad Exchange. She launched Expat Exchange in 1997 as her Master's thesis project at NYU. Prior to Expat Exchange, Betsy worked at AT&T in International and Mass Market Marketing. She graduated from Ohio Wesleyan University with a BA in International Business and German.
Some of Betsy's articles include 12 Best Places to Live in Portugal, 7 Best Places to Live in Panama and 12 Things to Know Before Moving to the Dominican Republic. Betsy loves to travel and spend time with her family. Connect with Betsy on LinkedIn.