Tbilisi, Georgia
Last updated on Sep 17, 2022
Summary: Expats, digital nomads and retirees talk about what it is really like living in Tbilisi, Georgia Rep. They offer advice about meeting people, cost of living, finding a home and more.
What do expats in Tbilisi appreciate most about the local culture?
"The hospitality; the fact that complete strangers invite you for lunch, or a meal. The fact that if people offer to show you around, because they are born and raised in the town you're currently visiting, the only do it because they're proud of their country and want to show you its splendour. There are no ulterior motives," added another person living in Tbilisi.
What do expats find most challenging?
"The driving style. Traffic is dangerous - people drive like maniac. Georgia has the highest death rate in Europe," explained one expat.
What are the schools in Tbilisi like?
"I am very happy with the school. My son has learned an amazing amount of Russian in just a few months (impressed a native Russian speaker he talked to while stateside this summer). All the staff is very welcoming. Class sizes are small. A teacher recently received a grant to purchase iPad Mini's for student use in class for research/educational purposes," remarked another expat living in Tbilisi with children attending QSI Tbilisi.
About the Author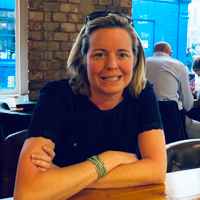 Betsy Burlingame is the Founder and President of Expat Exchange and is one of the Founders of Digital Nomad Exchange. She launched Expat Exchange in 1997 as her Master's thesis project at NYU. Prior to Expat Exchange, Betsy worked at AT&T in International and Mass Market Marketing. She graduated from Ohio Wesleyan University with a BA in International Business and German.
Some of Betsy's articles include 12 Best Places to Live in Portugal, 7 Best Places to Live in Panama and 12 Things to Know Before Moving to the Dominican Republic. Betsy loves to travel and spend time with her family. Connect with Betsy on LinkedIn.