Al Khobar, Saudi Arabia
Last updated on Sep 17, 2022
Summary: Expats, digital nomads and retirees discuss what it is like to live in Al Khobar, Saudi Arabia: Cost of living, Finding a home, Meeting People and more.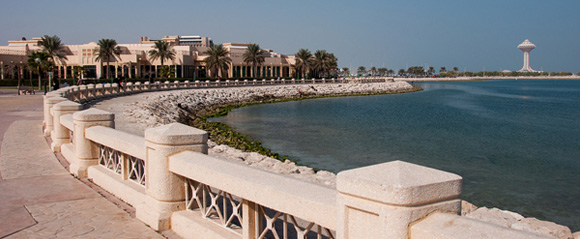 What do expats in Al Khobar appreciate most about the local culture?
"How accepting locals are of my family. Everyone is very kind and willing to help with issues. They really live by the day to day aspect of life. Sometimes it makes things difficult for planning purposes, but it's a credit to them to believe the way they do," said another expat in Al Khobar.
"I loved the fact that these people had a lot of time for me, if I liked something they would give it to me and I was often treated like royalty a lot too as I was the only woman who worked amongst the men. I was treated with a lot of respect and also I found that these people were great hosts. The owner of my apartment building and I became good friends and he would often get his manservant to bring me up a plate of every dish he would serve down in his Ramadan tent over Ramadan just so I didn't miss out as I could not enter his enter tent because it was a male only event. But like a good host, I was given a lot of respect by the males in the Kingdom and I will never forget that. It was their kindness and appreciation for me as a westerner that made them do this and I was rather sad when I left because of this," added another person living in Al Khobar.
What do expats find most challenging?
"More for the wives than the husbands. Prayer time while trying to shop. Stores closed during the middle of the day for several hours. Relying on others to transport the ladies around," remarked another expat in Al Khobar.
"Juggling your life around no entertainment and prayer times. Life can be rather boring in Saudia in many respects and that is where board games and things done back in the good old days are known here. Dinner parties with other expats was often good as you could mix and mingle with others- without alcohol of course. It was a quiet life there and sometimes I went across the boarder to Bahrain just to see a movie or to not wear my abbaya, but I felt safe there too which was good," explained one expat living in Al Khobar.
Is there a lot of crime in Al Khobar?
We asked people if there is a lot of crime. They answered:
"Absolute NO CRIME in Saudi!!! Lots of crime in Europe and South America. Canada is rather safe. Australia, New Zealand, Switzerland and Muslim countries = no crime to speak of," said another person in Al-Khobar.
About the Author

Joshua Wood, LPC joined Expat Exchange in 2000 and serves as one of its Co-Presidents. He is also one of the Founders of Digital Nomad Exchange. Prior to Expat Exchange, Joshua worked for NBC Cable (MSNBC and CNBC Primetime). Joshua has a BA from Syracuse and a Master's in Clinical and Counseling Psychology from Fairleigh Dickinson University. Mr. Wood is also a licensed counselor and psychotherapist.
Some of Joshua's articles include Pros and Cons of Living in Portugal, 10 Best Places to Live in Ireland and Pros and Cons of Living in Uruguay. Connect with Joshua on LinkedIn.