Retire in Johannesburg, South Africa
Last updated on Jan 04, 2023
Summary: Johannesburg, South Africa is an attractive destination for retirees due to its vibrant culture, diverse population, and abundance of activities. The weather in Johannesburg is generally mild, with temperatures ranging from the mid-50s to the mid-80s Fahrenheit. There are several retirement communities in Johannesburg, offering a variety of amenities such as swimming pools, fitness centers, and social activities. The cost of a nice two-bedroom home in Johannesburg is typically around $200,000 USD, while a nice three-bedroom home can cost around $250,000 USD.
What is it like to retire in Johannesburg?
"Retiring in Johannesburg can be a very rewarding experience. With its bustling city life, diverse culture, and easy access to unique attractions, Johannesburg offers retirees plenty to explore and see. It also boasts a low cost of living, along with a host of activities and events for residents. Additionally, retirees in Johannesburg have plenty of opportunity for outdoor activities or to indulge in their favourite hobbies, such as golfing or visiting museums. Johannesburg has a wide array of accommodation options, from luxury apartments to more budget-friendly options. Public transportation is reliable, which allows retirees to easily get around the city. With its vibrant culture, convenient transportation, and low cost of living, Johannesburg is an excellent choice for anyone looking to retire," explained a retiree in Johannesburg.
What advice do overseas retirees have for others considering retiring abroad?
"For anyone considering retiring abroad, it is important to research the local laws and customs to ensure that you understand what you are getting into. Additionally, it can be helpful to connect with people who have previously lived in the area either in person or online to gain insight into what it's like to live in that country as a retired expat. It is also important to think about age-related health care services or retirement communities, as this is an important decision for retirees. Finally, many retirees also suggest that you make sure to have sufficient funds to cover the cost of living or be prepared to find income sources if needed," remarked another retiree in Johannesburg.
What are the most challenging aspects of retiring in Johannesburg?
"The most challenging aspects of retiring in Johannesburg include feeling safe, maintaining financial stability, and finding suitable healthcare. The city of Johannesburg has a reputation of high crime rates, and safety is a real concern when considering retirement. Retirees also need to evaluate their financial plan carefully because the cost of living in Johannesburg is relatively high compared to other cities in South Africa. Finding suitable healthcare is also a challenge; while the city offers a variety of private and public clinics, there are very few specialised retirement facilities. Lastly, Johannesburg's subtropical climate can be difficult to adjust to, and air pollution is often a concern as well," remarked another retiree in Johannesburg.
What are the most rewarding aspects of retiring in Johannesburg?
"Being able to enjoy the rich culture and natural beauty of Johannesburg, as well as having access to various leisure activities and attractions. The cost of living is also quite reasonable compared to other cities, meaning that you can enjoy your retirement without stressing about finances. Additionally, Johannesburg is home to a diverse community, so there are plenty of opportunities to make new friends, no matter your age or interests. Lastly, you will have access to excellent healthcare and quality medical care," explained one retiree living in Johannesburg.
What are healthcare services like in Johannesburg?
We asked retirees if they have access to good medical care in Johannesburg. They wrote:
"Healthcare services in Johannesburg range from public hospitals to private clinics, from traditional African healers to modern medical facilities, and from home-based care to specialty services. Some public hospitals may offer free or sliding scale healthcare, but most require a fee for treatment. Most private clinics offer up-to-date medical technology, although some may require medical insurance for treatments. Traditional African healers use holistic and spiritual techniques to diagnose and treat illnesses. Home-based care provides nurses, caregivers and other medical personnel to provide care in the comfort of the patient's home. Johannesburg also has several specialty services which provide specialized treatment such as fertility treatment, cancer diagnosis and treatment, and other complex treatments," explained one retiree living in Johannesburg.
How do I meet people in Johannesburg?
When we asked people living in Johannesburg about club and activities where newcomers can meet others, they responded:
"There are many activities and places to meet people in Johannesburg. Attending local events and festivals, using online platforms such as Meetup, getting involved in local hobby or sports groups, joining local clubs and organizations, checking out bars and pubs, or going to popular parks and other public areas are all great ways to meet people in Johannesburg. Networking is also key - attending professional or alumni events, or joining a local business accelerator can be great ways to make connections and expand your network," commented one retiree living in Johannesburg, South Africa.
"I would suggest either an involvement with the Women's International Club or a similar group. I am not personally involved with any such groups, but have found I have met many people through going to the gym. Also, if you have children, you can always get involved with the school (generally) and meet other parents that way," explained one retiree living in Johannesburg.
What is life like in Johannesburg?
When we asked people living in Johannesburg what life is like and how people spend their time, they said:
"Life as an expat in my area is full of opportunities and experiences. There are many cultural activities, events and outdoor activities to enjoy, from local festivals to outdoor adventure trails and camping in the wilderness. The locals are friendly and welcoming, and the region is known for its hospitality and unique blend of traditional and modern lifestyles. The people are always eager to share their stories and experiences with out of towners and welcome them into their communities. Additionally, there are a wide range of coworking spaces, cafes and restaurants to explore, as well as a variety of educational and volunteer opportunities that can help get an expat connected and settled in the city. Overall, life as an expat in my area is an exciting and enjoyable experience full of discovery, connection, and opportunity," commented one retiree living in Johannesburg, South Africa.
"Work seems to be the general feel of Johannesburg..... accented with lots of holidays during the 'festive' season (Dec & Jan). People are quite social on the weekends and plan large all day 'braiis' (barbeques) with loads of families and loads of food and drink. Going to the 'bush' is also important when one can take the time," explained one retiree living in Johannesburg.
What do I need to know before retiring in Johannesburg?
When we asked people what advice they would give someone preparing to move to Johannesburg, they said:
"Before retiring in Johannesburg, it is important to familiarize yourself with the cost of living, healthcare system, cultural atmosphere, and legal requirements surrounding expats residing in the city. You should also consider the crime rate, climate and cultural diversities, entertainment and recreational activities available, reliable internet and other necessities, active expat and retiree communities, and various expat resources available. It is also important to possess any necessary paperwork, residence permits, visas and other necessary documentation. Finally, you should coordinate any necessary financial arrangements related to investing, taxes, inheritance, and insurance," said another retiree in living in Johannesburg, South Africa.
"The biggest concern for this country is crime. You have to be careful and have to sacrifice a bit of freedom in terms of moving out," explained a retiree in Johannesburg.
Answer Question & View More Answers
About the Author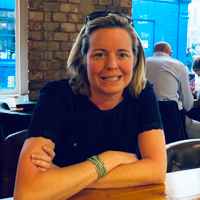 Betsy Burlingame is the Founder and President of Expat Exchange and is one of the Founders of Digital Nomad Exchange. She launched Expat Exchange in 1997 as her Master's thesis project at NYU. Prior to Expat Exchange, Betsy worked at AT&T in International and Mass Market Marketing. She graduated from Ohio Wesleyan University with a BA in International Business and German.
Some of Betsy's articles include 12 Best Places to Live in Portugal, 7 Best Places to Live in Panama and 12 Things to Know Before Moving to the Dominican Republic. Betsy loves to travel and spend time with her family. Connect with Betsy on LinkedIn.