Retire in Istanbul, Turkey
Last updated on Feb 04, 2023
Summary: Istanbul, Turkey is an attractive destination for retirees due to its rich cultural heritage, vibrant nightlife, and stunning natural beauty. The weather in Istanbul is generally mild, with temperatures ranging from the mid-50s to the mid-70s Fahrenheit in the winter and the mid-70s to the mid-90s Fahrenheit in the summer. There are several retirement communities in Istanbul, offering a variety of amenities such as swimming pools, fitness centers, and social activities. The cost of a nice two-bedroom home in Istanbul is typically around $200,000 USD, while a nice three-bedroom home can cost around $250,000 USD.
What is it like to retire in Istanbul?
"Retiring in Istanbul can be an amazing experience. It offers a diverse range of activities and attractions for retirees to explore. There are many cultural and historic wonders to visit, from iconic monuments and museums to beautiful parks and gardens. With its unique combination of European and Asian influences, Istanbul is a fascinating city to explore. The locals are friendly and welcoming, and the warm climate allows for plenty of outdoor activities. The bustling food scene offers a variety of traditional Turkish and international cuisines to sample. Istanbul also offers great medical facilities and medical tourism services, providing retirees with peace of mind that their medical needs are covered. Additionally, the city is well connected with many international destinations, making it easy to travel to and from the city. With so much on offer, retiring in Istanbul is a great option for those looking to enjoy a peaceful retirement in a vibrant and exciting city," said a retiree who moved to Istanbul, Turkey.
What advice do overseas retirees have for others considering retiring abroad?
"Do your research and investigate the destination thoroughly, looking into its cultural and social norms and any legal issues as well as potential financial and health considerations. Make sure you are familiar with the language, healthcare system, and living costs in the country. Talk to people who have already relocated and consider what their experiences have been. Ensure the facilities and services available meet your needs and make sure to plan regular trips back home if desired. Finally, be prepared to adjust to the different lifestyle, learn the new culture and take things slowly as you get used to your surroundings," said a retiree who moved to Istanbul, Turkey.
What are the most challenging aspects of retiring in Istanbul?
"Retiring in Istanbul can be a challenging experience due to the cost of living, which is far higher than most other parts of Turkey. Pension payments in Turkey are also low, meaning that retirees need to rely on additional sources of income or savings to maintain their quality of life. Although public transport is reliable and affordable, medical care and services are not as widely available as in some other countries. Additionally, Istanbul is a very populous and densely populated city, which can be overwhelming for those looking to retire in a calmer setting. Finally, language barriers can sometimes make it difficult for seniors to communicate and get the help they need," remarked another retiree in Istanbul.
What are the most rewarding aspects of retiring in Istanbul?
"The most rewarding aspects of retiring in Istanbul include having easy access to diverse cultures and cuisines, experiencing four distinct seasons, living in a city that sits at the edge of two continents, enjoying quality healthcare services, taking advantage of quality education options, living a lower cost of living, taking part in numerous cultural festivals, and exploring the surrounding coastlines," remarked another retiree in Istanbul.
What are healthcare services like in Istanbul?
We asked retirees if they have access to good medical care in Istanbul. They wrote:
"Healthcare services in Istanbul are generally of good quality and widely available. The city has dozens of internationally-accredited private hospitals, many of which are accredited by the Joint Commission International (JCI). There are also a number of public hospitals, most of which are affiliated with universities. Medical care is provided by many expert professionals from a broad range of disciplines and patients are typically able to receive medical advice, treatment, and medication in English as well as Turkish. Istanbul's ambulances provide efficient and adequate medical help for emergencies and many medical centers also offer non-emergency ambulance services. Additionally, there are numerous health centers, pharmacies and outpatient clinics that are available to provide medical services," explained one retiree living in Istanbul.
How do I meet people in Istanbul?
When we asked people living in Istanbul about club and activities where newcomers can meet others, they responded:
"There are many ways to meet people in Istanbul. Going to popular tourist destinations, such as Sultanahmet Square and Grand Bazaar, can be great places to start conversations with locals who are accustomed to meeting visitors from around the world. Participating in local events, such as cultural festivals and outdoor activities, can also be great ways to make connections and meet locals. There are also numerous co-working spaces, online meetups, language exchanges, and other networking opportunities that can help you get connected and make friends in Istanbul," said another retiree in Istanbul.
"Istanbul is a great expat post in many ways - it has the diversity of an active cosmopolitan city but also has a very nice group of expat population. There are associations here such as IWI (Intl. Women of Istanbul), AWI(American women), French group, Latino group, Die Brucke (Germans), Italian group and many others," commented one retiree living in Istanbul, Turkey.
What is life like in Istanbul?
When we asked people living in Istanbul what life is like and how people spend their time, they said:
"Life as an expat in the area can be both exciting and challenging. There is a vibrant expat community in the area, with a wide variety of cultures and nationalities represented, so it's easy to make friends and feel at home. Depending on where you live, there may be a mix of modern and traditional influences that can add to the unique experience of living in the area. Expats can find it easy to get around the city, with public transport and taxi networks readily available. It can take some time to get used to the local cultural values and practices, but ex-pats can find useful resources and support in their community. In general, the cost of living in the area is reasonably low and there is plenty to do and explore, including attractions and activities to suit every taste," added another person in Istanbul.
"The husbands lives of course revolve around work and golf as in all expat posts. There are some very good private clubs for all sports. The wives socialize a lot, are active in sports and many charity activities organized by the various associations. School events are also a good way to meet new people," remarked another retiree in Istanbul.
What do I need to know before retiring in Istanbul?
When we asked people what advice they would give someone preparing to move to Istanbul, they said:
"Living in Istanbul is affordable, with median rents and groceries lower than in many other cities. The city has a diverse and vibrant cultural life, with modern design, vibrant festivals, and a deep historic heritage. It is important to secure a good quality healthcare plan, or to pay for private healthcare. You should research and make sure you understand Turkish taxes and any financial benefits available to Turkish residents. As there are different visa rules and regulations, depending on one's country of origin, it is essential to make sure that you secure the correct documentation and permission for residing in Istanbul. It is also beneficial to learn some Turkish as it will make everyday life much easier, despite English being spoken in certain areas. Additionally, it is important to understand the cultural norms, religious attitudes, and social etiquette in order to ensure that living in Istanbul is a positive experience," said another retiree in living in Istanbul, Turkey.
"They should be open minded and as in every city, this city also has advantages and disadvantages, however if you have a positive outlook and are into finding out about new cultures its a jewel. Great history, lots to see, ethnic food, safe, rich night life, lots of traffic, difficult language and some chaos. Last but not least: The beautiful Bosphorus," explained a retiree in Istanbul.
About the Author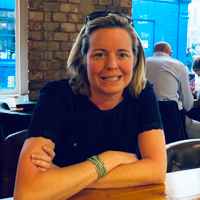 Betsy Burlingame is the Founder and President of Expat Exchange and is one of the Founders of Digital Nomad Exchange. She launched Expat Exchange in 1997 as her Master's thesis project at NYU. Prior to Expat Exchange, Betsy worked at AT&T in International and Mass Market Marketing. She graduated from Ohio Wesleyan University with a BA in International Business and German.
Some of Betsy's articles include 12 Best Places to Live in Portugal, 7 Best Places to Live in Panama and 12 Things to Know Before Moving to the Dominican Republic. Betsy loves to travel and spend time with her family. Connect with Betsy on LinkedIn.