Retire in Nassau, Bahamas
Last updated on Jan 02, 2023
Summary: Nassau, Bahamas is a popular destination for retirees due to its beautiful beaches, warm climate, and vibrant culture. The average temperature in Nassau is around 80°F (26.7°C) in the summer and 72°F (22.2°C) in the winter. There are several retirement communities in Nassau, offering a variety of amenities such as swimming pools, fitness centers, and social activities. The cost of a nice 2 bedroom home in Nassau is around $200,000 USD, while a nice 3 bedroom home can cost up to $400,000 USD.
What is it like to retire in Nassau?
"Retiring in Nassau can be a very enjoyable and relaxing experience. The capital of The Bahamas, Nassau offers plenty of activities for retirees, including golfing, sailing, snorkeling and scuba diving, dining, and exploring the local culture and history. The city also offers many recreational opportunities, such as its casinos, water parks, and outdoor parks. With its warm and welcoming atmosphere, its beautiful beaches, and its vibrant culture and cuisine, Nassau is a great place to retire. Plus, it has a low cost of living compared to the US, making it a great option for those looking to stretch their retirement savings," explained one retiree living in Nassau.
"Their is huge expat community here, people from all over the world and all types of characters retire here. This is a Caribbean island so don't expect to much amenities as you would find in the U.S.A. or Europe. We do not have a Walmart, Auchan or Harrods here although we did just get an IMAX theatre. We have lots of recreational activities related to the sea (having a boat is a huge advantage). We also have all types of nightlife as the tourist industry is fairly vibrant here as well," said another retiree in living in Coral Harbour, Bahamas.
What advice do overseas retirees have for others considering retiring abroad?
"Retiring abroad can be a very rewarding experience, offering a change of scenery, relaxed lifestyle, and cost savings. It is important to research your target country and assess the climate, safety, healthcare, and economic conditions. Consider what is important to you and make sure that the country you choose has these features. Familiarize yourself with the language and culture before making a move, and make sure you understand the local laws and customs. Furthermore, it is important to find out about visa and residency requirements, cost of living, taxes, access to healthcare, and quality of life. Planning ahead is key for a successful relocation, so budget ahead and make sure you plan for potential setbacks. Lastly, don't forget to make the most of your life abroad, engage in activities and opportunities available, try to learn the language, explore the culture, and connect with locals," commented one retiree living in Nassau, Bahamas.
"You have worked hard during your life time and now you deserve to enjoy your retirement. Consider what makes you the happiest. Is it the weather, sporting activities, clubs, social life? What ever it is make sure your destination will provide you with that, then work out the rest of the details," explained one retiree living in Coral Harbour.
What are the most challenging aspects of retiring in Nassau?
"Retiring in Nassau can be expensive, especially for expats. The cost of living is higher than most other areas in the Bahamas, with housing, utilities, and goods being pricier. Nassau has a higher crime rate than other islands in the country, so security is an issue for those retiring here. The city is also very crowded, with traffic jams common during rush hour and a lack of public transport. Additionally, the infrastructure can be poor in some areas, with electricity blackouts and unreliable internet connections. It can also be difficult to find health insurance, as most medical plans are limited in their offerings," said a retiree who moved to Nassau, Bahamas.
"The damages that can be caused by hurricanes. Make sure you put additional monies aside for unexpected damages that can and do occur when living in the Caribbean," said another retiree in Coral Harbour.
What are the most rewarding aspects of retiring in Nassau?
"The most rewarding aspects of retiring in Nassau are the temperate climate, the low cost of living and the availability of affordable health care. Additionally, the laid back atmosphere and quintessential island lifestyle complete with perfect beaches and dazzling natural beauty make it an ideal place to relax and enjoy retirement," commented one retiree living in Nassau, Bahamas.
"We have made lots of new friends and get to spend our time in the sunshine. This is a big plus for someone like me who has a lot of aches and pains that are worse in the cold weather," explained one retiree living in Coral Harbour.
What are healthcare services like in Nassau?
We asked retirees if they have access to good medical care in Nassau. They wrote:
"Nassau offers a variety of healthcare services to its residents. The primary providers of healthcare in Nassau are the government-run Princess Margaret Hospital, the privately-run Doctors Hospital and the Rand Memorial Hospital. Princess Margaret is the only hospital in Nassau that offers inpatient services, which includes emergency room treatment, surgeries, and medical procedures. Doctors Hospital features an expansive outpatient facility, providing patients with convenient primary care. The Rand Memorial Hospital is a private facility that offers a wide range of specialty services, including cardiology, oncology, obstetrics, and gynecology. Other healthcare services provided in Nassau include dentists, optometrists, chiropractors, home health organizations, physical therapists, mental health professionals and nutritionists. Additionally, Nassau is home to a number of medical laboratories, including LabTech and Public Medical Centre, providing a variety of diagnostic and laboratory tests," commented one retiree living in Nassau, Bahamas.
"We have both a general hospital and private hospitals as well as private clinics. The healthcare is adequate. For major health issues many people choose to fly to Florida as well. The cost is comparable but the choice of healthcare is perceived to be greater," explained one retiree living in Coral Harbour.
How do I meet people in Nassau?
When we asked people living in Nassau about club and activities where newcomers can meet others, they responded:
"Nassau is a great place to meet people, with a variety of social activities, events and places to visit. There are many places to meet people in Nassau including local meetup groups, sports and recreational clubs, bars and nightclubs, churches, the marketplace, at the beach, and restaurants. A great way to meet people in Nassau is through volunteering in the local communities, as this allows you to connect with diverse people with similar interests. Networking events, conferences, charitable organizations and get-togethers are great ways to meet people while embracing the local culture," explained a retiree in Nassau.
What is life like in Nassau?
When we asked people living in Nassau what life is like and how people spend their time, they said:
"Living as an expat in the area can be both an exciting and challenging experience. Although the language and culture can be challenging to adjust to, there are many opportunities to learn and to make friends. There are plenty activities and organizations available to be a part of, as well as great restaurants and attractions to explore. The cost of living is also generally much lower than in many other countries, making it an appealing place to live for expats on a budget. Safety is generally very good and the area is known for its tolerant and welcoming attitude towards foreigners. Overall, with a bit of effort and patience, expats can easily make this region their home," said a retiree who moved to Nassau, Bahamas.
What do I need to know before retiring in Nassau?
When we asked people what advice they would give someone preparing to move to Nassau, they said:
"Before retiring in Nassau, you should research costs of living, job availability, healthcare services, housing options, and taxation information. Additionally, it is important to be aware of local laws, culture, and climate. It is also important to research leisure activities, transportation options, and ways to get involved in the community. You should also consider your visas and immigration requirements and any restrictions concerning pets. Before relocating, it is important to carefully weigh the pros and cons of the area to determine if it is the best fit for your retirement goals," explained a retiree in Nassau.
"Nassau is the capital city of the Bahamas, located on the northern coast of New Providence Island. It is a popular retirement destination due to its beautiful beaches, warm climate, and access to high-end amenities such as golf courses, fine dining, and luxury resorts. In order to retire in Nassau, you must obtain a permanent residency permit. This permit is only available to those who meet certain criteria, such as having a minimum level of financial resources. Additionally, the Bahamian government has strict regulations on which types of foreign investments can be made. Some retirees may also need to obtain a work permit in order to carry out certain activities, such as running a business. The cost of living in Nassau is quite high, and many goods and services are imported, making them more expensive than in other parts of the world. All income made in the Bahamas, including pensions and Social Security, is required to be paid in Bahamian dollars. It is also important to be aware of the potential health risks that come with living in a tropical climate, such as tropical illnesses, hurricanes, and flooding," explained one retiree living in Nassau.
About the Author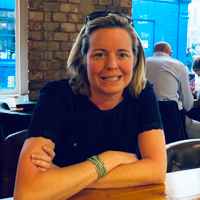 Betsy Burlingame is the Founder and President of Expat Exchange and is one of the Founders of Digital Nomad Exchange. She launched Expat Exchange in 1997 as her Master's thesis project at NYU. Prior to Expat Exchange, Betsy worked at AT&T in International and Mass Market Marketing. She graduated from Ohio Wesleyan University with a BA in International Business and German.
Some of Betsy's articles include 12 Best Places to Live in Portugal, 7 Best Places to Live in Panama and 12 Things to Know Before Moving to the Dominican Republic. Betsy loves to travel and spend time with her family. Connect with Betsy on LinkedIn.