Retire in Paradise Island, Bahamas
Last updated on Apr 12, 2023
Summary: Paradise Island, Bahamas is a popular destination for retirees due to its stunning beaches, crystal clear waters, and vibrant culture. The weather in Paradise Island is typically warm and sunny, with temperatures ranging from the mid-70s to the mid-80s Fahrenheit. There are several retirement communities in Paradise Island, offering a variety of amenities such as swimming pools, fitness centers, and social activities. The cost of a nice 2 bedroom home in Paradise Island is typically around $200,000 USD, while a nice 3 bedroom home can cost around $300,000 USD.
What is it like to retire in Paradise Island?
"Life for a retiree in Paradise Island, and its surroundings can be quite enjoyable and fulfilling. There is an active expat community, with many retirees from various countries choosing to spend their golden years in this beautiful location. This community often organizes social events and gatherings, providing opportunities to make new friends and connections. The Bahamas offers a rich cultural experience, with numerous attractions to explore. Retirees can visit historical sites, such as the Queen's Staircase and Fort Charlotte, or immerse themselves in the local art scene by visiting galleries and attending cultural events. The Bahamas is also known for its vibrant Junkanoo festival, which showcases colorful costumes, music, and dance. Recreational activities are abundant in Paradise Island and its surroundings. Retirees can enjoy the pristine beaches, go swimming, snorkeling, or scuba diving in the crystal-clear waters, or take part in various water sports. Golf enthusiasts can play at the world-class Ocean Club Golf Course, while nature lovers can explore the nearby national parks and marine reserves. Nightlife in Paradise Island is lively, with numerous bars, restaurants, and casinos offering entertainment options. The famous Atlantis Resort is a popular destination for both tourists and locals, featuring a casino, fine dining, and live performances. Additionally, there are various local bars and clubs where retirees can enjoy live music, dancing, and socializing with fellow expats and locals alike. Overall, life for a retiree in Paradise Island, Bahamas, offers a perfect blend of relaxation, cultural experiences, and recreational activities, all within a welcoming and friendly community," said one retiree in Paradise Island.
"Retiring in Paradise Island is a dream come true for many. With its pristine beaches, lush tropical forests and alluring sunsets, Paradise Island is perfect for those seeking a blissful and peaceful retirement. The beautiful Island offers a vast array of activities and attractions, such as snorkeling and swimming, exploring the historical sights, and indulging in the delicious local cuisine. There are also plenty of luxury resorts and stunning golf courses, making it the ideal spot for leisure and relaxation. With low crime rates and an overall laid back atmosphere, Paradise Island offers retirees an unbeatable combination of tropical beauty and safety," commented one retiree living in Paradise Island, Bahamas.

Cigna Global Health Insurance
Expats interested in International Health Insurance should take a minute to get a quote from our trusted expat health insurance partner, CIGNA.
GET A QUOTE
What advice do overseas retirees have for others considering retiring abroad?
About the Author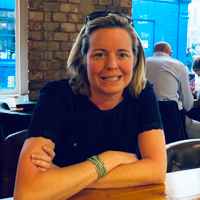 Betsy Burlingame is the Founder and President of Expat Exchange and is one of the Founders of Digital Nomad Exchange. She launched Expat Exchange in 1997 as her Master's thesis project at NYU. Prior to Expat Exchange, Betsy worked at AT&T in International and Mass Market Marketing. She graduated from Ohio Wesleyan University with a BA in International Business and German.
Some of Betsy's articles include 12 Best Places to Live in Portugal, 7 Best Places to Live in Panama and 12 Things to Know Before Moving to the Dominican Republic. Betsy loves to travel and spend time with her family. Connect with Betsy on LinkedIn.