Retire in Cairo, Egypt
Last updated on Feb 04, 2023
Summary: Cairo, Egypt is an attractive destination for retirees due to its rich cultural heritage, vibrant nightlife, and affordable cost of living. The weather in Cairo is typically hot and dry, with temperatures ranging from the mid-50s to the mid-90s Fahrenheit. There are several retirement communities in Cairo, offering a variety of amenities such as swimming pools, fitness centers, and social activities. The cost of a nice two-bedroom home in Cairo is typically around $50,000 USD, while a nice three-bedroom home can cost up to $100,000 USD.
What is it like to retire in Cairo?
"Cairo is a vibrant city with a rich cultural heritage, making it an attractive destination for retirees. There is an active expat community in Cairo, with many retirees taking advantage of the city's low cost of living and warm climate. There are plenty of cultural attractions to explore, such as the Egyptian Museum, the Citadel, and the Pyramids of Giza. There are also plenty of recreational activities to enjoy, such as golf, tennis, and swimming. For those looking for a more active nightlife, there are plenty of bars, clubs, and restaurants to explore," said a person in Cairo.

Expat Health Insurance in Egypt
Expats interested in International Health Insurance should take a minute to get a quote from our trusted expat health insurance partner, CIGNA.
GET A QUOTE
What advice do overseas retirees have for others considering retiring abroad?
About the Author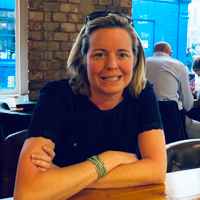 Betsy Burlingame is the Founder and President of Expat Exchange and is one of the Founders of Digital Nomad Exchange. She launched Expat Exchange in 1997 as her Master's thesis project at NYU. Prior to Expat Exchange, Betsy worked at AT&T in International and Mass Market Marketing. She graduated from Ohio Wesleyan University with a BA in International Business and German.
Some of Betsy's articles include 12 Best Places to Live in Portugal, 7 Best Places to Live in Panama and 12 Things to Know Before Moving to the Dominican Republic. Betsy loves to travel and spend time with her family. Connect with Betsy on LinkedIn.