Cost of Living in Leiden, The Netherlands
Last updated on Apr 21, 2023
Summary: The cost of living in Leiden, Netherlands is generally considered to be quite reasonable. A nice 1 bedroom apartment in Leiden can cost anywhere from $800 to $1,200 per month, while a nice 2 bedroom apartment can cost from $1,200 to $1,800 per month. The cost of dinner at a moderately priced restaurant in Leiden is usually around $20 per person.
Is the cost of living in Leiden high?
We asked people how much they someone comfortably live on in Leiden, they wrote:
"The cost of living in Leiden is generally considered to be quite reasonable. Rent prices are relatively low compared to other cities in the Netherlands, and groceries and other everyday items are also reasonably priced. Eating out can be a bit more expensive, but there are plenty of affordable restaurants and cafes to choose from. Transportation costs are also quite reasonable, with public transport being the most popular option," said one person in Leiden.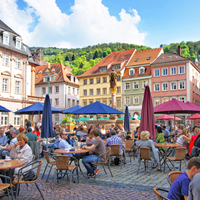 Furnished Rentals in Netherlands from Homelike
We've partnered with Homelike, to connect expats and newcomers with temporary accommodations in Netherlands. If you're moving to Netherlands, rent a short-term, furnished apartment or home for the first few months from Homelike and take your time figuring out the best place to live in Netherlands.
SEARCH RENTALS
Will I save money living in Leiden?
About the Author

Joshua Wood, LPC joined Expat Exchange in 2000 and serves as one of its Co-Presidents. He is also one of the Founders of Digital Nomad Exchange. Prior to Expat Exchange, Joshua worked for NBC Cable (MSNBC and CNBC Primetime). Joshua has a BA from Syracuse and a Master's in Clinical and Counseling Psychology from Fairleigh Dickinson University. Mr. Wood is also a licensed counselor and psychotherapist.
Some of Joshua's articles include Pros and Cons of Living in Portugal, 10 Best Places to Live in Ireland and Pros and Cons of Living in Uruguay. Connect with Joshua on LinkedIn.