Real Estate in Dubai
Last updated on Jan 08, 2023
Summary: People living in Dubai, UAE offer advice about real estate. How do you find a home in Dubai? Should you buy or rent? What is the cost of housing?
How do I find a place to live in Dubai?
We asked expats how they chose their neighborhood and found a place to live. They answered:
"Finding a place to live in Dubai is relatively easy. There are a variety of housing options available including apartments, studio apartments, villas and townhouses. There are many real estate agents who can guide you through the different housing options and help you to find the best fit for you. You can also look online for rental properties in Dubai and can even consider living in a hotel for shorter-term stays. Expats should also research nearby areas and communities to decide which would be the best fit for them. It's important to consider cost, convenience to work and entertainment and transport links when choosing your area. If you're an expat, consider seeking out a company that can provide you with a furnished apartment and make the transition smoother," remarked another foreigner who made the move to Dubai.
What is a typical expat home or apartment like in Dubai?
"Expat homes and apartments in Dubai are typically spacious, modern and luxurious. Most buildings have high-end facilities such as fire and security systems, swimming pools, gyms, and multiple elevators. Common features in apartments include balconies, kitchens with modular furniture, high-quality fixtures and finishes, walk-in closets, and air conditioning. Expat apartments in Dubai are often located in premier neighborhoods, close to schools, entertainment areas, and shopping centers," explained one expat living in Dubai, UAE.
What is the average cost of housing in Dubai?
If you are thinking about moving to Dubai, cost of living in probably a key consideration. Expats commented about the cost of housing:
"The cost of housing in Dubai generally depends on the location and type of property. Generally speaking, the average cost of residential apartments in Dubai range from mid-range to very expensive. Some of the more upscale and exclusive areas have some of the highest prices for housing in the world," remarked another member in Dubai.
Should I buy or rent a home in Dubai?
If you have not spent a lot of time in Dubai, you should rent before even thinking about buying. We asked expats there about the buy vs. rent decision:
"If you plan on staying in Dubai for a long period of time, then buying a home may be the better option. However, if you plan on only living in Dubai for a short period of time, then renting a home may be a better option. Buying real estate in Dubai can be expensive, and you will also have to deal with additional costs such as taxes and fees. Additionally, if you decide to buy a house or an apartment in Dubai, then you will need to consider whether you want to purchase a property that is already built or a plot of land on which you can build your own property. Renting gives you the flexibility to move locations without having to pay all the associated costs of buying and selling a home. Ultimately the decision will depend on the individual's specific needs, resources, and the amount of time you plan to stay in Dubai," said another person in Dubai.
What do I need to know when buying property in Dubai?
When we asked expats what advice they would give a foreigner before buying a property in Dubai, they said:
"Be very careful who you putchase from. Be aware and well versed in the UAE laws and be very careful if choosing to buy prooerty off plan," explained one person living in Dubai, UAE.
"Be careful of the planned purchases. I know several people who lost hundreds of thousands of dollars because they invested inthe plan and the developer went under. They did not give any money back. No lawyers can help. However, the risk is you get the property for way cheaper. Do the research on the developer and ensure they are on the up an up. Otherwise, purchase as is and enjoy," remarked another foreigner who made the move to Dubai.
Are foreigners allowed to own property in Dubai?
When we asked expats what advice they would give a foreigner before buying a property in Dubai, they said...
"Yes. Expats cannot become full property owners and they cannot get permanent residence, so its usually contracted as a 100 year lease or something similar," said another foreigner living in Dubai, UAE.
About the Author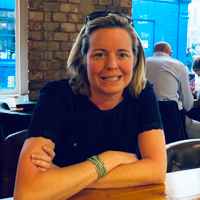 Betsy Burlingame is the Founder and President of Expat Exchange and is one of the Founders of Digital Nomad Exchange. She launched Expat Exchange in 1997 as her Master's thesis project at NYU. Prior to Expat Exchange, Betsy worked at AT&T in International and Mass Market Marketing. She graduated from Ohio Wesleyan University with a BA in International Business and German.
Some of Betsy's articles include 12 Best Places to Live in Portugal, 7 Best Places to Live in Panama and 12 Things to Know Before Moving to the Dominican Republic. Betsy loves to travel and spend time with her family. Connect with Betsy on LinkedIn.