Real Estate in Turin, Italy
Last updated on Jan 08, 2023
Summary: People living in Turin, Italy offer advice about real estate. How do you find a home in Turin? Should you buy or rent? What is the cost of housing?
How do I find a place to live in Turin?
We asked expats how they chose their neighborhood and found a place to live. They answered:
"Turin is a vibrant and bustling city with many neighborhoods and apartment complexes to choose from. You can start your search by looking online at apartments for rent with websites such as EasyStanza or Locando, or by looking on social media platforms like Facebook where locals often post great rental options. Another option is to check specialized rental websites specifically for Turin such as TurinApartments. Alternatively, expat websites for Turin and regional classifieds in Italian newspapers can be a great way to find available apartments. You can also use a broker, or go to the city center and walk around to inspect for rental posts. Depending on your budget, the season, and your needs, the decision of where to live can take time. But by either searching online, networking, or researching newspapers and websites, you should be able to find something to you in Turin," explained one person living in Turin, Italy.
"We chose the hills "Percolina/ Colina" area, because of the availability of yards for our kids to play outside. Parks in the city were made for kids 5 and under. We have school aged kids. There's one in the Park of Rememberance. Prices for places with yards and 2 family shared homes were about the same as in an apartment buildings we saw in the city. We had to buy a car though. Was very worth it. We were taken around by agents from HomeBase. They were hired by my husband's company, but I would recommend Judy Stein at [email protected] or +39-338-985-1432. Judy is from the US originally and knows the expectations North Americans have for housing. I wish I could have found housing with her instead of HomeBase," said another expat in Torino.
Answer Question & View More Answers
What is a typical expat home or apartment like in Turin?
"Expat homes or apartments in Turin typically offer modern, spacious living with large bedrooms and bright interiors. Many apartments come with balconies or terraces in order to enjoy the sunny Turin weather. Many apartments offer views of the nearby Alps, creating a beautiful backdrop for city living. Expats can also find stylish homes and apartments in the more historic neighbourhoods, where one can find classic Italian architecture and stunning decor," remarked another member in Turin.
"We live in a two-family duplex with a yard in the wooded hills area just outside Torino city limits. Very typical of most expats I know who have children. It's closer to the international school in Chieri. And easy to get to the city (10-15 min.). And much quieter. Easy to get to shopping," explained one expat living in Torino, Italy.
Answer Question & View More Answers
What is the average cost of housing in Turin?
If you are thinking about moving to Turin, cost of living in probably a key consideration. Expats commented about the cost of housing:
"The cost of housing in Turin is generally moderate and varies depending on the type and location of the property. Generally, renting an apartment in the city centre costs around €800-€1,200 per month, while a house usually costs in the region of €1,000-€2,000 per month. Buying property is also reasonably priced, with a studio apartment costing around €70,000-€100,000 and a family home between €90,000-€180,000," said another person in Turin.
"Much higher. Meat is expensive. Gasoline/diesel is high. It's cheaper to buy clothes and house items in the US on holidays and bring them back in the suitcase," added another expat who made the move to Torino.
Should I buy or rent a home in Turin?
If you have not spent a lot of time in Turin, you should rent before even thinking about buying. We asked expats there about the buy vs. rent decision:
"Whether to buy or rent a home in Turin depends on your individual financial situation and long-term life plans. Buying a home can be a major financial investment and usually requires taking out a mortgage that will take years to repay. It also involves maintenance and repair expenses, so it is important to consider whether you are able to afford to take on these financial burdens. However, owning a home can be a great investment and there is much satisfaction to be gained from owning your own home. On the other hand, renting a home offers more flexibility and the landlord typically takes care of repairs, but the monthly expenses may be higher than when you own a home. There is also a lack of security when it comes to renting, as you may get evicted from the rental property if the landlord decides to sell it or if your rent is not up to date. Ultimately, it is important to look into the financial implications of both and go with the option that fits best with your needs," explained one person living in Turin, Italy.
About the Author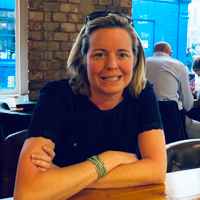 Betsy Burlingame is the Founder and President of Expat Exchange and is one of the Founders of Digital Nomad Exchange. She launched Expat Exchange in 1997 as her Master's thesis project at NYU. Prior to Expat Exchange, Betsy worked at AT&T in International and Mass Market Marketing. She graduated from Ohio Wesleyan University with a BA in International Business and German.
Some of Betsy's articles include 12 Best Places to Live in Portugal, 7 Best Places to Live in Panama and 12 Things to Know Before Moving to the Dominican Republic. Betsy loves to travel and spend time with her family. Connect with Betsy on LinkedIn.