What are healthcare services like in Dusseldorf?
We asked retirees if they have access to good medical care in Dusseldorf. They wrote...
"Dusseldorf offers a wide range of healthcare services for its citizens. The city has a number of public and private hospitals, clinics, and medical centers that provide a variety of medical services, including general and specialized care. Additionally, Dusseldorf has a number of pharmacies, health insurance companies, and other health-related services. The city also has a number of medical research centers and universities that offer medical education and research opportunities. Furthermore, Dusseldorf has a number of health-related organizations and associations that provide support and resources to the local community," said a member in Dusseldorf, Germany.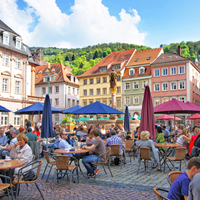 Furnished Rentals in Germany from Homelike
We've partnered with Homelike, to connect expats and newcomers with temporary accommodations in Germany. If you're moving to Germany, rent a short-term, furnished apartment or home for the first few months from Homelike and take your time figuring out the best place to live in Germany.
SEARCH RENTALS
Other Questions:
What are healthcare services like in Dusseldorf?
If you live in Dusseldorf, newcomers to Dusseldorf would love to hear your answer to this question.