How do I meet people in Munich?
When we asked people living in Munich about club and activities where newcomers can meet others, they responded...
"There are many ways to meet people in Munich. Making friends with locals is key to getting to know the city and the people who live there. Joining expat-based organizations such as Munich Expats and InterNations can be a great way to meet others in the city and make friends. Attending festivals, events and local meet-ups are also great ways to meet people in Munich. Taking language classes or joining a recreational sports team are other ways to meet new people. Finally, don't forget to make use of the local bars and pubs to meet people and make friends," commented one expat who made the move to Munich, Germany.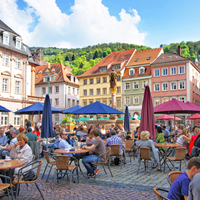 Furnished Rentals in Germany from Homelike
We've partnered with Homelike, to connect expats and newcomers with temporary accommodations in Germany. If you're moving to Germany, rent a short-term, furnished apartment or home for the first few months from Homelike and take your time figuring out the best place to live in Germany.
SEARCH RENTALS
"www.toytownmunich.com It's a forum dedicated to English-speaking expats in Munich. There you get a lot of first-hand information regarding English-speaking medical professionals, exchanging info about where to make the best of a long-weekend, etc," remarked another expat in Munich, Germany.
Other Questions:
How do I meet people in Munich?
If you live in Munich, newcomers to Munich would love to hear your answer to this question.