How do I meet people in Strasbourg?
When we asked people living in Strasbourg about club and activities where newcomers can meet others, they responded...
"Expats in Strasbourg, typically join clubs or activities related to their interests in order to meet like-minded people. Examples of popular clubs include book clubs, film clubs, language exchange clubs, and sports clubs. Social events such as concerts, art exhibitions, and festivals also offer excellent opportunities for expats to get to know their new city and culture. Expats can also join international, multilingual forums and attend meet-ups to make new friends and contacts. Additionally, taking classes in French can be a great way to practice the language, learn about the culture, and meet new people," wrote a member who made the move to Strasbourg, France, France.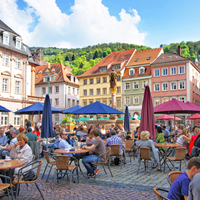 Furnished Rentals in France from Homelike
We've partnered with Homelike, to connect expats and newcomers with temporary accommodations in France. If you're moving to France, rent a short-term, furnished apartment or home for the first few months from Homelike and take your time figuring out the best place to live in France.
SEARCH RENTALS
"Expats in Strasbourg can join a variety of clubs and activities to meet like-minded individuals, including book clubs, language classes, cooking classes, and local sports teams. Other ways expats may connect with locals and other expats include attending local events such as music festivals, theatre productions, and art exhibits. Additionally, some expats choose to volunteer with local organizations to make a contribution to their new communities and network with locals who share similar passions. Finally, social media and internet groups can provide an avenue for connecting with other expats living in Strasbourg, France and arrange meetups when possible," explained one expat living in Strasbourg, France, France.
Other Questions:
How do I meet people in Strasbourg?
If you live in Strasbourg, newcomers to Strasbourg would love to hear your answer to this question.