What is life like as an expat in your area?
When we asked people living abroad what life is like in their areas and how people spend their time, they said...
"Epinal is a great place for expats and digital nomads to live. The city is small and charming, with a relaxed atmosphere and plenty of outdoor activities to enjoy. The cost of living is relatively low, making it an attractive option for those looking to save money. The city is well connected to the rest of France and Europe, with easy access to airports and train stations. The locals are friendly and welcoming, making it easy to settle in and make friends. There are plenty of cafes, restaurants, and bars to explore, as well as a vibrant nightlife. Epinal is a great place to live for those looking for a peaceful and affordable place to call home," commented one expat who made the move to Epinal, France.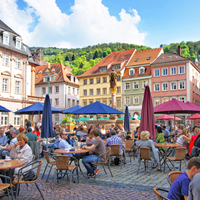 Furnished Rentals in France from Homelike
We've partnered with Homelike, to connect expats and newcomers with temporary accommodations in France. If you're moving to France, rent a short-term, furnished apartment or home for the first few months from Homelike and take your time figuring out the best place to live in France.
SEARCH RENTALS
"Work, socializing, sports, festivals & community celebrations in centre-ville. Lots of opportunities to be active with a climbing gym, sports halls, dance classes, martial arts clubs, etc," remarked another expat in Epinal, France.
Other Questions:
What is life like as an expat in your area?
If you live in Epinal, newcomers to Epinal would love to hear your answer to this question.