What is life like as an expat in your area?
When we asked people living abroad what life is like in their areas and how people spend their time, they said...
"Leiden is a great place for expats and digital nomads to live. The city is known for its vibrant culture, beautiful canals, and friendly locals. Expats and digital nomads can find plenty of activities to do in Leiden, from exploring the city's many museums and galleries to taking a boat ride along the canals. The city also offers a wide range of accommodation options, from traditional Dutch apartments to modern co-living spaces. Leiden is also well-connected to the rest of the Netherlands and Europe, making it easy to travel to other cities and countries. With its welcoming atmosphere and plenty of opportunities for work and leisure, Leiden is an ideal destination for expats and digital nomads," commented one expat who made the move to Leiden, The Netherlands.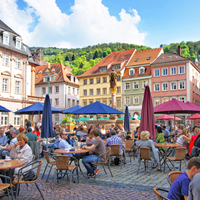 Furnished Rentals in Netherlands from Homelike
We've partnered with Homelike, to connect expats and newcomers with temporary accommodations in Netherlands. If you're moving to Netherlands, rent a short-term, furnished apartment or home for the first few months from Homelike and take your time figuring out the best place to live in Netherlands.
SEARCH RENTALS
"Leiden is a students town, but also in between The Hague (centre of government) and Amsterdam (Capital) and not too far from Rotterdam (largest harbour in the world), therefore, it's quite a diverse city. You will find mostly everything you can think of, from sport clubs/associations, religious goups, classes in all forms of artistic expression (dancing, sculpture, painting, etc), loads of very interesting museums, and of course, a lively nightlife," remarked another expat in Leiden, Netherlands.
Other Questions:
What is life like as an expat in your area?
If you live in Leiden, newcomers to Leiden would love to hear your answer to this question.