What do I need to know before retiring in Cambridge?
When we asked people what advice they would give someone preparing to move to Cambridge, they said...
"Before retiring in Cambridge, expats should be aware of the cost of living, which is higher than the UK average. They should also research the local housing market to find a suitable property, as well as the availability of healthcare and other services. Additionally, expats should familiarise themselves with the local culture and customs, as well as the language, to ensure a smooth transition. Finally, expats should consider the climate in Cambridge, which is generally mild but can be unpredictable," remarked another expat in Cambridge, England.
"I would tell them to either buy a bike or rely on public transportation. Parking and car ownership in and around the city can be expensive and frustrating. I would also say expect to spend more on housing here as it is a city in demand," said a member in Cambridge, UK.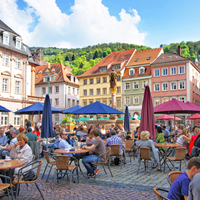 Furnished Rentals in UK from Homelike
We've partnered with Homelike, to connect expats and newcomers with temporary accommodations in UK. If you're moving to UK, rent a short-term, furnished apartment or home for the first few months from Homelike and take your time figuring out the best place to live in UK.
SEARCH RENTALS
Other Questions:
What do I need to know before retiring in Cambridge?
If you live in Cambridge, newcomers to Cambridge would love to hear your answer to this question.