What do I need to know before retiring in Lyon?
When we asked people what advice they would give someone preparing to move to Lyon, they said...
"Before retiring to Lyon, expats should familiarize themselves with the local laws and regulations for retirees. It is also important to understand the language barriers associated with living in Lyon, as most of the locals speak French as their primary language. Additionally, it is wise for expats to research their housing options and the cost of living in the city ahead of time to ensure a comfortable transition. Finally, expats should research the availability of healthcare services in the city and make sure to obtain the proper health insurance coverage," wrote a member who made the move to Lyon, France, France.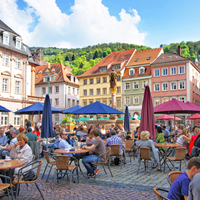 Furnished Rentals in France from Homelike
We've partnered with Homelike, to connect expats and newcomers with temporary accommodations in France. If you're moving to France, rent a short-term, furnished apartment or home for the first few months from Homelike and take your time figuring out the best place to live in France.
SEARCH RENTALS
"Well, firstly - great to hear that there is nothing to wait for. Just start learning some French...take few documents with yourself as France seems to like red tape very much and you need papers for everything! Take some birth certificates for sure. Don't worry about the accommodation because here in Lyon you will get many estate agencies to help you out and they speak English! And mostly...read some blogs, forums, expats websites which will provide you with the up to date info," explained one expat living in Lyon, France.
Other Questions:
What do I need to know before retiring in Lyon?
If you live in Lyon, newcomers to Lyon would love to hear your answer to this question.