What should I pack when moving to Vienna?
We asked people living in Vienna to list three things they wish they had brought and three they wish they had left behind. They responded...
"When moving to Vienna, it is important to remember to pack comfortable, warm clothes for the cooler months, such as sweaters, scarves, and jackets. An umbrella is also a necessity as Vienna is often subject to frequent rain. Basic toiletries and medication should also be brought, and if staying long-term, it is recommended to bring enough supplies to last a few months before needing to restock. Documents such as passport, visa, birth certificate, and other important papers should be brought and kept in a safe place. You should also remember to pack any important items that can't be replaced, such as sentimental belongings. Finally, don't forget to bring a knife, fork, spoon and other basic kitchen items, as well as some paper products for the kitchen," commented one expat who made the move to Vienna, Austria, Austria.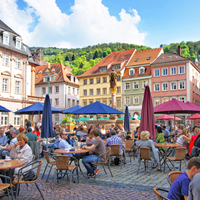 Furnished Rentals in Austria from Homelike
We've partnered with Homelike, to connect expats and newcomers with temporary accommodations in Austria. If you're moving to Austria, rent a short-term, furnished apartment or home for the first few months from Homelike and take your time figuring out the best place to live in Austria.
SEARCH RENTALS
Other Questions:
What should I pack when moving to Vienna?
If you live in Vienna, newcomers to Vienna would love to hear your answer to this question.