What should I pack when moving to Munich?
We asked people living in Munich to list three things they wish they had brought and three they wish they had left behind. They responded...
"Essentials to pack include clothes, shoes, and accessories to suit the climate of Munich, personal hygiene items, kitchen appliances, pots, pans and other kitchen items, bed linen and towels, cleaning supplies, important documents such as identification and passport, currency and credit cards, laptop and charging and connecting cords, chargers for all electronics, books or magazines for entertainment, camera for capturing memorable moments and toiletries," explained one expat living in Munich, Germany.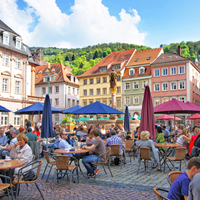 Furnished Rentals in Germany from Homelike
We've partnered with Homelike, to connect expats and newcomers with temporary accommodations in Germany. If you're moving to Germany, rent a short-term, furnished apartment or home for the first few months from Homelike and take your time figuring out the best place to live in Germany.
SEARCH RENTALS
"We didn't bring much to Munich other than clothes and bikes. Nothing we needed here would have been worth the cost and hassle of shipping," said another expat in Munich, Germany.
Other Questions:
What should I pack when moving to Munich?
If you live in Munich, newcomers to Munich would love to hear your answer to this question.