What is a typical expat home or apartment like in London?
We asked expats what a typical home or apartment in London is like. They answered...
"I live in a flat, which is typical for the vast majority of expats who live in central London. I have also juts purchased a house, however it is in Zone 3, maybe 7 miles south of central London, where house prices are still somewhat affordable. The majority of expats however live in central London, and only the hedge fund manager and investment bankers among them can afford to buy property in central London," said another expat in London, UK.
"I am getting a housing subsidy from work to make up for the increase in cost of living. Had this not been the case, I probably could not afford the flat I am in now," wrote a member who made the move to London, UK.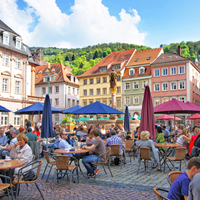 Furnished Rentals in UK from Homelike
We've partnered with Homelike, to connect expats and newcomers with temporary accommodations in UK. If you're moving to UK, rent a short-term, furnished apartment or home for the first few months from Homelike and take your time figuring out the best place to live in UK.
SEARCH RENTALS
Other Questions:
What is a typical expat home or apartment like in London?
If you live in London, newcomers to London would love to hear your answer to this question.