What is a typical expat home or apartment like in Leiden?
We asked expats what a typical home or apartment in Leiden is like. They answered...
"Expat homes and apartments in Leiden are typically modern and spacious, with large windows that let in plenty of natural light. Many of the apartments are located in the city center, close to shops, restaurants, and other amenities. The apartments are often equipped with modern appliances and amenities, such as dishwashers, washing machines, and dryers. Expats can also find apartments with balconies or terraces, providing a great place to relax and enjoy the views of the city," commented one expat who made the move to Leiden, The Netherlands.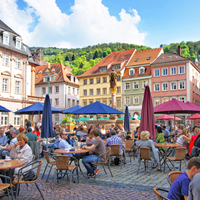 Furnished Rentals in Netherlands from Homelike
We've partnered with Homelike, to connect expats and newcomers with temporary accommodations in Netherlands. If you're moving to Netherlands, rent a short-term, furnished apartment or home for the first few months from Homelike and take your time figuring out the best place to live in Netherlands.
SEARCH RENTALS
Other Questions:
What is a typical expat home or apartment like in Leiden?
If you live in Leiden, newcomers to Leiden would love to hear your answer to this question.