Where should I setup a bank account in Munich?
We asked expats in Munich what banks they use and there advice about banking. They advised...
"Munich is a great city for retirees, offering a high quality of life and plenty of activities to keep you busy. Before retiring in Munich, it is important to research the cost of living and the availability of healthcare services. It is also important to consider the language barrier, as most people in Munich speak German. Additionally, it is important to research the visa requirements for retirees, as well as the tax implications of living in Germany. Finally, it is important to familiarize yourself with the culture and customs of Munich, as this will help you to integrate into the local community," explained one expat living in Munich, Germany.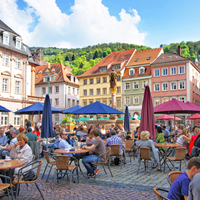 Furnished Rentals in Germany from Homelike
We've partnered with Homelike, to connect expats and newcomers with temporary accommodations in Germany. If you're moving to Germany, rent a short-term, furnished apartment or home for the first few months from Homelike and take your time figuring out the best place to live in Germany.
SEARCH RENTALS
"No. When I got here as a student, I worked with the Volksbank because they had a free account for students. What I didn't realize was that I could not use this Volksbank service in any other city. It's not like in the US when, for example, you have a Wells Fargo and it is irrelevant in which Wells Fargo you go to in another city or state. I eventually switched to Postbank because of their online services and CashGroup membership," said another expat in Munich, Germany.
Other Questions:
Where should I setup a bank account in Munich?
If you live in Munich, newcomers to Munich would love to hear your answer to this question.