Where should I setup a bank account in Epinal?
We asked expats in Epinal what banks they use and there advice about banking. They advised...
"Epinal is a small city in the Lorraine region of France, located in the Grand Est administrative area. It is a picturesque and vibrant city, with a friendly and welcoming population to boot. Before retiring in Epinal, expats should research the cost of living and healthcare in the area, as well as any restrictions that may be in place concerning foreigners relocating to live there. It's also important to become familiar with the local culture, customs and language. Finally, it is a good idea to arrange a visit to Epinal prior to committing to relocating there, in order to familiarise one's self with the area and deciding if it is the right place to settle down," wrote a member who made the move to Epinal, France, France.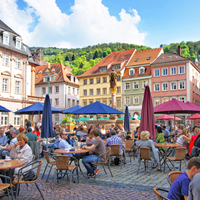 Furnished Rentals in France from Homelike
We've partnered with Homelike, to connect expats and newcomers with temporary accommodations in France. If you're moving to France, rent a short-term, furnished apartment or home for the first few months from Homelike and take your time figuring out the best place to live in France.
SEARCH RENTALS
Other Questions:
Where should I setup a bank account in Epinal?
If you live in Epinal, newcomers to Epinal would love to hear your answer to this question.