How are healthcare services Vienna?
When we asked expats and global nomads about the quality of medical care in Vienna, they replied...
"Healthcare services in Vienna, are known for their high quality and accessibility. The city boasts a well-developed public healthcare system, which is funded through social insurance contributions and taxes. This system provides comprehensive medical care to all residents, including general practitioners, specialists, hospitals, and emergency services. Vienna is home to numerous hospitals and medical centers, including the renowned Vienna General Hospital, which is one of the largest and most advanced hospitals in Europe. The city also has several specialized clinics and research institutions, such as the Medical University of Vienna, which is a leading center for medical research and education. In addition to public healthcare services, Vienna also offers a range of private healthcare options. Many residents choose to supplement their public healthcare with private insurance, which can provide access to additional services and shorter waiting times. Private clinics and hospitals in Vienna offer a wide range of medical services, from routine check-ups to specialized treatments and surgeries. Pharmacies are widely available throughout the city, and many are open 24 hours a day. They provide prescription and over-the-counter medications, as well as advice on minor health issues. In case of emergencies, Vienna has a well-coordinated ambulance service, which can be accessed by dialing 112. Overall, healthcare services in Vienna are of high quality, with a strong emphasis on prevention and early intervention. The city's healthcare system is designed to ensure that all residents have access to the medical care they need, regardless of their income or social status," said a member in Vienna, Austria.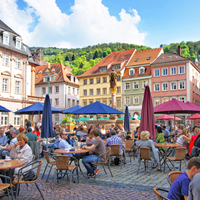 Furnished Rentals in Austria from Homelike
We've partnered with Homelike, to connect expats and newcomers with temporary accommodations in Austria. If you're moving to Austria, rent a short-term, furnished apartment or home for the first few months from Homelike and take your time figuring out the best place to live in Austria.
SEARCH RENTALS
"Well worth the money, which is affordable, and no such thing as pre-existing conditions, for the insurance to give you a reason to be denied," remarked another expat who made the move to Vienna, Austria.
Other Questions:
How are healthcare services Vienna?
If you live in Vienna, newcomers to Vienna would love to hear your answer to this question: